Two American sailors who say they survived a five-month ordeal on the open water shot down skeptics Wednesday, reiterating that they had survived squalls, sharks — and more.
"If you were there, you would say the same thing I did," Jennifer Appel told NBC's Matt Lauer in a TODAY exclusive.
Appel, 48, and Tasha Fuiava, 26, set sail from Hawaii to Tahiti on May 3, when they say a three-day-long storm overpowered their engine and damaged the boat's mast.
Five months later, they were spotted by a Taiwanese fishing boat, who towed them in. By that point, they were thousands of miles off-course. A U.S. Navy ship eventually brought them back to dry land.
Upon rescue, they claimed daily distress calls went unanswered and that at one point, tiger sharks bumped up against their boat.
Related: Story of Two Americans Lost at Sea for Months Leaves Experts With Questions
The wild tale vaulted Appel and Fuiava into headlines around the world, but also attracted scrutiny as it was discovered that no storms were recorded on NASA satellite images in the days around their departure.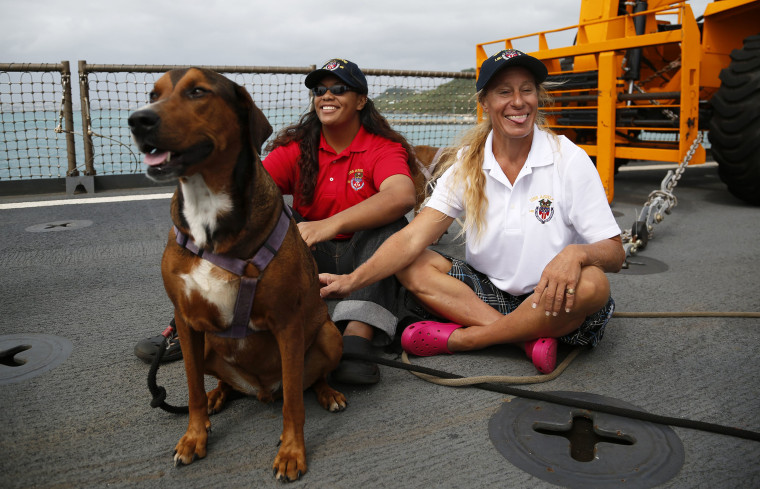 Coast Guard officials also found that the two women had an Emergency Position Indicating Radio Beacon (EPIRB) on board that they never activated — something that would have alerted officials within minutes that they were stranded, and could have led to them being rescued much sooner.
The National Weather Service and the Coast Guard listed small craft advisories for some squalls in the Hawaii area during the days that they departed, but didn't have any record of large storms like the one Appel has said they weathered.
"I understand fish stories. I believe that the storm advisory that the U.S. Coast Guard did say that they put out ... was anticipated to be smaller than some of the downdrafts that we saw," Appel told TODAY on Wednesday. "If you were there, you would say the same thing I did. It really felt a lot bigger."
Appel, an experienced boater, and Fuiava, a novice, were aboard a 50-foot sailboat called the Sea Nymph. The Coast Guard has said they made radio contact with a vessel by the same name in June, and says those aboard confirmed they were OK and close to arriving in Tahiti.
Appel denied that that happened. Holding up a GPS that was aboard her boat, she said Wednesday, "Our GPS shows we were nowhere near Tahiti."
Appel also repeated her "terrifying" account of sharks circling the boat for hours and ramming the hull — something that scientists who study tiger sharks say would be unusual. But Appel didn't back down.
"The sharks had been telling us, you're in our living room, and you're not leaving fast enough. And we didn't realize that was what we were being told until too late," Appel said.
Appel has said she didn't ever feel that they were in imminent danger, and didn't want to divert the U.S. Coast Guard away from any sailors who were in need of immediate help, hence why she never activated her EPIRB.
On Wednesday, Appel said they "took our chances with the man upstairs" and decided not to use the emergency beacon even as they sharks closed in.
"The sharks were six inches away. And using an EPIRB in the location where we were, it's probably four hours to a day before the Coast Guard would have found us," she said.
The women's claims have been attacked for inconsistencies. In an interview with NBC News after their appearance on TODAY, they said they hoped to clarify what happened, but added a new detail: They said it wasn't until they were towed by a Taiwanese fishing vessel that they actually felt their lives were in danger.
"We were never 'lost at sea.' We knew where we were the entire time," Appel said. "While the media portrayed a rescue with the Taiwanese fishing vessel, they were actually the reason why we called for help."
Instead of obeying standard regulations for the distance a vessel is supposed to keep while towing a boat, the Taiwanese vessel purposely rammed against them, she said, overpowering their significantly smaller boat.
"The Taiwanese fishing vessel was not planning to rescue us," she continued. "They tried to kill us during the night."
It was then that Appel said she decided to alert the U.S. Coast Guard. But she claimed there was an explanation for why she still didn't use the EPIRB and instead used the satellite phone on the fishing vessel.
"I was able to get on a surfboard and get on their boat, make an actual phone call. Because no one spoke English, it was easier and safer for me to relay the information to the U.S. Coast Guard-Guam sector that we were in danger without them realizing what we were saying. If I had thrown the EPIRB at that point, he [the captain] would have known."
A spokesperson for the Taipei Economic and Cultural Office in New York later called Appel's accusations "untrue" and said the fishing boat is equipped with GPS and a satellite system that automatically submits its track, location, and speed to a 24-hour monitoring center.
According to the records, "the fishing vessel stopped sailing right after spotting Ms. Appel's boat and never attempted to ram against their vessel or kill them as she claimed," the office's deputy director-general, Brian Su, said in an email.
The trip from Honolulu to Tahiti is a fairly common route. The women say they expected it would be an 18-day journey.
They say they survived off of a year's worth of nonperishables that they had stocked the boat with, like oatmeal and pasta, plus a water purifier.
Their two dogs were also on the boat with them when they were rescued.
Appel said Wednesday that she never doubted they would eventually get to dry land, even if the fishing vessel hadn't towed them.
"We were going to run into land somewhere," she said.