DETROIT — Six young Black girls sat around a television in suburban Detroit on Wednesday, watching the presidential inauguration. Yes, they'd gotten together to see Joe Biden become president. But there was no mistaking their main focus: Vice President Kamala Harris, the first woman, first Black person and first South Asian American to hold the office.
The girls wore matching T-shirts with Harris' face on the front and "I Could Be Next" on the back. When Harris raised her hand to be sworn in, some of the girls raised theirs as well, as though joining her.
"It was really cool to see a woman instead of a man be sworn in," Sarah Vaughn, 9, said.
The party was hosted by her mother, Alison Vaughn, who decorated their home in West Bloomfield, Michigan, with red, white and blue balloons and laid out books and magazines about Harris. She limited invitations because of Covid-19, but hoped that many more Black girls and women were watching.
"I want her to witness history in the making," Vaughn said of her daughter.
Watching and celebrating the inauguration took on unprecedented challenges on Wednesday, with Americans forced apart by a pandemic and fears of domestic terrorism. But they adapted, turning to Zoom and social media and scaling back in-person parties.
Ulisses Sanchez got up early in Southern California, drank from a coffee mug that read "Lakers & Dodgers & Biden & Harris" and logged onto a Zoom party he hosted for Latinos from around the region.
"People are looking for change, excited to see an incoming administration who sees America for what it is — rich in different cultures," Sanchez said.
The participants, many wearing Biden-Harris shirts, applauded when Jennifer Lopez spoke in Spanish during her performance. They teared up as the new leaders took their oaths, when Biden finished his inaugural speech and when Garth Books sang "Amazing Grace." They toasted with wine glasses and applauded.
Gerardo Correa, a school vice principal from Santa Ana, California, said on the call that many of his students were undocumented, and had spent the last four years tense and afraid. "My students feel hope that there will be some way that they will be a part of society," Correa said. "It is like a huge weight was lifted off our shoulders. We can breathe."
In Palm Beach Gardens, Florida, Kristen Azari limited her celebratory circle to her husband and two teen children, but went all out anyway: She printed inauguration bingo cards, made a stars-and-stripes fruit plate, ordered a cake and prepared Champagne (for the adults) and sparking cider (for the kids).
Azari, a volunteer with Moms Demand Action for Gun Sense in America, said it was the first time she'd celebrated an Inauguration Day. "But I feel like today is a day that needs to be celebrated and I'm ready for America to feel normal again," she said.
Wednesday's festivities took place against a backdrop of deep partisan divide in America — and two weeks after a mob supporting former President Donald Trump's false claims of a corrupted election stormed and ransacked the Capitol.
About a third of Americans do not believe Biden was legitimately elected, including 70 percent of Republicans, despite a lack of evidence of voter fraud, according to the latest "PBS NewsHour"/NPR/Marist poll.
Worries about possible violence led some educators to decide not to show the inauguration in class Wednesday — at least not live. But Kenneth Bass said he's shown every inauguration to his students since George H.W. Bush was sworn in the year after he started teaching.
This year was no exception — but it did call for a more careful approach, said Bass, the head of school at Xceed Preparatory Academy's Weston Campus in South Florida.
"Emotions are very high," Bass said. "We've never had a more polarized country in my lifetime."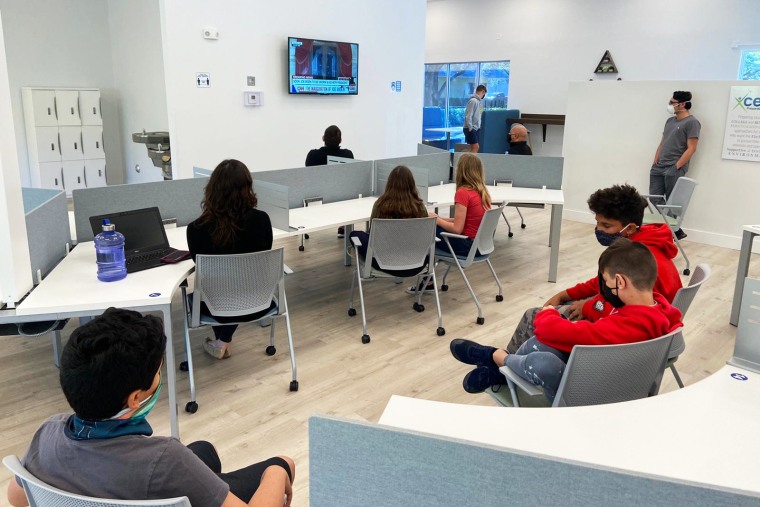 Some of his students in the middle and high school gathered in masks in classrooms while others watched a livestream of the inauguration. They then discussed Biden's inaugural address.
"It was about unity," said David Rodriguez, 16, an 11th grader originally from Trinidad. "That was one of the main points of his speech, that America is one country."
In Houston, Steven Burts walked through the doors of Star Sailor HTX, a craft-beer bar and restaurant, wearing American flag overalls and a smile. He said he was a Republican but was ready to celebrate the end of the Trump presidency, which had damaged relationships with many of his pro-Trump friends.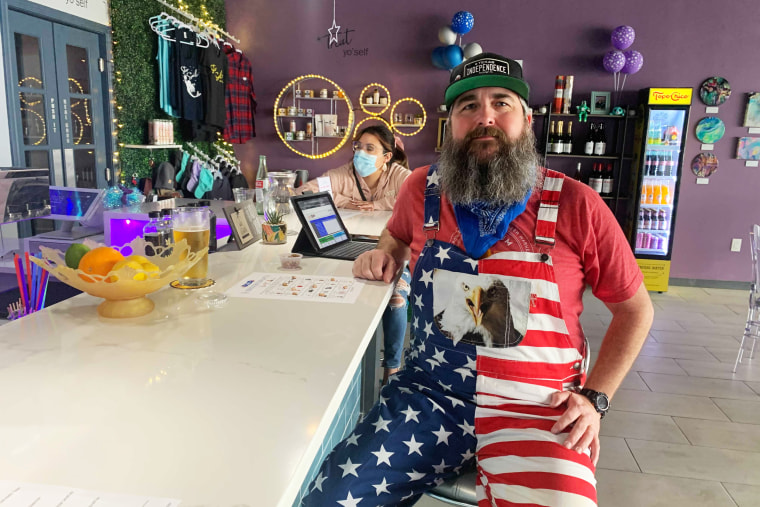 Burts said he disagreed with many of Biden's policy proposals, but hoped he offered a chance for healing — across the country and in his personal life.
"I don't know if that will happen," Burts said. "Now it's at least a fresh start without a person in the office actively trying to divide the nation."
Many women across the country celebrated Harris by wearing Converse Chuck Taylor All Star shoes and strings of pearls. Harris is a member of the historically Black sorority Alpha Kappa Alpha, whose members are called "pearls."
Daisia Davis, who attends Jackson State University in Mississippi, planned to spend Inauguration Day in her dorm wearing pearls and dressed in pink. Her outfit and accessories were a homage to her sorority, Alpha Kappa Alpha, and Harris.
The senior, who also serves as Miss Jackson State University, volunteered at voter registration drives on campus and cried when the presidential election was called for Biden. Davis pointed out that Harris, who attended Howard University, will be the first graduate of a historically Black university to serve as vice president. Jackson State University is an HBCU as well.
Davis said she hoped Harris' swearing-in would silence notions that HBCUs were somehow inferior. "In the past, you would see HBCUs getting talked down on a lot," she said. "What's the excuse now?"
In the minutes leading up to Biden's swearing in, Democrats from Michigan's Oakland County toasted the moment together on Zoom.
Oakland County, just north of Detroit, played a key role in helping Biden reclaim Michigan for the Democrats in November. County voters narrowly backed Hillary Clinton in 2016 but came out in much higher numbers for Biden, giving him 100,000 more votes than Clinton.
"This is a day of celebration, a day when we pat ourselves on the back," county executive Dave Coulter told several dozen Democrats, adding that everyone on the call had "done something over the course of the last four years to help get us where we are."
They watched as Biden he took the oath of office, smiled, clapped and gave thumbs-ups.
At Vaughn's house in Michigan, the young girls said the inauguration had inspired them.
Seeing Harris take the oath of office made Joslyn Hunter, 11, feel "kind of relieved that it wasn't the same thing anymore," she said. "I'm kind of happy that somebody could do that kind of stuff. I do feel like maybe I could be the first one to do something because she was the first."
Vaughn, the CEO of a Detroit workforce development organization called Jackets for Jobs, is a member of the same sorority as Harris and included a picture of a young, pigtailed Harris on her party invitation.
She met Harris at an NAACP event in Detroit and felt a connection with her.
"At one point, being president or vice president for a Black person was just totally unheard of. Now my daughter can see that 'I can do this. I can be next,'" she said.
Erin Einhorn reported from Detroit; Bracey Harris reported from Jackson, Mississippi; Cora Cervantes reported from Los Angeles; and Jon Schuppe reported from Maplewood, New Jersey.
CORRECTION (Jan. 20, 2021, 12:23 p.m. ET): A previous version of this article misspelled the first name of a Jackson State University student. She is Daisia Davis, not Daisa.