Tricia Miller has been counting down the days until the end of her daughter's school year in June. Like many parents, she's worried about her child's safety in the wake of recent school shootings.
"If she arrives home alive today, there will be 20 days," Miller said last week of her daughter, Hannah, 17, a junior at T.C. Williams High School in Alexandria, Virginia. "In 20 days, she will be three quarters of the way through high school, and she'll be alive."
The school has not had any shootings, but Miller grew particularly concerned after the Feb. 14 high school shooting in Parkland, Florida, left 17 people dead.
Miller and her daughter, who leads the northern Virginia chapter of Students Demand Action, an anti-gun violence group, began looking into potential school safety measures after the Parkland shooting and mapped out an escape plan at T.C. Williams in case of an active shooter.
"We've talked about how she'll get out," Miller said, adding that she's advised her daughter to jump from a window if necessary. "As soon as you hear the shots, even if it means both your legs will be broken, even if they'll be shattered, jump!"
The Millers' fears have continued to grow amid the recent wave of deadly school shootings, including the Santa Fe, Texas, high school attack on May 18 that killed eight students and two teachers, and the shooting at Noblesville West Middle School in Noblesville, Indiana, a week later that left two people wounded.
Who's to say that my school is safe?
Across the country, some students and parents report a pervasive sense of anxiety set off by the growing death toll and the recurring TV footage of students walking out of school with their hands up. Even though most of America's students are not in danger on any given day, teachers and experts say it's difficult to reassure them that the violence they've watched unfold in other towns won't happen in their town — because it could.
"Who's to say that my school is safe?" asked Aisa Radoncic, a senior at Edward R. Murrow High School in New York.
Radoncic, like many students who spoke to NBC News, said she believes a more open dialogue about the potential dangers and students' fears would be helpful.
"There should be a platform in school to encourage students to talk about this," she said, "rather than ignore the anxiety."
Yasmine Dardari, a sophomore at Al Ihsan School of Excellence, an Islamic private and charter school in Cleveland, agreed.
"I haven't really had a discussion with anyone about what I should be looking out for or what I should do to prevent mass shootings," she said, adding that knowing how to help would ease her mind.
There is no recent research on the psychological impact of mass shootings on children who watch them on the news or social media, said Heidi Zinzow, an associate professor of psychology at Clemson. But studies show "people with a prior history of trauma or victimization are more vulnerable to developing psychological symptoms," like post-traumatic stress, she said.
Therapists say they've found that it's common for children and parents to experience increased anxiety when school shootings occur, even if they're far away.
"Constantly watching events of mass shootings on the news pulls your mind into a loop," said Melissa Dumaz, a licensed marriage and family therapist in Torrance, California. "You're replaying the scenes over and over again, and not giving your emotions a chance to rest."
She added, "Students may be scared to go to school … and ask a lot of 'why' questions, or lose a sense of safety and security and develop hyper-vigilance."
At Oak Lawn Community High School in Oak Lawn, Illinois, a suburb of Chicago, teachers make a point of speaking openly about gun violence. After the National School Walkout in March, in which students across the country streamed out of class to observe a moment of silence for the victims of the Parkland shooting, Oak Lawn's leaders decided it was important to start more conversations about the issue.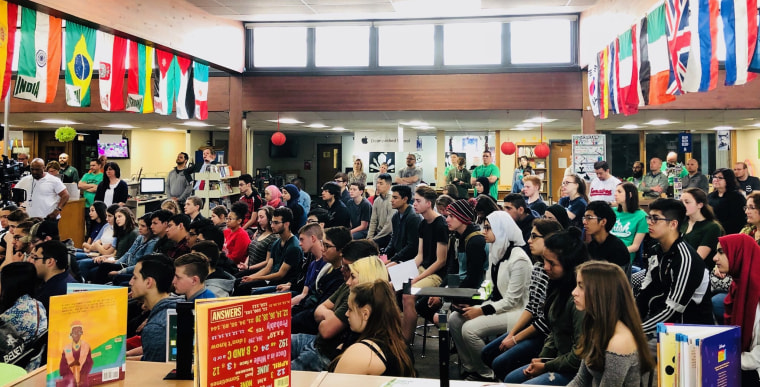 The school hosted town hall meetings and letter-writing campaigns. After one student wrote to Sen. Dick Durbin, D-Ill., about school safety and gun laws, Durbin came to the school this month to speak with students.
"We have had some productive conversations about making their voices heard," said Jeana Lietz, Oak Lawn's principal. "Students have been emailing and stopping us to talk about their concerns."
Protests and other advocacy work can be therapeutic for people experiencing distress, said Melissa Brymer, director of terrorism and disaster programs at the UCLA-Duke National Center for Child Traumatic Stress. She added that it's also important for students to have access to counseling and other mental health services in school.
While not all schools hold discussions about gun violence, nearly all hold lockdown drills, in which students clear the halls, hunker down in classrooms and are told to remain silent. These drills began after the Columbine school shooting in Colorado in 1999, and today about 95 percent of public schools run them, according to the National Center for Education Statistics.
The drills can save lives, but they also can contribute to students' fears, particularly when they are unannounced. Brymer recommends that parents and teachers receive advance warning of drills, so they can prepare particularly anxious children.
"There's a difference between training and scaring," said Greg Crane, founder of ALICE, a company that trains thousands of police departments and schools on how to respond to shooters. "If you're scaring people, you're not training them."
At her high school in Virginia, Hannah Miller has taken her own precautions: After Parkland, she began carrying a rubber door wedge in her backpack at all times — to be used to keep a classroom door firmly closed during a shooting, she said.
"Even if the gunman shoots through the lock on the door, they can't push it open," she said.
"Having them makes me feel safer," she added, "but not safe."