Four people were killed and around 150 were injured when an Amtrak train struck a dump truck and derailed Monday afternoon in Mendon, Missouri, officials said.
Train 4 was carrying 243 passengers and 12 crew members from Los Angeles to Chicago when the crash occurred around 12:45 p.m., Amtrak said Monday in a statement. Mendon is about 115 miles northeast of Kansas City.
Two passengers on the train and a person in the truck were pronounced dead at the scene, and a third passenger died at the hospital, the Missouri State Highway Patrol said in a statement Tuesday.
Approximately 150 people were transported to area hospitals for injuries ranging from minor to serious, the highway patrol said Tuesday.
The collision happened at an "uncontrolled crossing," Missouri State Highway Patrol Cpl. Justin Dunn said Monday.
Dunn, who did not have a count of how many other people were injured, said several others were taken to area hospitals. Medical helicopters responded in addition to ambulance services from multiple counties.
Seven of the eight train cars derailed, Dunn said. Amtrak said two locomotives also derailed.
"This is the beginning of a lengthy investigation, Highway Patrol Lt. Eric Brown said. "We have a lot more information we were seeking to need to obtain."
Boone Health received 28 patients with mostly minor but a few moderate injuries, a spokesperson said. University of Missouri Health Care treated 16 patients, and Fitzgibbon Hospital got six, hospital officials said.
At the university hospital, most of its patients had mild to moderate injuries but two needed immediate operations, Dr. Jeffrey Coughenour said.
Dax McDonald was on a cross-country rail trip with his family when the train derailed. He said his sister was injured in the crash and was taken to an area hospital for a CT scan.
McDonald said he saw another passenger experience what he believed to be a seizure after the derailment and he immediately began to focus on how he could help others get out of the overturned cars.
"I think the only thing everyone else was thinking was like, you know, what do I do to help? And how do I get one out of here?" he said.
"I know we'd like we need everyone to like pull together and find a way to get people to like 10 feet up through the roof," McDonald said.
He said he worked with other passengers, including Boy Scouts who were on the train, to help riders get out to safety.
"I was shocked that you could something like this could happen," McDonald said. "I mean, that's just I felt like everyone on the train was so fortunate that you were able to like walk away."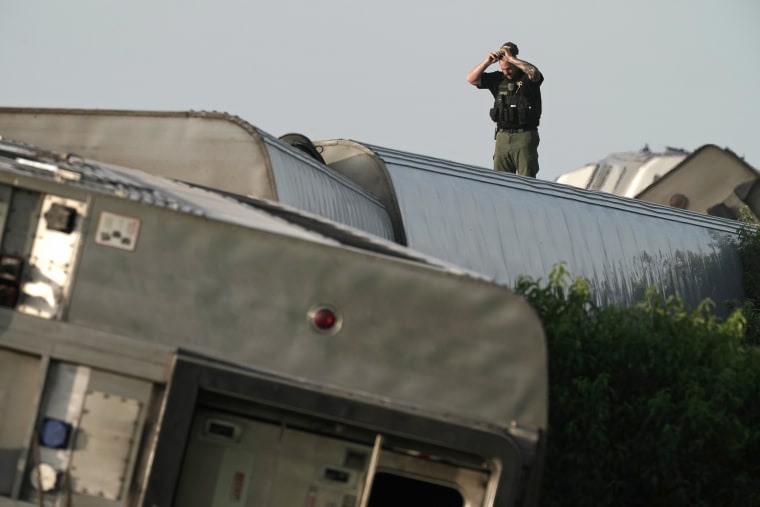 The National Transportation Safety Board said it was sending a team to investigate. The Federal Railroad Administration was also sending staff, Transportation Secretary Pete Buttigieg said.
NTSB chair Jennifer Homendy said that there is a recorder on the train that will provide information and that investigators will look into whether there were forward- and internal-facing cameras.
Jim Mathews, the president of the Rail Passengers Association, said in a statement Monday afternoon, "The entire Rail Passengers community is deeply saddened by this tragic loss." The association serves more than 40 million rail passengers in the U.S.
"Right now, our thoughts and support should be with the passengers and Amtrak workers who have been injured, the families of those that have been killed, and the responders who are on the scene working to minimize injury and loss of life," Mathews said.
It was the second consecutive day an Amtrak train had been involved in a fatal crash.
Three people were killed and two others were injured when an Amtrak train crashed into a vehicle obstructing rail tracks near Brentwood, California, on Sunday, officials said.