PHILADELPHIA AMTRAK CRASH: THE LATEST
Early indications suggest it was an accident, the NTSB and FBI say.
Mayor Michael Nutter will update reporters at 11 a.m. ET.
Amtrak service is suspended between New York and Philadelphia.
—
BY HASANI GITTENS, PHIL HELSEL, TOM WINTER AND RICHARD ESPOSITO
PHILADELPHIA — A New York City-bound Amtrak train derailed in Philadelphia on Tuesday, overturning and mangling the cars and flinging passengers and luggage around inside. At least six people were killed and at least 140 injured.
The victims included at least eight who were critically hurt in the accident, which closed the nation's busiest rail corridor.
The death toll climbed on Wednesday morning when Temple University Hospital confirmed a sixth fatality. A rescue worker at the scene had told NBC News that authorities feared the death toll could rise as they had been unable to get underneath the toppled cars.
The Amtrak Regional 188 was traveling to New York from Washington, D.C., and carrying 238 passengers and five crew members when the train derailed about 9:30 p.m. ET.
"It is an absolute disastrous mess," Philadelphia Mayor Michael Nutter told reporters after visiting the scene of the crash. "Never seen anything like this in my life." He said there were cars "completely overturned, on their side, ripped apart."
READ MORE: Full coverage from NBC 10 Philadelphia
A spokeswoman for the National Transportation Safety Board and a spokesman for the FBI said there were no early indications that it was anything other than an accident.
The front of the train was going into a turn when it shook, witnesses said. Two sources told NBC News the train went off the track at a point where a 70 mph stretch goes into a 50 mph curve, but they cautioned it is too early to know whether the curve or speed were factors.
"We were rolling along nice and smooth and then all of a sudden we were on our side," passenger Don Kelleher told NBC Philadelphia.
All six train cars and the engine derailed in the crash and some cars fell on their sides, flinging passengers and luggage around, survivors and officials said.
"Chairs inside the train became unscrewed and suitcases were falling on people," said Max Helfman, 19, who was returning home to New Jersey when the train car he was in flipped over.
"My mother flew into me and I literally had to catch her," he said. "People were bleeding from their head. It was awful."
Janelle Richards, an "NBC Nightly News" producer, was on the train and said all of a sudden she heard a loud crash and people flew up in the air. There was a lot of smoke as passengers began trying to get out of the car — a man was able to force a door open in the rear just enough to get out, she said.
Joseph Godfrey, a retiree who lives about two blocks from the scene, was watching TV when the train derailed. "It shook the whole house and a huge flash lit up the street."
He expressed concern that nearby train overpasses may be weakened with the added traffic of increased crude oil shipments. "I feel lucky that wasn't an oil train last night," he said.
The crash occurred in Port Richmond, one of five neighborhoods in what's known as Philadelphia's River Wards, dense rowhouse neighborhoods located off the Delaware River.
Area resident David Hernandez, whose home is close to the tracks, heard the derailment. "It sounded like a bunch of shopping carts crashing into each other," he told The Associated Press. The crunching sound lasted a few seconds, he said, and then there was chaos and screaming.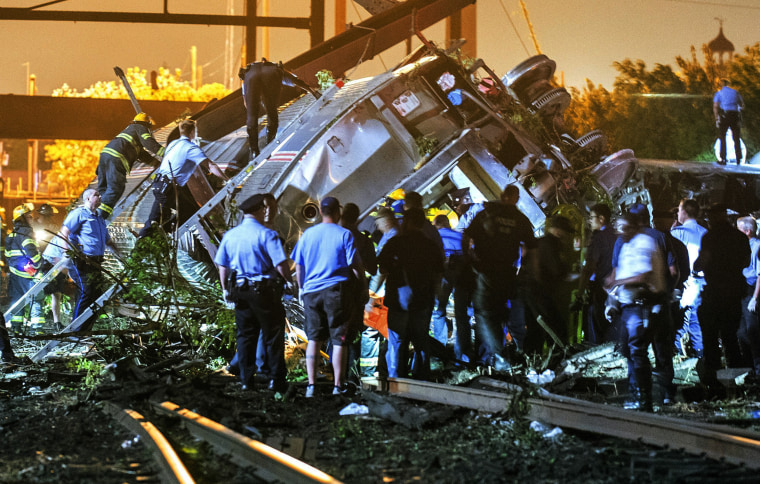 Firefighters called out a four-alarm response to the "mass-casualty event," and hundreds of firefighters and police officers responded to the scene. Several people were trapped in train cars and had to be freed with hydraulic tools, Philadelphia Fire Department Deputy Commissioner Jesse Wilson said.
"I've never seen anything so devastating. They're in pretty bad shape," Wilson said of the train cars.
"You can see that they've completely, completely derailed from the track," he added. "They've been destroyed completely. The aluminum shell has been destroyed, and they've been overturned completely. It is a devastating scene."
Cranes that can lift at least 220,000 pounds and will be used to moved the train cars arrived at around 4:30 a.m. ET on Wednesday. They were assembled in a nearby parking lot.
Amtrak said anyone with loved ones who may have been on the train can call 1-800-523-9101 for information. Amtrak said in a statement that "we are deeply saddened by the loss of life."
RELATED: Measures to Prevent Rail Accidents Would Be Costly, Complex
Pennsylvania Gov. Tom Wolf said the state would assist in any way it can. "Anything the state can do to help, we stand ready to do that," he said.
Patrick Murphy, the Philadelphia region's former representative in Congress, was on the train and said was helping people. He was tweeting photos of firefighters helping people in the wreckage. "Pray for those injured," he said.
Shamar Walters, Tony Dokoupil, Aliza Nadi and Jonathan Dienst of NBC News contributed to this report. The Associated Press also contributed.