Ana Walshe, a 39-year-old Massachusetts mother of three, was last seen New Year's Day in her home in the wealthy Boston suburb of Cohasset, according to police, who have asked for the public's help in their search for her.
Her husband, Brian Walshe, 47, was arrested and accused of misleading officials and lying about his whereabouts on Jan. 1 and 2.
Prosecutors have said that officials found blood and a damaged, bloodstained knife in the couple's basement and that Brian Walshe is alleged to have spent $450 on cleaning supplies, mops, tape and other items the day after his wife was last seen.
Brian Walshe's attorney is not commenting. "Her focus is on defending Mr. Walshe in court," an assistant for attorney Tracy Miner has said by email.
More on the disappearance and search for Ana Walshe
A spokesperson for the Massachusetts Department of Children and Families said the Walshes' three children are in state custody and declined to provide more information, citing state and federal privacy laws.
On Monday, Ana Walshe's sister told NBC Boston from Serbia that the family is trying to get to the U.S. and that relatives are concerned for the couple's three children.
Ana Walshe was born in Belgrade and holds dual citizenship in Serbia and the U.S., said Olgica Vlacic, Serbia's acting consul general in New York.
"We are all joined in praying for Ana's safe return, despite the latest grim developments indicating otherwise," Vlacic said. "Our hearts go out to her family and especially to her young children, who deserve to be reunited with their mother."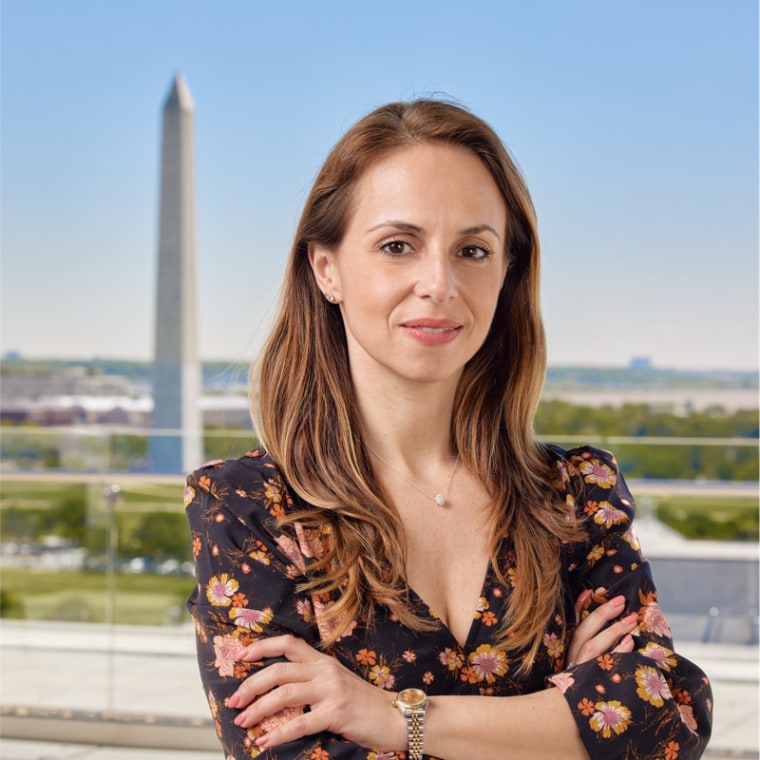 Key moments in the case:
Jan. 1: Ana Walshe reportedly headed to airport
Cohasset police say Ana Walshe was at her home on Chief Justice Cushing Highway shortly after midnight before she took a ride share to Boston's Logan Airport for a flight to Washington, D.C., to attend to a work emergency.
It is unclear who reported the alleged details, and police have said they had not been able to independently confirm them — although they had confirmed she had a Jan. 3 flight booked to Washington.
She often traveled to Washington for work, police said; her LinkedIn page lists her title as regional general manager at the real estate company Tishman Speyer.
Police did not specify who reported last seeing Ana Walshe at home that night, other than to say it was a "family member." Officials have said her husband was sleeping at the time she was said to have left.
A probable cause affidavit says Brian Walshe told police that the couple went to bed after a friend left around 1 a.m. and that Ana Walshe left for the airport between 6 a.m. and 7 a.m.
Brian Walshe also told police he spent New Year's afternoon doing errands for his mother at Whole Foods and CVS — but he was not seen on security video from either store, according to the affidavit.
Jan. 2: Police say husband bought cleaning items
According to a police log, Ana Walshe's phone connected to a cellphone tower for the last time at 3:14 a.m. Jan. 2, within a quarter-mile of the area of Reservoir Road, which is 0.7 miles from the family's home. Her phone was then turned off, the log says.
Brian Walshe has told police that he visited a juice bar in the nearby town of Norwell early Jan. 2, officials have said.
Police discovered video evidence that Brian Walshe visited Home Depot in Rockland, about 10 miles southwest of the home, on Jan. 2. He was wearing a surgical mask and gloves and bought $450 worth of goods, including cleaning supplies, mops and tape, according to prosecutors.
Jan. 4: Employer asks for a well-being check
The head of security for Ana Walshe's employer, Tishman Speyer, called Cohasset police around 11:45 a.m. Jan. 4 to request a well-being check, reporting that her car was in Washington, that she was last seen days earlier and that the company had contacted her husband, who had not filed a missing person report, according to the police log.
The company's head of security told police the company knew nothing about Ana Walshe but had "no reason to think she is in danger or ill," the police log states.
Police interviewed Brian Walshe at his home shortly after 6:30 p.m., according to the affidavit. He said his wife left for work in Washington at 6:30 a.m. New Year's Day "and he hasn't heard from her since," according to the police log.
Jan. 5: Search for Ana Walshe goes public
Police announced their search for Ana Walshe, urging the public to contact them if they have any information on her whereabouts.
Jan. 6: Fire at former home
At a news conference, Cohasset Police Chief William Quigley said Ana Walshe's husband, family and friends had been "fully cooperative" with the investigation.
On Jan. 6, the Walshes' former residence, on Jerusalem Road, caught fire, according to the police log. Four occupants — three adults and a young child — escaped before first responders arrived and were uninjured, police said.
Quigley characterized it as a crime scene, and state police arrived, the police log says.
Police later characterized the blaze as a two-alarm fire whose cause was unknown, "though it does not appear to be suspicious."
Jake Wark, the public information officer for the Massachusetts Department of Fire Services, said that "state police, fire investigators and local officials identified the cause as some damage to piping that was connected to a natural gas fireplace insert and determined that it was accidental."
Jan. 7: Ground search suspended
Local and state police announced they were suspending their two-day ground search in the woods near the Walshe home.
As news of Ana Walshe's disappearance roiled the small town of Cohasset — which, according to Crime Grade, is safer than 98% of cities in the country and boasts a median home value of $875,000, according to Census Bureau data — residents phoned in tips to police.
A spokesperson for the district attorney's office said police were "aggressively following up" on all leads.
Jan. 8: Brian Walshe arrested
Police returned to the Walshe home on Chief Justice Cushing Highway to execute a search warrant just after 9:20 a.m., according to the police log.
Authorities arrested Brian Walshe, saying he misled their investigation.
An assistant to Miner, Brian Walshe's attorney, declined to comment on her behalf Thursday.
Jan. 9: A court appearance, but not the first
Brian Walshe was arraigned in Quincy District Court. He pleaded not guilty to a single charge and was ordered held on $500,000 bail. He is next due in court Feb. 9.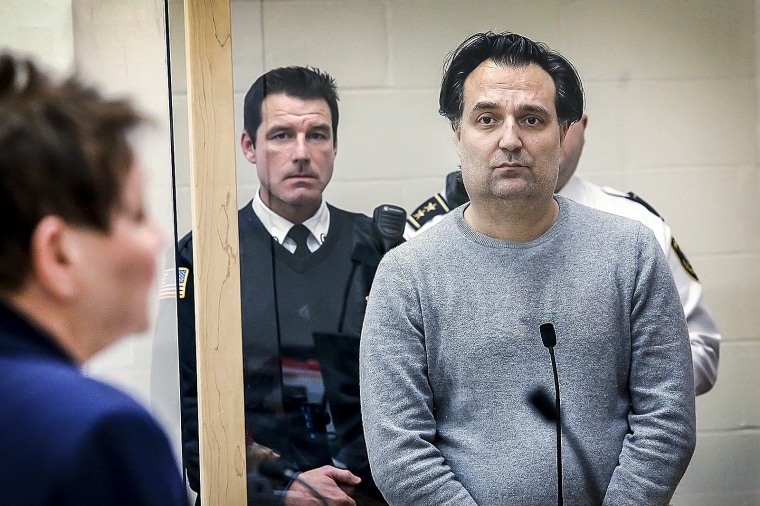 It was not Brian Walshe's first time in court: In 2021, he pleaded guilty in federal court to three counts, including wire fraud, after he stole Andy Warhol paintings from a college classmate and commissioned forgeries, Reuters reported. Court documents show that he was ordered to forfeit $225,000 and does not appear to have been sentenced to any prison time in that case.
In a letter submitted to the judge in June, Ana Walshe wrote: "Brian has been working consistently on breaking the past habits of his family, and we are all looking forward to the new chapter of his life."
Following the 2018 death of Brian Walshe's father, from whom he was estranged over allegations of missing money, there was a legal battle over his father's estate, according to court documents and NBC Boston. He was described as a violent liar in affidavits from relatives and friends.
A nephew of Brian Walshe's father prevailed in the inheritance case, court documents show.
Jan. 10: The search for evidence
The Norfolk County District Attorney's Office said investigators removed "a number of items" for testing in a search north of Boston.
The testing of the unspecified items will "determine if they are of evidentiary value" in Ana Walshe's disappearance, the DA's office said.
NBC Boston reported that investigators spent hours Monday combing through trash at a transfer station in Peabody, a city 20 miles north of Boston, after they dug through a dumpster at the apartment complex where Brian Walshe's mother lives.
Brian Walshe's mother could not be reached for comment.
A spokesperson said Republic Services, the company that operates the Peabody waste transfer station, is cooperating with law enforcement.
A spokesperson for Covanta, which operates a waste transfer station in West Wareham, a town about 65 miles south of Boston, confirmed that authorities also visited its facility Monday.
Jan. 17: A murder warrant for Brian Walshe
More than a week after Brian Walshe was first arrested, Norfolk County District Attorney Michael W. Morrissey announced his office issued a murder warrant in the case.
Brian Walshe is accused of assaulting and beating his wife with the intent to murder her, as well as with moving her body or remains, according to the criminal complaint.
Details on what led prosecutors to pursue a murder charge against Brian Walshe weren't outlined until Brian Walshe's arraignment the next day, where he entered a plea of not guilty.
Investigators found more than a dozen disturbing Google searches allegedly made by Brian Walshe minutes before he had originally told police he last saw his wife. Searches included "10 ways to dispose of a dead body if you really need to" and "how to stop a body from decomposing," prosecutors said in court.
On Jan. 2, Walshe's Internet searches included "hacksaw best tool to dismember," "can you be charged with murder without a body" and "can you identify a body with broken teeth," prosecutors said.
Defense attorney Tracy Miner requested the court release Brian Walshe from custody, but the judge ordered him to be held without bail pending indictment.
The judge also issued a court order to seal the probable cause affidavit and arrest warrant until March 10. Impoundment prevents the public, but not the parties, from gaining access to the records.
March 30: Brian Walshe is indicted
A Norfolk County grand jury indicted Brian Walshe on charges of murder, improper conveyance of a human body and misleading a police investigation/obstruction of justice, Norfolk District Attorney Michael W. Morrissey's office said in a news release.
A first-degree murder conviction in Massachusetts carries a mandatory sentence of life in prison without parole.
"This is only a step in a long process, during which Brian Walshe enjoys the Constitutional presumption of innocence and all of the protections afforded him under the Constitution," Morrissey said. "We are thankful to the detectives who have put so many hours into assembling the evidence in this matter and the witnesses who have assisted us in coming to this step."
April 27: Brian Walshe pleads not guilty
Weeks after the indictment, Brian Walshe pled not guilty to the charges in Norfolk Superior Court.
During the proceeding, Norfolk Assistant District Attorney Greg Connor said that Brian Walshe's mother hired a private investigator "with his input and direction" on Dec. 26 to follow Ana Walshe in Washington, D.C., where she lived during the week for her job at Tishman Speyer, a real estate company. He believed his wife was having an affair, according to the DA.
That month, Brian Walshe had been "routinely visiting the Instagram page of one of her male friends," Connor said.
Prosecutors also said that Brian Walshe was motivated to claim his wife's more than $2.7 million life insurance policy, for which he was the sole beneficiary.
Brian Walshe's attorney, Tracy Miner, denied that charge, saying that his client's mother is wealthy and that "there's no evidence he was in the least bit needing of money." Miner also said Brian Walshe told his mother she was "crazy" for hiring a private investigator and that he never suspected his wife was having an affair.