Gender equality is one of those issues that President Barack Obama takes very personally.
"We're going to keep pushing until every until every single girl has the rights and the opportunities and the freedom to go as far as her dreams will take her," Obama said after mentioning his own daughters at an event on Friday announcing new executive measures aimed at closing the pay gap that separates men and women at work.
That gap, Obama insists, is 21 cents, with a typical female full-time worker earning 79 cents for every dollar earned by a typical man. Another way of looking at it according to a White House statement is that the median wage for a woman in the U.S. is about $39,600, or only 79 percent of a man's median earnings of $50,400.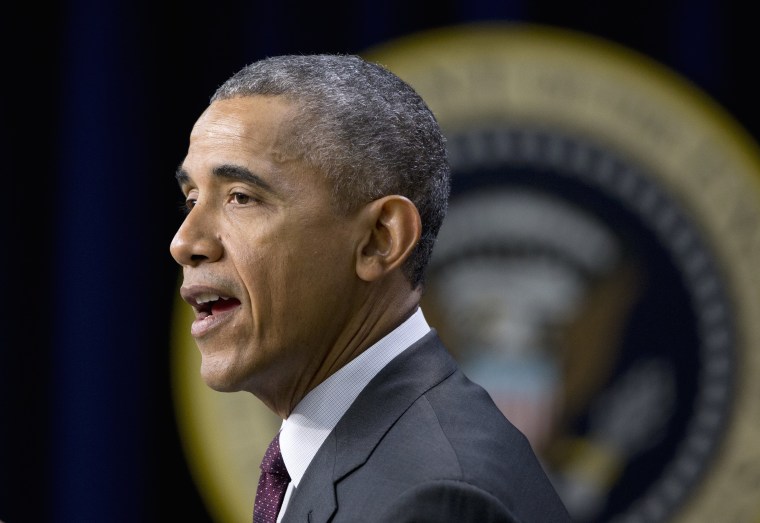 President Obama's history with the gender equality stretches back to his first days in office. In fact it was seven years ago Friday, that he signed the Lilly Ledbetter Fair Pay Act, his first piece of legislation signed into law, and named for a woman who discovered she was being paid less than her male co-workers, but lost her case after years of fighting in the U.S. Supreme Court.
Related: President Obama Announces Rules for Closing Gender Pay Gap
Since then, Obama has signed into law the Affordable Care Act which prohibited insurance companies from charging higher insurance premiums based on sex. The law also required free coverage of well-woman exams, contraception and domestic violence counseling.
The president signed the reauthorization of the Violence Against Women Act in 2013, a measure which included improved protections for Native American women and members of the LGBT community.
The administration has also focused on addressing issues of sex trafficking and has worked to strengthen protections for victims—especially minors.
And the White House has created a number of programs aimed at steering women and girls toward high paying STEM careers.
Andra Gillespie, a political science professor at Emory University, said gender inequality and fair pay became a marquee issue during the presidential election four years ago, so it's not surprising that Obama would wind down his term talking about it again.
"One thing that is very clear is that (Obama's) being consistent with how he's looked at this issue," Gillespie said. "So the idea that he is doing this at the end of his presidency and doing this in the name of achieving equal pay for women, it speaks to his legacy."
Perhaps the most significant new rule proposed by the Equal Employment Opportunity Commission will require companies with more than 100 employees to report salary and compensation data by gender, as well as by race and ethnicity.
After a public comment period, the new rule is expected to be on the books by September of 2017. It would generate data about some 63 million employees, public and private sector workers, on all types of jobs across the country.
The current EEOC rule only applies to federal government contractors.
One goal, the president said, is to help companies "get a clearer picture of how they can ensure their employees are being treated equally."
But the new rule is primarily designed to help the federal government enforce equal pay laws, and give workers the ammunition they need to know when they're not being paid fairly.
"Data is power," said Labor Secretary Thomas Perez, "power to be harnessed."
Not surprisingly, some businesses are pushing back.
In a statement, the U.S. Chamber of Commerce called the new rules, "unnecessary and onerous."
The Chamber's senior vice president Randy Johnson accused President Obama of "one more fishing expedition to support a political agenda divorced from the facts."
The Chamber is the world's largest business federation, representing the interests of more than three million businesses. It claims ,"the so-called wage gap as due to discrimination has been debunked."
The key word there is discrimination.
The Chamber and other critics generally claim that any gender wage gap results from larger societal issues, like women leaving the workforce for parenting, or the tendency of women to choose career paths that lead to positions that earn less.
Still, the EEOC claims it has filed "tens of thousands," of successful discrimination cases resulting in some "$85 million in relief and monetary damages," since 2010. Officials said the new reporting rule would give the EEOC and employees access to more information about what co-workers earn, but would not require companies to release personal salary information, only data summarizing compensation by gender and job classifications.
Friday's announcement on pay reporting requirements extends Obama's 2014 executive order requiring federal contractors to release salary data broken down by gender and race and lifted rules that had previously blocked such contractors from talking about how much they make.
Now a hero of activists for equal pay nationwide, Ledbetter joked that she'd been paid unfairly, "long enough for it to become legal," some two decades at the tire plant where she was a supervisor. She learned about the disparity from an anonymous note. The high court rejected her claim because she filed it too many years after she'd first been hired. The law named for Ledbetter basically gives workers the right to sue after they receive what they claim is a discriminatory paycheck, regardless of when they were hired.
As Ledbetter introduced President Obama, she said unequal pay hurts women, families and the overall economy.
"I will keep fighting for women and girls who deserve fair pay and equal treatment under the law," she vowed.
Then Obama took center stage to announce the latest steps he's taking in the fight.
"What kind of example does paying women less set for our sons and daughters?" Obama asked.
The president also said the White House in May will host a summit — "The United State of Women" — to examine gender equality in America.
"The notion that we would somehow be keeping my daughters … any of your daughters out of opportunity, not allowing them to thrive in any field, not allowing them to fully participate in every human endeavor, that's counterproductive," Obama said.