In his final appearance at the annual National Prayer Breakfast, President Barack Obama was reflective about his years in office, the challenges of today, and his personal faith.
"For me, and I know for so many of you, faith is the great cure for fear," Obama said, his theme for the day. "Jesus is a good cure for fear."
Most of his message focused on piety not politics. But it was not difficult not to hear the undertones in the background.
The president echoed the administration's persistent criticism of Republican candidates running for office, that they are playing on the nation's fears to become their party's nominee.
"Fear can lead us to lash out against those who are different or lead us to try to get some sinister 'other' under control," Obama said.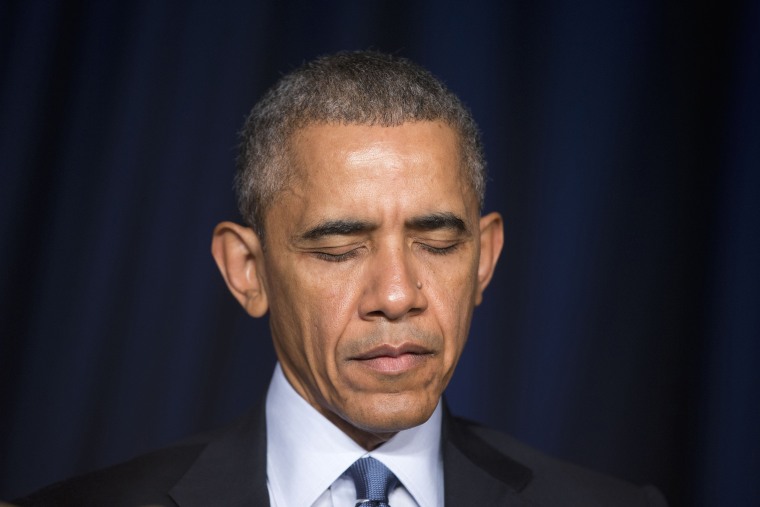 His remarks were perhaps a not so subtle reference to calls on the campaign trail to temporarily ban Muslims from entering the United States, declarations that the fight against ISIS is World War III and calls to turn refugees from Syria away.
"For God hath not given us a spirit of fear, but a power and of love and of a sound mind," the president quoted from Biblical scripture. He was quoting from the Bible, correct?(YES)
Since the 1950's, Democrats and Republicans, leaders of various faith communities, and all strata of American society have gathered on the first Tuesday of February for what's perhaps a "national church service."
Obama has delivered a "sermon," every year of his presidency.
The president said his faith helps him conquer, "everyday fears we all share," like children growing up too fast and about to leave home.
"That's a tough deal," he said as the audience laughed. His oldest daughter, Malia, is expected to head off to college this summer.
"Will they call, or text?" he wondered out loud.
The president also talked about faith and the "unique elements" of his job.
"When you tell a room full of young cadets that you've made a decision to send them into harm's way, knowing that some of them might not return safely," he said adding, "when you hold in your arms the mothers and fathers of innocent children gunned down in their classroom."
This was the second consecutive day the president spoke so directly about religion.
He reminded his audience of his visit Wednesday to an Islamic Community center in Baltimore, his first visit to a mosque as President.
Related: President Obama Asks All Americans to Fight Islamophobia During First Mosque Visit
"They too are Americans and welcomed here," Obama said today at the prayer breakfast.
Muslim leaders have been calling on the president to focus more attention to what they say is a backlash against their communities since the attacks in San Bernardino and Paris, and out on the campaign trail.
Obama gave voice to those concerns during his speech on Thursday.
"And of course, recently we've heard inexcusable political rhetoric against Muslim Americans that has no place in our country," he said.
The president, without naming specific candidates, linked that rhetoric to a rise in violence.
"No surprise, then that threats and harassment of Muslim Americans have surged," Obama said.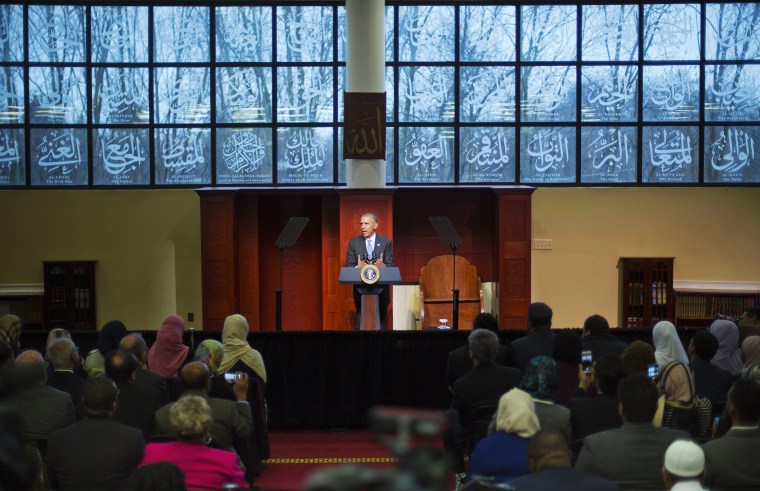 Republican presidential candidate Donald Trump, questioned Obama's visit to a mosque. When asked about it on Fox News, Trump who has insinuated in the past that Obama is a Muslim not born in the U.S. said, "maybe he feels comfortable there."
Sen. Marco Rubio accused the President of being divisive. At a town hall in New Hampshire, Rubio said, "..it's this constant pitting people against each other…that I can't stand. It's hurting our country badly."
At the prayer breakfast, the president also reflected on his recent visit to the Israeli Embassy, like the Baltimore mosque, his first as president.
Related: Trump Tells Rally Syria Refugees 'Probably' ISIS As Muslim Protester Removed
He told the story he heard about an American soldier who was a Christian who stood up to the Nazis during the Holocaust, and saved countless Jewish prisoners about to be executed. The president also called, "for God's protection for all around the world who are not free to practice their faith, including Christians who are persecuted, or who have been driven from their ancient homelands by unspeakable violence."
Obama ended his remarks with a prayer that spoke to religious and political fervor.
" I pray that our leaders will always act with humility and generosity. I pray that my failings are forgiven," the president said. "I pray we answer Scripture's call to lift up the vulnerable, and to stand up for justice, and ensure that every human being lives in dignity."