Three sisters who disappeared while backpacking in the Wyoming backcountry were found alive Thursday — cold and hungry but healthy, search and rescue officials said.
The young women — Megan, Erin, and Kelsi Andrews-Sharer — have since been reunited with their father after a helicopter spotted them in a remote part of the Bridger-Teton National Forest just after 10 a.m. local time.
"We're so pleased with the outcome of this search and the safety of the missing hikers and all the rescue personnel," Teton County Sheriff Jim Whalen said in a statement.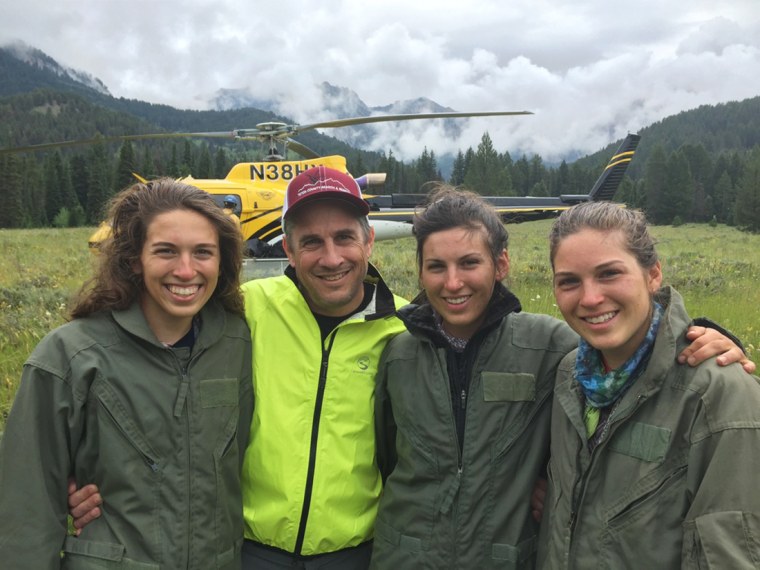 The sisters, originally from Milwaukee County, Wisconsin, left for their extended camping trip in Grand Teton National Park on June 28 and were supposed to return home Tuesday, the Teton County Sheriff's Office said.
The women's car was discovered Wednesday, about 15 miles south of the resort town of Jackson. Their disappearance prompted a search by ground crews, including sniffer dogs, and by helicopter on Wednesday.
The effort got a fortuitous break when a guide noted seeing a person in a white rain jacket in an area with no trails on Wednesday. On Thursday morning, realizing a search was in progress, he phoned in a tip to the sheriff's office.
Officials said the guide's accurate description of the location proved critical — and a search team redirected a helicopter to the coordinates provided. The sisters were found within 20 minutes.
The sheriff's office credited the trio for staying together, using their tent and having the proper clothing to weather through their ordeal.
Authorities earlier said the sisters were experienced backpackers and believed they "may have simply made a wrong turn."