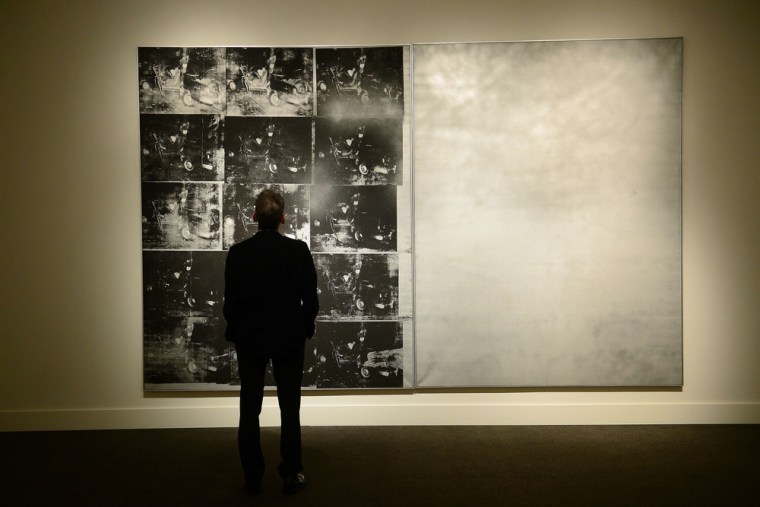 NEW YORK -- A new record for one of pop art superstar Andy Warhol's paintings was set late Wednesday, when a telephone bidding war raised the price to a whopping $105 million.
The prized eight-by-13-foot painting titled "Silver Car Crash (Double Disaster)" captures the immediate aftermath of a car crash, depicting a twisted body sprawled across a car's mangled interior. It has only been seen once in public in the past 26 years.
International auction house Sotheby's who managed the New York sale, described the work as, "a pivotal work from the artist's 'Death and Disaster' series and the last of four works of its size and significance that was not currently in the collection of a museum."
They did not identify the new owner who paid $105.4 million in total for the work.
The Warhol record came just a day after the most expensive work of art ever sold at auction went for $142.4 million following just six minutes of bidding at another auction house, Christie's.
Francis Bacon's 1967 triptych called "Three Studies of Lucian Freud" shattered the previous world record set last year when financier Leon Black paid nearly $120 million for Edvard Munch's "The Scream."  
The previous Warhol auction record was set in 2007 when "Green Car Crash (Green Burning Car I)" sold for $71.7 million. 
Another iconic Warhol, "Coca-Cola (3)," sold for $57.2 million Tuesday at Christie's auction house, and his portrait of Elizabeth Taylor titled "Liz #1"sold for $20 million on Wednesday.
Michael Frahm, a contemporary art adviser and partner at the London-based Frahm Ltd called bidding on such works, "the ultimate trophy hunting."
"The demand for seminal works by historical important artists is truly unquestionable," he told the Associated Press.  "We will keep witnessing new records being broken." 
Wednesday was Sotheby's most successful night ever, they said in a statement, with records set for a number of artists including Cy Twombly, Brice Marden, Mark Bradford and Martin Kippenberger. 
The Associated Press contributed to this report. 
Related: