Conservative firebrand Ann Coulter said Wednesday that she won't be speaking at the University of California, Berkeley, on Thursday after a contentious back and forth over the fate over her appearance — and a looming threat of violence on campus.
"I'm very sad about Berkeley's cancellation, but my sadness is greater than that," Coutler said in a tweet on Wednesday. "It is a dark day for free speech in America."
Coulter had initially insisted that she would make a speech at Berkeley in spite of the university saying it could not accommodate a student group's request for her to speak on the date and time it had originally planned because of "specific and credible" threats of violence.
But she said Wednesday that she no longer be speaking at the university after the conservative student groups dropped their support for the event.
Related: How Berkeley Became a New Battleground for Free Speech
The conservative student group Young America's Foundation said in a statement Tuesday that they would not be moving forward with Coulter's speaking event on campus "due to the lack of assurances for protections from foreseeable violence from unrestrained leftist agitators." Berkeley College Republicans also pulled their support.
Berkeley has become a flashpoint for free speech debate and the site of multiple protests since the election that have at times become increasingly violent, pitting far-right fascist groups and supporters of President Donald Trump and anti-fascist groups and local liberal activists.
Back in February, Berkeley said they were forced to cancel a speech by controversial former Breitbart editor Milo Yiannopoulos after protests turned violent, with some agitators even setting some fires.
Even some on the left called for Berkeley to accommodate Coulter's speech, including the American Civil Liberties Union and Vermont Senator Bernie Sanders.
Sanders addressed the issue at a rally Thursday night.
"I don't like this. I don't like it," Sanders told Huffpost. "Obviously Ann Coulter's outrageous ― to my mind, off the wall. But you know, people have a right to give their two cents-worth, give a speech, without fear of violence and intimidation."
For their part in the Coulter event, university officials disputed that they had cancelled her event.
"Contrary to some press reports and circulating narratives, the UC Berkeley administration did not cancel the Coulter event and has never prohibited Ms. Coulter from coming on campus," University Chancellor Nicholas Dirks said in a statement.
Multiple university officials said they supported her right to free speech and welcomed her to campus, but needed to guarantee safety to their students amid threats of violence surrounding the event.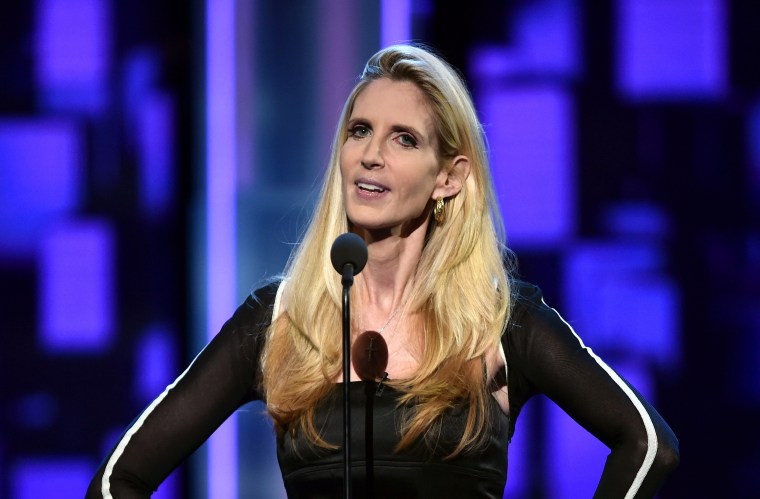 University Asst. Vice Chancellor Dan Mogulof said at a press conference Wednesday that the Berkeley College Republicans did not follow protocol in seeking to book Coulter to speak on campus and were not able to accommodate a proper venue for her to speak on the day they proposed given threats of violence local law enforcement had assessed.
"Ms. Coulter and speakers, regardless of their positions, are welcome on this campus — full stop," he said. "Our commitment to the first amendment is unwavering and unshakable, but so too is our commitment to the safety of our students."
The university said it had tried to offer Coulter and the student group an alternative date, but it was rejected.
Related: Protests, Violence Prompt UC Berkeley to Cancel Milo Yiannopoulos Event
Dirks said in a later statement that university police department had "seen evidence of and continues to plan for potentially violent demonstrations and counter-demonstrations" on Thursday.
A police spokesman said at the press conference that they were bracing for possible violent protests even in Coulter's absence, and students could expect an increased police presence throughout the day.
The students who invited her to speak sued school officials on Monday over the cancellation, claiming their rights to free speech were violated and that they were being discriminated against.
The school has denied the discrimination claims and said it tried it tried to work with the students, and would be willing to do so to accommodate speakers of all stripe going forward.