Another horse was euthanized after suffering an injury during a race at Southern California's Santa Anita Park, the park's owners said, bringing the number of equine deaths related to the venue to 25 since late December.
It is the second horse to be euthanized after suffering injuries at the Arcadia park since Friday.
Spectacular Music, a 3-year-old gelding, sustained "a fatal injury to his pelvis" while racing about the half-mile pole on Sunday, the Stronach Group, which owns Santa Anita Park, said in a statement.
"The horse did not fall, but was pulled up at about the half mile pole at the discretion of Jockey Jorge Velez and vanned to receive a comprehensive evaluation by on-site world-class veterinarians," the group said.
It said "equine pelvic injuries are rare" and "further evaluation is being conducted by the California Horse Racing Board, per protocol, to understand what could have caused this uncommon injury."
The statement did not say when the horse was euthanized. The Los Angeles Times reported the horse was put down Monday, and that the decision was made because of the extent of the animal's injury.
Twenty-five horses have died after injuries at Santa Anita since Dec. 26. The deaths caused the park to suspend racing and training to determine what was going on, but racing resumed in late March.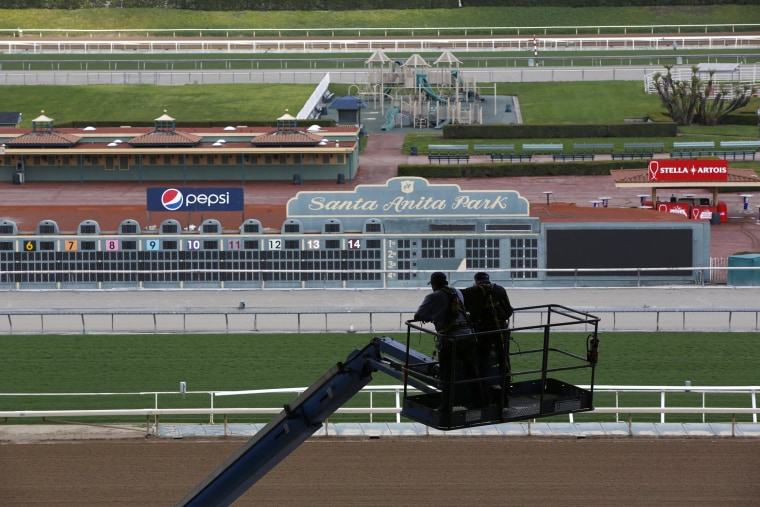 The Stronach Group also banned the use of drugs on race days and moved to sharply limit jockeys' use of whips.
On Friday, Commander Coil, a 3-year-old gelding, was euthanized after suffering a shoulder injury while galloping during training.
"Before this catastrophic injury, unprecedented health and safety reforms were introduced at Santa Anita Park," the Stronach Group said in the statement after the most recent death, and it said that from April 1 to May 18 there have been 698 starters on the main track and 651 starters on the turf course without fatalities.
"The Stronach Group is committed to advocating for the health and safety of horses and riders and will continue to work with stakeholders in California and nationally to drive further progress."
The animal-rights group People for the Ethical Treatment of Animals said in a statement Monday after that Santa Anita's new rules "have slowed the bloodbath" but more needs to be done.
"Two dead horses in three days proves that more must be done to end the training and veterinary practices that lead to broken bones," PETA said. The organization called on Santa Anita to "suspend racing until stronger measures are enacted."
The Times reported that most catastrophic injuries to horses occur in the fetlock or joint area of the leg, not the shoulder area or pelvis, which is where the injuries reported in the two most recent deaths.