One of three Americans who thwarted a terror attack on a passenger train in France last week arrived back home in California Tuesday.
Anthony Sadler, 23, and his parents arrived in a private plane at a Sacramento airport at 7 p.m. Tuesday (10 p.m. ET), NBC affiliate KCRA reported.
The college student was with two friends, National Guard Specialist and Alek Skarlatos and Airman Spencer Stone, when they jumped into action and took down alleged gunman Ayoub El-Khazzani, 26, on an Amsterdam-to-Paris train on Friday.
Sadler, Skarlatos, Stone and another man who helped, British businessman Chris Norman, were awarded France's Legion d'Honneur by French President Francois Hollande on Monday. The award is the nation's highest honor.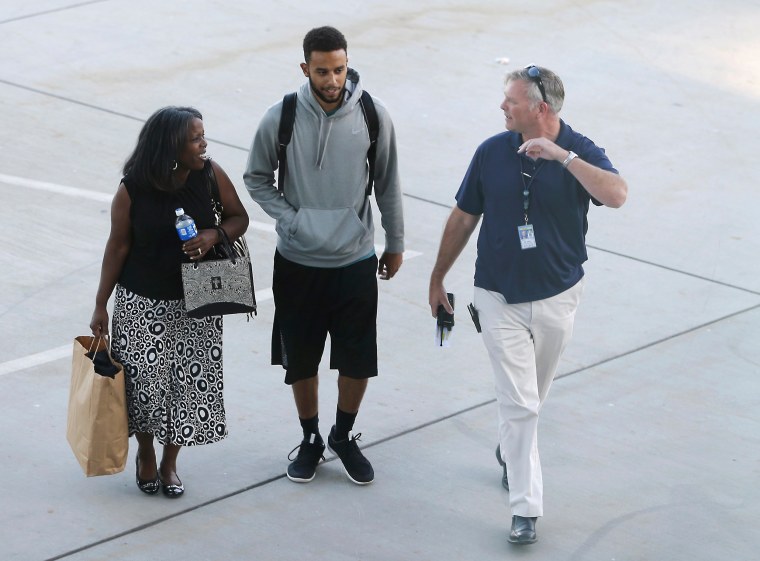 A French-American professor, Mark Moogalian, also tried to stop the attack and was hailed for bravery. He is still hospitalized after taking a bullet while trying to to disarm a gunman.
Sadler was also invited to the French premiere of the movie "Straight Outta Compton," joining stars on the red carpet. "I feel like I'm in a dream, it's unreal," the Sacramento State University student said. "It's pretty crazy."
Skarlatos and Stone have not yet returned to the United States. Skarlatos will receive the Soldiers Medal, the Army announced Tuesday. The medal is being awarded "for extraordinary heroism above and beyond the call of duty," the Army said.