Once he was an ambitious New York congressman whose fiery speech from the House floor in support of 9/11 responders made him a nationally known champion of the little guy, and whose much-publicized romance with Hillary Clinton's glamorous aide Huma Abedin boosted his Beltway bonafides.
Now, Anthony Weiner is a sick punchline.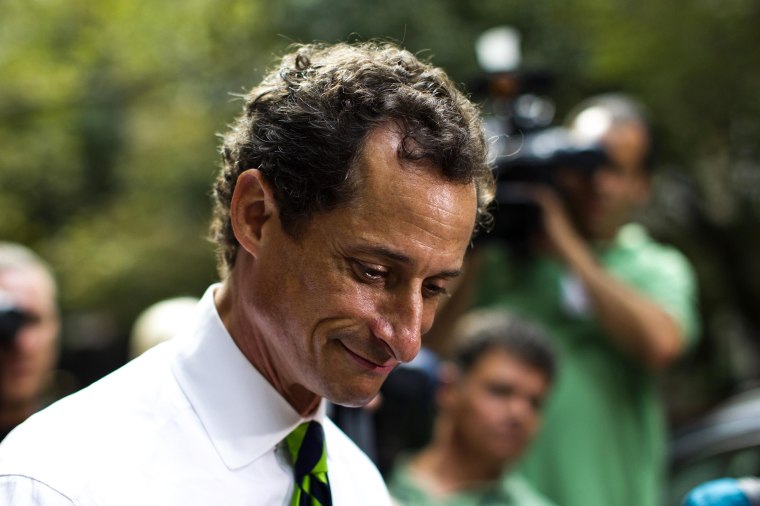 On Monday the fallen Brooklyn lawmaker faces yet another public humiliation — and possibly two years in prison — when he is sentenced for sexting a 15-year-old girl.
"Although the defendant's self-destructive path from United States Congressman to felon is indisputably sad, his crime is serious and his demonstrated need for deterrence is real," prosecutors argued in their filing last week. "The noncustodial sentence that Weiner proposes is simply inadequate; his crime deserves time in prison."
As part of his plea deal, Weiner already agreed not to appeal the prosecutors' recommendation of 21 to 27 months behind bars.
But in the court of public opinion, Weiner, 53, faces a life sentence of being forever known as the congressman who allowed his online sexual obsessions to derail his political career — and who inadvertently helped sabotage Clinton's presidential campaign.
"What he did was pretty reprehensible by pretty much every standard and what made it worse was anybody could see it online," Robert Thompson, pop culture expert at Syracuse University, told NBC News. "Does he offer the public anything that would make anybody want to forgive him? I don't know too many people who think that."
Related: Emails Related to Clinton Case Found in Anthony Weiner Investigation
Abedin, whose loyalty to Clinton and her husband was already the stuff of legends, stuck by her husband for years — up until the New York Post broke a story in August 2016 that Weiner was reportedly sexting again, and with a Donald Trump supporter no less. This, according to the paper, was happening while Abedin was campaigning with Clinton.
The following May, when Weiner pleaded guilty in Manhattan federal district court to one charge of transferring obscene material to a minor, he was still wearing his wedding ring.
Tearfully he told the judge, "I have a sickness, but I do not have an excuse."
Hours later, Abedin filed for divorce.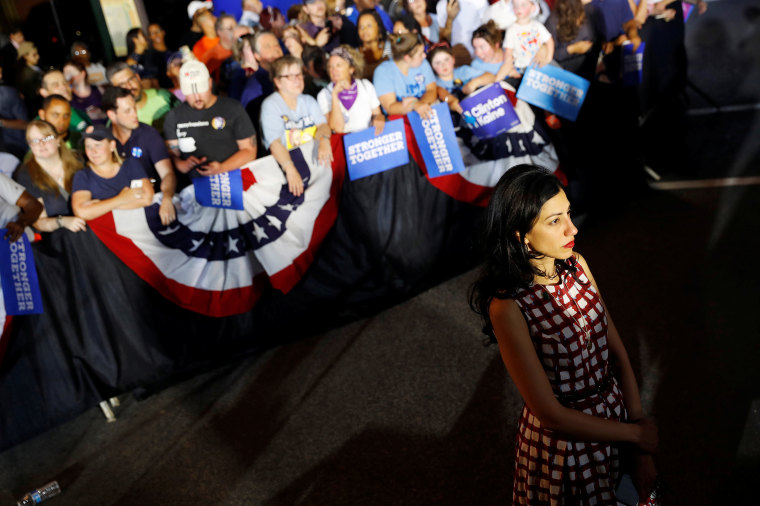 "After long and painful consideration and work on my marriage, I have made the decision to separate from my husband," Abedin said in a statement. "Anthony and I remain devoted to doing what is best for our son, who is the light of our life."
Will Abedin show up in court to witness the latest painful chapter in her husband's downfall? It's anybody's guess. But at a divorce court appearance earlier this month, they sat beside each other and there were no visible signs of acrimony.
That same day, Weiner's lawyers formally asked federal Judge Denise Cote that he be spared from prison, calling his behavior "inexcusable" but adding that he had made "remarkable progress" in dealing with his demons.
The disgraced former congressman also wrote a letter to the judge citing his "profound" regret for sexting the 15-year-old. "My continued acting out over the years crushed the aspirations of my wife and ruined our marriage," he wrote.
Related: Anthony Weiner Pleads Guilty in Teen Sexting Case, Wife Huma Abedin Files for Divorce
And, Weiner added, he has condemned his son to "forever have to answer questions about the public and private failings of his father."
Cote can tear up the plea deal and throw the book at Weiner if she chooses, said Hermann Walz, a professor of law and police science at the John Jay College of Criminal Justice in Manhattan. But if she sends Weiner to prison, he won't be doing hard time.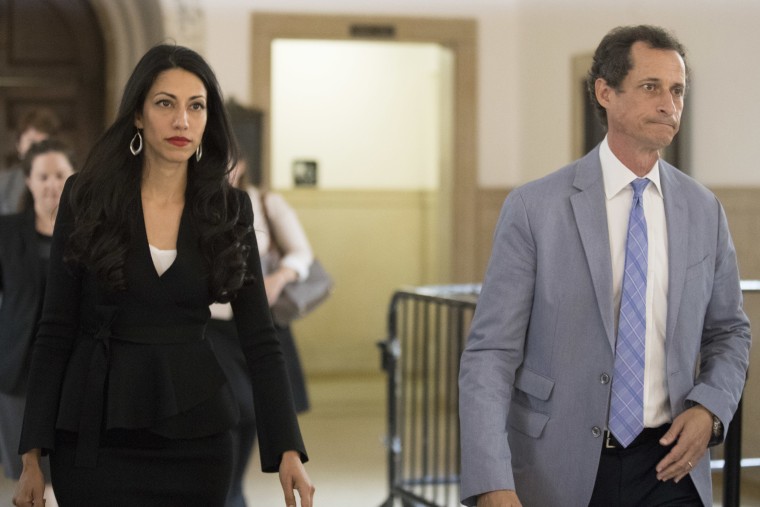 "It will be at some low level, country club type facility," said Walz, a former Queens and Brooklyn prosecutor. "They're not full lockdown. This is not Attica. He would be in a minimum security prison."
While convicted sex offenders like Weiner are considered the lowest of the low in prison and often find themselves to be targets, he probably won't have to worry about that.
"He'll be with non-violent felons," Walz said. "They tend to behave better there."
When Weiner gets out, he likely faces more restrictions on his freedom.
If the judge deems him a Level 1 or a Level 2 sex offender, Weiner will have to live with that label for at least 20 years. If the judge deems him a Level 3, he'll be a registered sex offender for life, required to notify the police every time he moves and barred from schools and other places children congregate.
Weiner may also find himself barred from the scene of his crime — the internet.
"That is strictly up to the judge," Walz said. "She could say, 'I'm going to let you out but never go on the internet again.'"
Formerly a rising star in the Democratic Party, Weiner had represented his constituents in Brooklyn and Queens for almost a dozen years and was a protégé of New York Sen. Chuck Schumer. He fancied himself a rough and tumble regular guy who played hockey and loved to spar with critics and gab with reporters.
Related: Anthony Weiner Probed by Feds in New York for Alleged Sexts to Teen
Weiner drew national attention in 2010 when he ripped into House Republicans for "cowardly" killing a bill to provide $7.4 billion in aid for 9/11 first responders for "procedural reasons."
"It's Republicans wrapping their arms around Republicans rather than doing the right thing on behalf of the heroes," Weiner yelled at the time. "It's a shame. A shame!"
While Weiner was considered one of Washington's most eligible bachelors, Abedin was Clinton's most-trusted and glamorous aide — and reportedly considered by many in the Clinton camp to be way out of Weiner's league.
Abedin was also not impressed when she met Weiner for the first time in 2001 at a Democratic National Committee retreat on Martha's Vineyard.
"Our recollection is not identical," Abedin said in an August 2016 interview with Vogue, one of the few times she has lifted the veil on her failed marriage. "But we both remember that I ordered tea, and then left to use the ladies' room, and then never came back. That was our first meeting."
But Weiner persisted and they married in 2010. A year later, it all came crashing down after Weiner accidentally sent a crotch shot of himself via Twitter to a Seattle college student.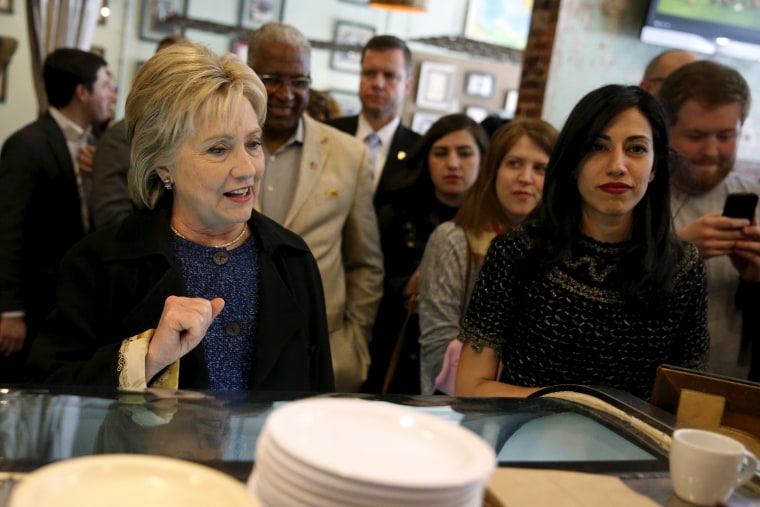 At first, Weiner insisted he had been hacked. But that first filthy photo was followed by more seamy shots of the congressman.
Finally, Weiner came clean but he refused to resign — even after he was rebuked by President Barack Obama. It wasn't until House Minority Leader Nancy Pelosi threatened to strip him of his committee assignments that Weiner finally threw in the towel.
Abedin, who was pregnant at the time, stuck by him.
After claiming to have undergone therapy, Weiner ran for mayor of New York City in 2013 and asked voters to giving him a second chance. But his campaign was derailed by revelations that he was still sexting women and using the pseudonym "Carlos Danger."
Weiner was trounced in the mayoral primary, but it didn't strip him of his chutzpah — or stop him from sexting.
In September 2016, NBC and other news organizations confirmed that Weiner was under investigation by federal prosecutors in Manhattan "for alleged sexts to a 15-year-old girl that allegedly included pornographic videos, requests for nudity and requests for masturbation."
Weiner's handle this time was "T Dog." And those X-rated online exchanges first surfaced when the teen sold her story to a British tabloid for $30,000.
Then in October, as the brutal presidential campaign was heading into the final weeks, the FBI seized Weiner's laptop and then announced they had found a new batch of emails on a computer that "appear to be pertinent" to a previous investigation into Clinton's use of a private server while she was secretary of state.
Clinton, in her new book, has called then-FBI Director James Comey's decision to reopen the investigation just 11 days before the election "the determining factor" in her loss to Donald Trump.
Could Weiner ever make a comeback? Thompson thinks not.
"Mel Gibson had a bunch of scandals and then he made 'Hacksaw Ridge.' Donald Trump said a lot of things that people found very offensive and he was elected president," Thompson said. "There are people like Paris Hilton who make a sex tape and suddenly they have a career."
But Weiner's big sin is that "he's gotten into trouble multiple times and didn't seem to learn his lesson," Thompson said.
"Plus, as any stand-up comic will tell you, Weiner has that name. Weiner. It shouldn't be an issue, but it is an issue." For comics, Thompson said, "it's low-hanging fruit."