Anthony Weiner's campaign manager has quit in the wake of new revelations about the New York City mayoral candidate's online communications with women, according to a spokeswoman.
The move was first reported by The New York Times late Saturday and confirmed to NBC News by Barbara Morgan, Weiner's press contact.
Danny Kedem, 31, informed Weiner that he could no longer run day-to-day operations after the mayoral hopeful admitted Tuesday that he continued to send raunchy photos and messages to women after resigning from Congress in 2011 amid a "sexting" scandal, according to the Times report.
When contacted by NBC News, Kedem declined to comment.
Kedem's resignation deals another blow to Weiner's beleagured campaign, which has struggled to rebound in the polls following the candidate's disclosures in the last week.
On Tuesday, Weiner confessed to explicit communications with six to ten women – three of them after he resigned – after a gossip website published texts and photos it said were from 2012.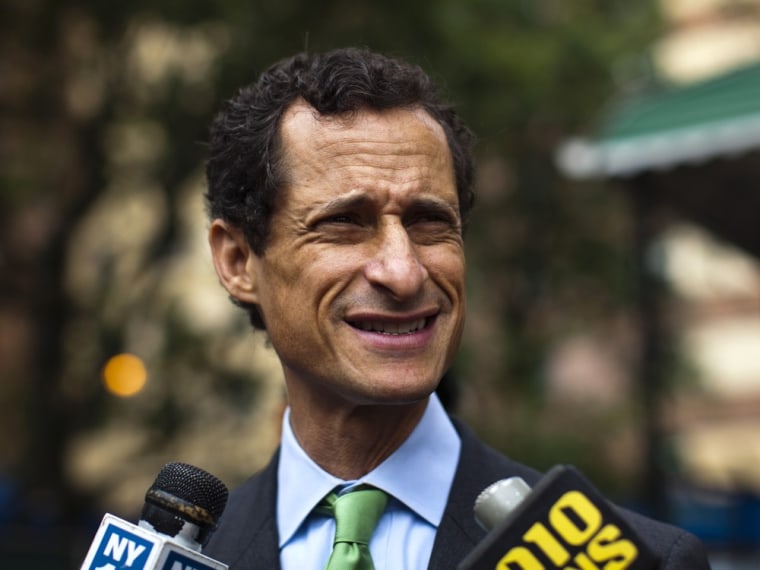 At a press conference Tuesday, Weiner – accompanied by his wife, Huma Abedin, an aide to Hillary Clinton – apologized and asked voters for a second chance.
"Some of these things happened before my resignation. Some of them happened after," Weiner said.
"While some things that have been posted today are true and some are not, there is no question that what I did was wrong. This behavior is behind me," he said, calling his digital indiscretions "problematic to say the least and destructive to say the most."
On Monday, the gossip website The Dirty claimed that Weiner, allegedly using the alias "Carlos Danger," met an unnamed 22-year-old woman on the social media website Formspring in July 2012, sent her explicit photos and had phone sex with her before the relationship "fizzled."
Weiner, a six-term congressman who represented the New York City boroughs of Brooklyn and Queens, resigned in disgrace in June 2011 after it was revealed he sent a photo of himself in his underwear to a woman via Twitter.
He initially denied it was him in the photo or that he sent it, but Weiner eventually came clean, confessing that he had carried on "inappropriate" conversations through Twitter, Facebook, email and over the phone with six women over a three-year period.
And yet, less than two years after a stunning fall from grace, Weiner, 48, appeared to be in the midst of a comeback.
Two months after he announced his return to the political stage, he was near or at the top in several polls in the race to replace Michael Bloomberg, eclipsing New York City Council Speaker Christine Quinn, who was widely considered the frontrunner.
Kedem was likely a key ingredient in Weiner's successful formula, helping to transform the long-shot candidate -- a mainstay of tabloid headlines and late-night talk show punchlines -- into a legitimate contender for New York City's top job.
Weiner has not indicated that he will drop out of the race.
Tracy Connor of NBC News contributed to this report.
Related: