/ Source: Associated Press
Thanksgiving wasn't a day of thanks Thursday in parts of North Dakota.
Hundreds of protesters tried to build a wooden bridge to cross a creek and reach purported tribal burial sites, almost 200 people took to the streets in a nearby small town, and more than 150 others blocked a bridge to share their anger over the continued construction of the Dakota Access Pipeline.
The demonstrators coordinated the simultaneous demonstrations on Thanksgiving: the first at Turtle Island, where they constructed the bridge; the second in the small town of Mandan; and the third at Backwater Bridge — where law enforcement allegedly used a concussion grenade that severely injured a woman's arm.
"Today's multiple protest events on Thanksgiving day were no surprise to our law enforcement team," Morton County Sheriff Kyle Kirchmeier said in a statement. "The energy these paid agitators and protesters exerted to try and draw our law enforcement into confrontations did not work. We will respond in kind to any advances protesters make on our line. It's their decision and they can bring an end to this."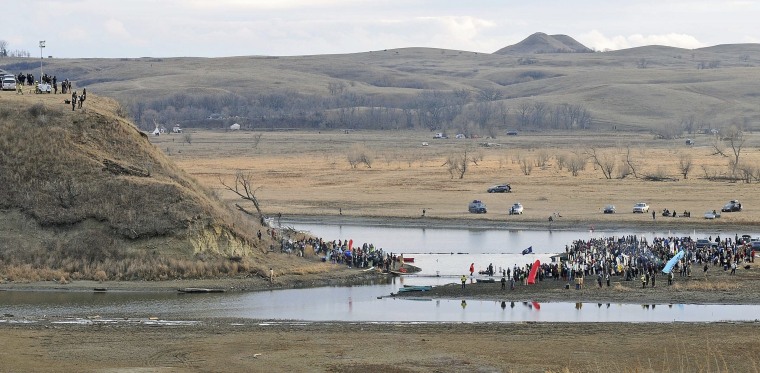 There is no evidence that the protesters were paid.
The activists — who refer to themselves as "water protectors" — said they tried to build a bridge to Turtle Island to gain access to a location that they say is host to a sacred burial site. Three hundred-fifty to 400 people gathered shortly before noon Thursday, according to The Associated Press.
The sheriff's office alleged that the demonstrators wore body armor and masks and yelled "remember '73," in reference to the American Indian Movement's occupation of Wounded Knee, South Dakota, in 1973.
Related: What Will a Trump Presidency Mean for the Dakota Access Pipeline?
The group largely dispersed later in the afternoon, although two of the demonstrators refused to leave. Both were arrested, the first on two misdemeanor charges and the second on a felony reckless endangerment charge.
Meanwhile, about 170 people left the camp near the construction site Thursday morning to demonstrate in Mandan — a town adjacent to North Dakota's capital, Bismarck. According to the AP, protesters used folding tables to display pumpkins and a pig's head and to pass out food.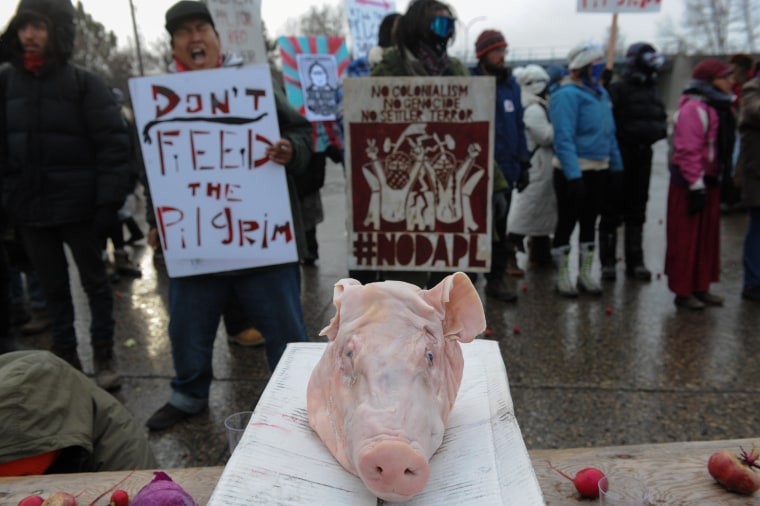 About 50 police officers stood across from the protesters.
Most of the activists vacated the area before noon, although the AP reported that at least one arrest was made.
The third protest took place on Backwater Bridge on Thursday morning. A semi-tractor backed onto the bridge, around which 150 to 200 protesters had assembled. All protests had dissipated by the evening.
Related: Dakota Access Pipeline Fight Watched on Facebook Live Around World
The physical protests, however, aren't the activists' only avenue.
In a letter to tribal leaders and supporters, Harold Frazier, chairman of the Cheyenne River Sioux Tribe, asked for others to join in an economic boycott in the Bismarck-Mandan area.
In his statement released Tuesday, Frazier wrote:
"In September, the Cheyenne River Sioux Tribal Council voted unanimously to divest all tribal money from Bismarck and Mandan and asked that tribe members not spend any money in these cities. We are now asking that ALL people who oppose this pipeline join us."These communities have led the violent law enforcement efforts against out people and we will not support them financially. If these communities will not listen to our reasoned pleas for justice and fairness, we must speak the only language they seem to have understood throughout the entire DAPL project: MONEY. I look forward to your cooperation in this effort and I call on all people who oppose violence against unarmed and peaceful citizens to #BoycottBismarck."
The Cheyenne River Sioux said they believe the money spent in Bismarck-Mandan is helping to fund local law enforcement, which has recently increased its efforts to impede the protests. More than 520 related arrests have been made since August, according to news reports.
Politicians and celebrities, like Sen. Bernie Sanders, I-Vermont, and comedian Paul F. Tompkins, used Thanksgiving to support the protesters.
The clash — which has gone on for months — stems from a continued demonstration against a 1,170-mile oil pipeline.
The organized movement has generated the largest American Indian protest in modern history. Since the first protest, thousands of people have flocked to North Dakota to aid the Standing Rock Sioux Tribe, who believe the pipeline could contaminate their water source, the Missouri River, as well as desecrate the tribe's sacred sites.
The company behind the pipeline, Energy Transfer Partners, says that it has taken measures to prevent such leaks, that the pipeline is far safer than transporting oil with trucks or trains and that there is no archaeological significance to the area.