Anti-Semitic incidents in the United States are up sharply since the November election, new research indicates, including an 86 percent increase in incidents like bullying and vandalism since the beginning of the year.
"There's been a significant, sustained increase in anti-Semitic activity since the start of 2016, and what's most concerning is the fact that the numbers have accelerated over the past five months," said Jonathan A. Greenblatt, chief executive of the Anti-Defamation League, a nonprofit Jewish activist group.
Among the preliminary reports of 541 anti-Semitic incidents the ADL recorded in the first quarter of 2017 were 380 harassment incidents (including 161 bomb threats), 155 vandalism incidents (including three cemetery desecrations) and six physical assault incidents.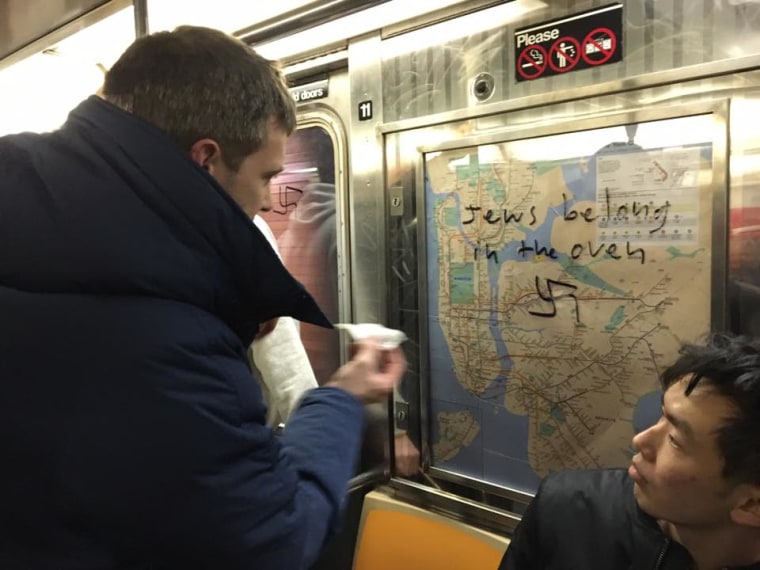 NBC News has not independently confirmed all of the reports, but it has previously confirmed that such incidents run the gamut from hostile graffiti and emails to bomb threats.
In February, a group of New York commuters joined efforts to clean up a subway car defaced with anti-Semitic graffiti and Nazi symbols, including swastikas and slogans such as "Destroy Israel, Heil Hitler," and "Jews belong in the oven."
Later that month, at least 100 headstones were knocked over or damaged at a Jewish cemetery in Philadelphia.
In New York City alone, there were 55 anti-Semitic crimes reported from Jan. 1 to March 5 this year, up 189 percent from 19 such incidents in the same period of 2016, according to data from the nonpartisan Center for the Study of Hate & Extremism at California State University-San Bernardino.
Both studies say the 2016 presidential election and the political environment it fostered have in part led to the increase.
The ADL said it recorded 34 incidents linked to the election, including graffiti posted in Denver last May reading: "Kill the Jews, Vote Trump."
"We might very well be at the start of a trend where anti-Semitic incidents are going up each year. We were seeing an over-decade decline in anti-Semitic incidents," California State-San Bernardino researcher Brian Levin told Reuters last month.
More than 100 anonymous bomb threats at Jewish community centers across 30 states earlier this year led to evacuations of institutions from New York to Wisconsin and were denounced by President Donald Trump as "horrible and painful." Officials have blamed those threats on an 18-year-old Israeli-American Jewish man who was charged this month.
The ADL said technology has made it easier to harass Jews anonymously.
"Extremists and anti-Semites feel emboldened and are using technology in new ways to spread their hatred and to impact the Jewish community on and off line," said Oren Segal, director of the ADL's Center on Extremism.
Engineering students at the University of Michigan in February reported receiving threatening racist and anti-Semitic emails. A blogger who chronicles Jewish life in Albuquerque, New Mexico, received two messages including slurs and death threats in January.
The latter of these reports was verified by partners through a wide-ranging project called Documenting Hate. NBC News has partnered with ProPublica, the nonprofit organization dedicated to investigative journalism, as well as other news organizations and nonprofit groups for this project to track reports of hate crimes across the United States.
The ADL's audit includes both criminal and non-criminal incidents compiled using information provided by victims, law enforcement and community leaders and evaluated by the group's staff.
If you have been the victim of a hate crime or witnessed someone else being attacked, tell us about it by filling in the form below. Please include your contact information, so reporters can follow up to investigate the incident.
The form is not a report to law enforcement or any government agency.