If Donald Trump wants to check out the latest attack ad against him, he'll have to visit Michigan — and learn Arabic.
That's because a billboard written in Arabic in Dearborn, Michigan — which has a large Arab-American population — is taking aim at the Republican presidential nominee, taunting him in a language he doesn't understand for his antagonism toward Muslims.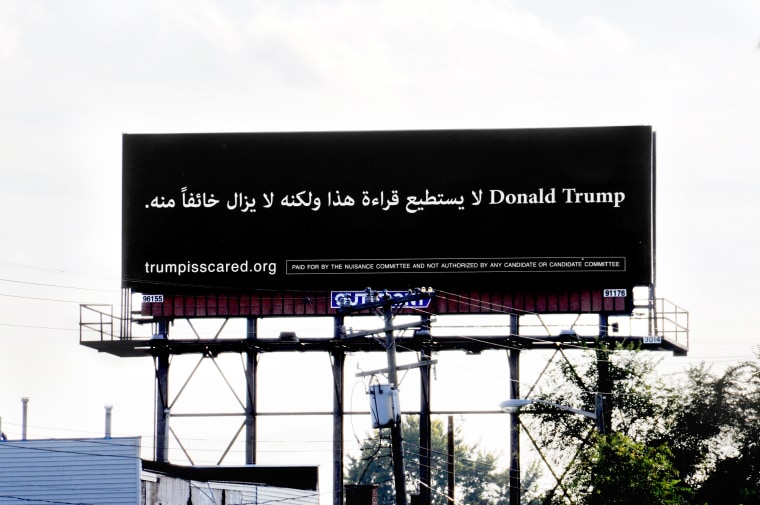 "Donald Trump, he can't read this, but he is afraid of it," reads the black-and-white billboard created by the Nuisance Committee super PAC, which is based in Chicago. The sign, which went up late last week, directs viewers to trumpisscared.org, which gives a short history of Trump's controversial statements on immigration.
Related: Experts Say Trump's Muslim Ban Would Cripple Immigration System
Trump has called for suspending immigration "from any nation that has been compromised by terrorism" — a somewhat evolved version of his previous call to ban Muslims from entering the country entirely.
Melissa Harris, a spokeswoman for the Nuisance Committee, which was launched by Cards Against Humanity creator Max Temkin, told NBC News that Dearborn was chosen because it's in a swing state and because of its large Arab-American population. Because it's written in Arabic, the billboard encourages those who don't speak the language but are curious about its message to reach out to a friend to find out.
"We want to make sure everyone that's registered to vote goes to vote. We want them to stand up and be heard," Harris added. "We were trying to highlight in a clever way the ridiculousness of Donald's Trump position on immigration," which she called "abhorrent, un-American and hateful."
The Trump campaign did not return a request for comment about the billboard, which sits on I-94. Harris said more than 331,000 people see the billboard — which will be up for the next month — on a weekly basis.
For their part, members of the Muslim-American community in Dearborn said the billboard was effective.
Hassan Al-Qaqwini, an imam at the Islamic Center of America in Dearborn, said, "I believe that the billboard shows some sarcasm, but it is also sending a message on how uneducated Donald Trump and his followers are about Islam and the Muslim committee, how little they know about our religion. I think it's a true message and a powerful message as well."
Nasser Beydoun, chairman of the Arab-American Civil Rights League in Dearborn, echoed that sentiment. "Nothing about Donald Trump is funny. But the message is what's important here, and that's everyone needs to come together to defeat racism and bigotry and demagoguery here the United States."