Police in Portland, Oregon used "diversionary bang devices" while arresting protesters Saturday during the fifth night of demonstrations since the election, and a day after a protester was shot during a confrontation with someone in a car on a bridge.
Protests were held in other cities in the nation Saturday. A substance described as tear gas or pepper spray was reportedly also used in Portland in confrontations with protesters at around 11 p.m. local time (2 p.m. Saturday ET), according to video broadcast live from the scene. The demonstrations were held hours after the city's mayor and police chief appealed for calm.
Portland police said 19 people were arrested Saturday night as of 10:40 p.m. Objects including rocks and road flares were thrown at officers at various times in the night, police said. Some in the crowd dragged metal barricades into the street, and a film crew was attacked by protesters, police said.
The "unpermitted march" in Portland left Pioneer Square at around 6:40 p.m. local time (9:40 p.m. ET), police said. Police in riot gear were on the scene and police used a lousdspeaker to order crowds onto sidewalks and out of the roadway. Some in the crowd chanted "peaceful protest!" and "not my president!"
Police said officers found "a stockpile of bricks and rocks" near the demonstrations in Pioneer Square.
Demonstrations in Portland turned into what police described as a "riot" Thursday, with the windows of businesses smashed and 26 people arrested. The protests continued Friday, when 17 were arrested and the protester was shot. Four people who police said are believed to be "criminal gang associates" were detained in the shooting, and two have been charged. The victim is expected to survive.
Protests were also held in other cities across the country Saturday, with an estimated more than 20,000 turning out in New York City. Protests were also held in Los Angeles, Washington, D.C., Miami and Birmingham, Alabama, and Fresno, California, among others.
Hundreds took to the Las Vegas Strip, NBC affiliate KSNV reported.
Earlier Saturday, Portland's mayor and police chief urged for calm, and said criminal activity would not be permitted to continue.
"We are done with criminal activity in this city. It's time to move on and move forward," Portland Police Chief Mike Marshman said.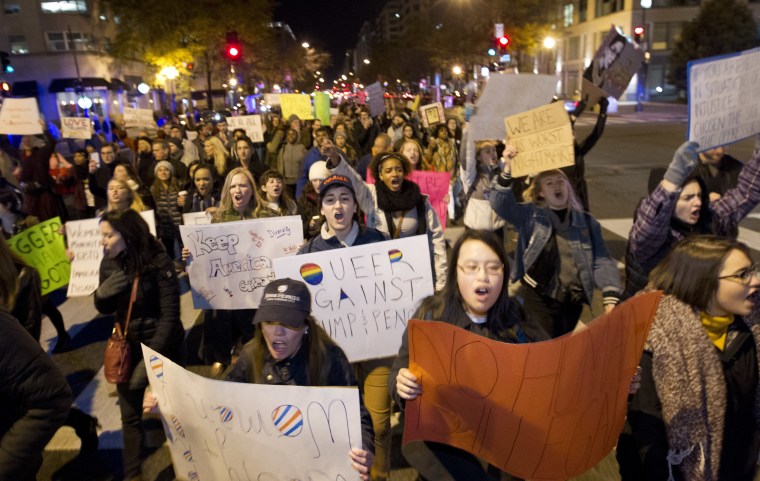 Not all those who were out in the streets in Portland supported the protests. Sam Schultz said told NBC affiliate KGW that he was out to witness a historical event, but said "I think it's ridiculous. I think it needs to stop." He said he did not like either candidate and did not vote.
Kris Ramsey, holding a sign that read "Building resistance against Trump" told the station she was out to encourage "the general public to stand up if you see someone treated unfairly, and to report hate crimes."
Earlier Saturday, Portland police announced that two people were arrested in the shooting on Portland's Morrison Bridge, which police said occurred at around 1 a.m. Saturday after a suspect in a vehicle on the bridge got into a confrontation with someone in the protest.
Shamar Xavier Hunter, 18, was charged with six counts of attempted murder and one count of attempted murder, and Steffon Marquise Corothers, also 18, was booked on charges of attempted murder and unlawful use of a weapon, police said.
In New York City Saturday, a protest was held at Union Square that ended at trump Tower in midtown. A law enforcement source said the protest at its peak had an estimated 25,000 participants.
"We reject the president-elect!" the crowd chanted along Fifth Avenue.
Another protest took place Saturday morning in downtown Los Angeles, where approximately 8,000 gathered — according to the LAPD — after more than 180 people were arrested Friday night.
The protests were not confined to the U.S. Hundreds reportedly gathered in Berlin at the Brandenburg Gates, some with anti-Trump messages.
In Indianapolis, three people were arrested and two police officers were injured after rocks were thrown at police during an anti-Trump demonstration downtown, police and NBC affiliate WTHR reported.
A vigil to promote solidarity after the election was held at Lafayette Park adjacent to the White House Saturday. Those in the crowd held LED tealights and glow sticks, and sang songs like "Hallelujah," All You Need Is Love" and "Imagine."