A federal appeals court's ruling this month that the Second Amendment provides no right to carry a concealed handgun in public is unlikely to prompt the Supreme Court to weigh in — despite the highly controversial nature of the issue.
In a blow to gun rights advocates — and a boost to gun control groups — the 9th Circuit Court of Appeals upheld a California law that requires showing a county sheriff "good cause" in order to get a permit to carry a concealed weapon. As a practical matter, the law makes it difficult for most people to get a permit in California's urban areas.
After looking to the history of gun laws since pre-colonial times, the court held that "the Second Amendment does not protect in any degree the right to carry concealed firearms in public."
It said, in a 7-4 ruling, that "any prohibition or restriction a state may choose to impose on concealed carry — including the requirement of 'good cause,' however defined — is necessary allowed by the Amendment."
But the court declined to go further and say whether the Constitution protects openly carrying a gun in public. It said that question was not at issue in the case.
Related: No Permit Required: New Idaho Law Allows Concealed Guns
Four other federal appeals courts have reached similar decisions on concealed carry laws, and the Supreme Court seldom takes up an issue unless the lower courts are divided.
"Cases from the 2nd, 3rd, and 4th Circuits have given the Supreme Court the opportunity to consider concealed carry licensing, and the court did not grant" those requests, said Prof. David Kopel, a gun rights law expert at Denver University.
In 2013, the 7th Circuit Court of Appeals in Chicago struck down an Illinois law that banned all forms of carrying firearms in public. "The Second Amendment right to bear arms implies a right to carry a loaded gun outside the home," the appeals court said.
But that ruling was placed on hold to give Illinois time to revise the law, which the state did, eliminating a potential split among the federal circuits.
Six other states — Delaware, Hawaii, Maryland, New Jersey, New York, and Rhode Island — have laws similar to California's, requiring gun owners to provide a reason for getting a concealed carry permit. Stating a general need for self defense is not enough.
Advocates of gun rights almost universally condemned Thursday's ruling.
"The 9th Circuit decision will leave good people defenseless, as it completely ignores the fact that law abiding Californians who reside in counties with hostile sheriffs will now have no means to carry a firearm outside the home for personal protection," said Chris Cox, who leads the National Rifle Association's political action committee.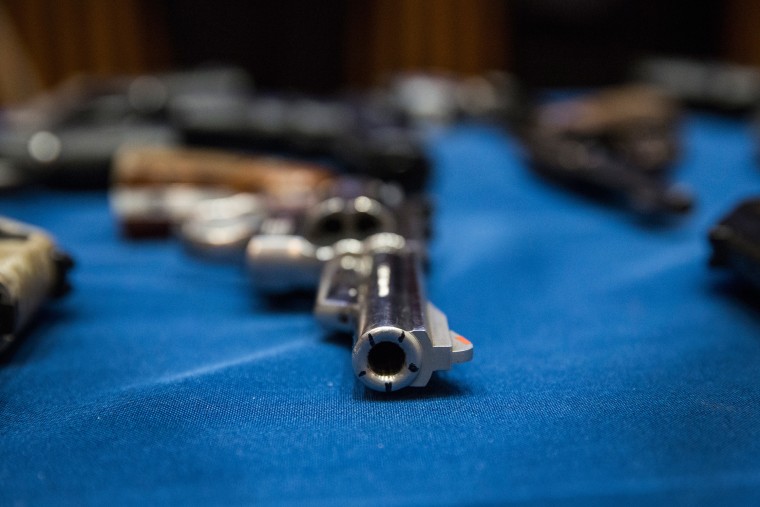 Most states issue concealed carry permits without a requirement to show a special need. Vermont is alone in allowing concealed carry without a permit.
But gun control groups called the ruling a victory for public safety.
"It is just the latest judicial recognition that common sense gun laws do not violate the Second Amendment, and that nothing in our constitution prevents us from passing the types of gun laws that keep our families and communities safe," said Elizabeth Avore of Everytown for Gun Safety.
The ongoing gun control debate was once again cast into the spotlight last week after a mass shooting at a Florida nightclub left 49 dead and 53 wounded. The gunman, Omar Mateen, legally bought the semiautomatic rifle and 9mm handgun that he used to gun down his victims. But a one-time federal assault weapons ban, no longer in place, may have prevented him from buying the type of semiautomatic rifle he used in the massacre — a Sig Sauer MCX.
President Barack Obama said following the shooting that divisive politics are partially at fault for the stall on gun control reform.
Related: 'No Fly, No Buy' Has Political Momentum, But May Have Little Impact
On Thursday, Senate Democrats conducted a nearly 15-hour filibuster until GOP colleagues agreed to allow votes on banning people on the government's terrorist watch list from obtaining gun licenses and expanding background checks to gun shows and internet sales.
The procedural votes are set to begin Monday.
After issuing its landmark ruling in 2008 that the Second Amendment provides a right to keep a handgun at home for self defense, the Supreme Court has repeatedly declined to wade back into the gun rights fray. The justices have denied review of more than five dozen cases intended to test the reach of gun laws outside the home.
That was so even when Justice Antonin Scalia, who wrote the 2008 decision, was still on the court.
Related: Gun Control Debate: Would Orlando Shooter's Rifle Have Fallen Under Former Ban?
Groups challenging the California law have suggested they might appeal the 9th Circuit ruling, but that may not be successful.
"It's very unlikely the court would take the case. And even if it did, it's unlikely they would get the outcome they want," said Mike McLively of the Law Center to Prevent Gun Violence, a gun control advocacy group.
A challenge to California's ban on openly carrying a gun in public is now pending in the 9th Circuit. If that law is upheld, opponents have suggested they might appeal to the Supreme Court, depending on the outcome of the presidential election.
"It is imperative that we elect a president who will appoint Supreme Court justices who respect the Second Amendment and law abiding citizens' right to self defense," said the NRA's Chris Cox.