A $1 million bond was set Saturday for a suspect in a string of highway shootings that has rattled Arizona drivers.
Leslie Allen Merritt, 21, is facing 28 felonies following his arrest Friday. He was charged with four counts each of drive-by shooting, intentional terrorism, discharging a firearm within city limits, aggravated assault, discharging a firearm, criminal damage and disorderly conduct.
"All I got to say is I'm the wrong guy, I've been telling the detectives that," Merritt said at his arraignment, adding that he has two children and can "never afford" such a high bond.
He was arrested by a SWAT team that tracked him to a Walmart in Glendale, Arizona — leading Gov. Doug Ducey to proclaim on Twitter: "We got him!"
"I think the detectives really worked this," Arizona Department of Public Safety spokesman Bart Graves said on MSNBC on Saturday, crediting "old-fashioned police work" and public tips for helping the investigation to come together over the past few days.
On Friday, investigators had eyes on the suspect throughout the day, and also spotted him at a pawn shop selling a gun, reported NBC affiliate KPNX.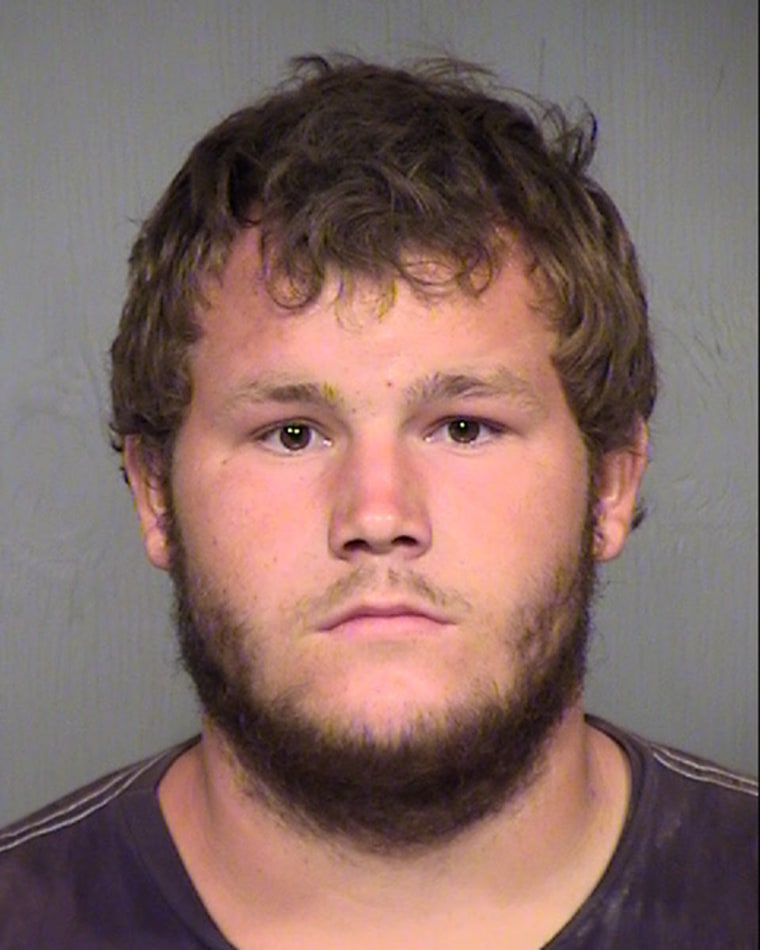 At 6:45 p.m. local time, Merritt then entered the Walmart with a woman and a 5-year-old child, according to investigators.
Witnesses said he was no more than 10 feet inside the automatic doors when authorities swarmed in and tackled him. He gave himself up willingly, they added.
"Ten officers came out with the suspect, he didn't resist, they put him right in the car after checking him," witness Brandon Copeland told KPNX.
At a news conference Friday night, authorities said Merritt owned a weapon that was "forensically linked" to the first four shootings.
The first three shootings occurred on Aug. 29 and the fourth the following night, hitting a tour bus, SUV and two cars, all of them on Interstate 10. No one was injured.
Frank Milstead, director of the Arizona Department of Public Safety, noted that others may have also been involved in the remaining shootings. "I believe we have some copycats that decided to participate," he said Friday.
Merritt's father told The Associated Press that his son had nothing to do with the shootings and that anyone who says he was involved is a "moron."
Leslie Merritt Sr. said he believes his son is being made a scapegoat by police who were desperate to make an arrest under immense public pressure. "He has way too much value for human life to even take the slightest or remotest risk of actually injuring someone," he said.
Merritt faces a range of charges that include criminal endangerment, assault and unlawful discharge of a firearm.
Eleven vehicles were shot at on or near the I-10 freeway running through Phoenix since Aug. 29, authorities have said, although some of those incidents involved bullets and others were what has been only described as projectiles.
Ducey praised the work of the Arizona Department of Public Safety, and said the investigation remains ongoing.
"Are there others out there? Are there copycats? That is possible," Milstead said.
The last confirmed shooting was on Sept. 10, when a bullet strike was found on a truck-tractor — although it wasn't clear when and where the vehicle was when it was shot. The only person injured in the shootings was a 13-year-old girl hurt by flying glass.
Three of the shootings involved unspecified projectiles while eight involved bullets, the Arizona Department of Public Safety has said. One of the shootings involving bullets was preceded by a "road rage" incident, police said.
Some drivers told NBC News they were avoiding using the freeway over fear of being shot. A reward of $50,000 was offered for information leading to an arrest.
Officials said the investigation continues into potential suspects in the other shooting incidents.
"The overhead freeway signs will stay lit," Graves said Saturday. "We are asking for leads."
Earlier Friday, a local 19-year-old who had been described as a "person of interest" in the case was ordered released from jail. He was never named as a suspect in the shootings, and authorities never explained why he was considered a person of interest.
Prosecutors asked a judge to dismiss a petition to revoke the man's probation after police failed to provide a police report or investigation documents, a spokesman for the Maricopa County Attorney's Office said. The 19-year was detained on Sept. 11 but was booked on a possession of marijuana charge.