Leslie Leach shut down her hair salon in Chandler, Arizona, two weeks ago, after reading the Centers for Disease Control and Prevention's guidelines on social distancing amid the coronavirus outbreak.
Leach, 35, knew she could not cut or color her clients' hair without touching them, much less from 6 feet away. The mother of three wanted to help slow the spread of the coronavirus and not put herself, her family or her clients — who include breast cancer survivors — at additional risk.
So she was shocked on Monday when Arizona Gov. Doug Ducey issued a stay-at-home order for the state that included "personal hygiene services" like salons and barber shops as essential businesses that are allowed to remain open, even after dine-in restaurants, bars and gyms were forced to close.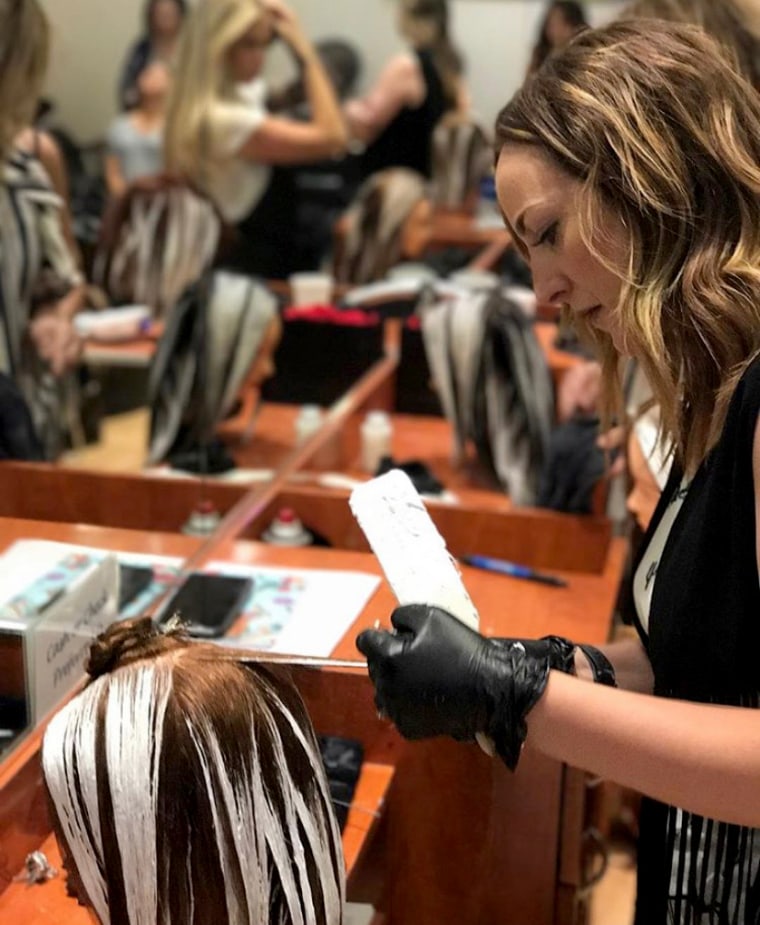 Ducey's decision — which follows an earlier state order banning cities and counties from closing essential businesses, including salons — puts those like Leach in a precarious position. If they keep their salons open, they worry about contributing to the coronavirus' spread. If they close voluntarily, they fear they won't receive the same financial support as businesses shut down by the state.
"To me, this is just reckless," said Leach, who is continuing to pay her half of the $2,100 monthly rent on her salon, Styles by Leslie, which she shares with another hairstylist. "I'm fortunate enough to have a savings that can float me for a bit, but I know so many stylists who still have to work right now to pay rent, while worrying about putting themselves and others at risk."
Ducey's Monday stay-at-home order followed weeks of criticism from city leaders and lawmakers across Arizona, who said the governor's response to the coronavirus outbreak was too slow and lax. On March 19, Ducey, a Republican, closed bars, dine-in restaurants and gyms, but only in counties that had reported coronavirus cases. After cities began enacting more aggressive orders to shut down businesses and enforce social distancing, Ducey issued an order on March 23 barring local governments from going further than the state, which incensed mayors who said they were trying to protect their cities.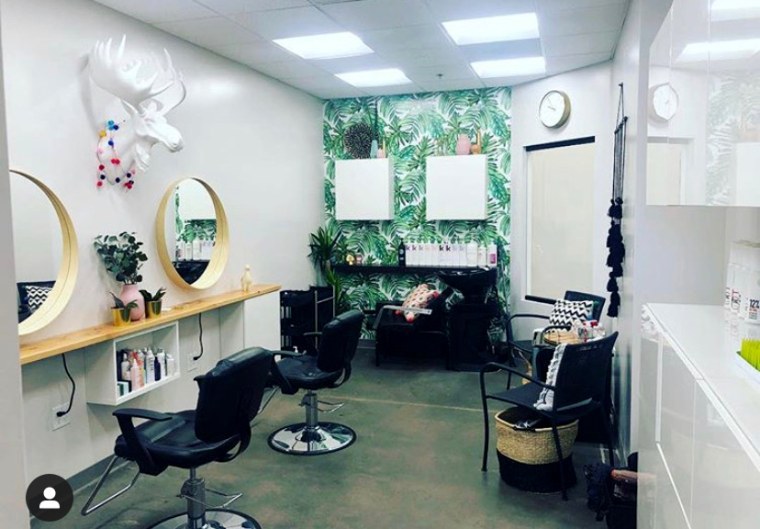 Ducey's office did not respond to requests for comment. In a statement to The Arizona Capitol Times last week, a Ducey spokesman defended the governor's position, saying the order ensured that the state had one uniform policy.
Several city officials, including the mayors of Phoenix and Tucson, said this week that they remain concerned about the governor's response to the crisis, even after Monday's stay-at-home mandate. They want Ducey to further limit what services are considered essential and allowed to remain open. That list currently includes golf courses and pawn shops, in addition to salons and barbershops. As of Wednesday, Arizona's health services department reported more than 1,400 coronavirus cases and 29 deaths.
"There are gaping holes that you could drive a freight train through in this order," Phoenix Mayor Kate Gallego, a Democrat, said. "This is not a stay-at-home order that encourages aggressive social distancing."
Full coverage of the coronavirus outbreak
Ducey's stay-at-home order, which took effect Tuesday and lasts through April 30, came about a week after he said that Arizona did not need such a restriction, because the outbreak was not at the same stage there as in other states. And it came two days after the state's emergency management director quit, citing a "lack of communication and transparency" in Ducey's response to the pandemic in her resignation letter, according to The Arizona Republic.
"Throughout this process I've been clear that in Arizona, we are going to take a calm and steady approach, making data-driven decisions and act with urgency to protect public health and build capacity in our health care system," Ducey said during Monday's news conference. In response to questions about essential businesses, he directed reporters to his orders for specifics.
Ducey said he enacted the stay-at-home order after state health officials, relying on "Arizona-specific data," recommended enhanced physical distancing measures. It's unclear how many people in Arizona — which saw its first positive case on Jan. 26 — have been tested for the coronavirus. Until last week, private laboratories in Arizona were only reporting positive cases to the state. On March 23, Ducey issued an order requiring labs to report all tests, regardless of results.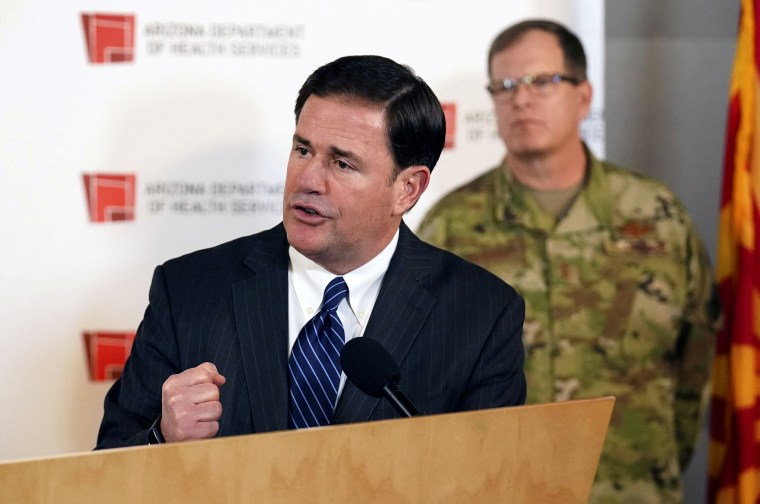 The governor's stay-at-home order drew praise from some Arizona health care organizations, such as the Arizona Nurses Association, who said it would help mitigate the spread of the coronavirus. Glenn Hamer, president and CEO of the Arizona Chamber of Commerce and Industry, thanked Ducey in a statement last week for his order ensuring that businesses and workers would not have to navigate a patchwork of policies across the state.
But Gallego and other mayors said they are frustrated, not only by the list of businesses the governor has deemed essential, but also because Ducey is not allowing them to issue their own more restrictive orders.
"That's where I feel he really tied our hands," said Tucson Mayor Regina Romero, a Democrat, who along with Gallego was one of the nine mayors who sent a letter to Ducey pushing for a statewide stay-at-home order shortly before his announcement on Monday. Romero said the stay-at-home order is a step in the right direction, but she said her office has been fielding calls from hairstylists and other salon workers who are worried about putting themselves at risk while working.
Download the NBC News app for full coverage of the coronavirus outbreak
Romero issued guidance Friday urging Tucson's barbershops and hair and nail salons to close, but she did not make it mandatory.
"It is a time of emergency, a time for us to act immediately and quickly," she said urging the governor to narrow the list of businesses allowed to remain open. "The more we wait, the more this spreads."
Flagstaff Mayor Coral Evans went one step further, ordering the closure of hair and nail salons, beauty parlors and similar businesses last Thursday, despite Ducey's March 23 order preventing cities from doing so. Evans, a Democrat, said in a Facebook post that the closure was the only way to maintain social distancing.
"Realistically salons cannot have rules that keep a physical distance of at least 6 feet between individuals due to the nature of the business," Evans said in the Facebook post, adding that her order "remains consistent with that reality."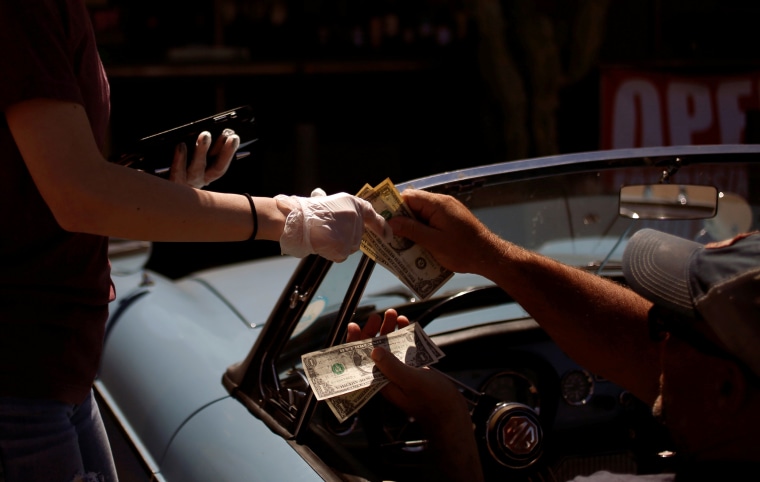 Dr. Julie Ann Heathcott, a Scottsdale OB-GYN, said she became concerned about the lack of social distancing in the city a few weeks ago after she spotted large groups of people gathered in parks or along sidewalks on her way to work. Her patients, who include expectant mothers, soon started expressing the same fears. So Heathcott started a "Lockdown Arizona" petition on Change.org on March 23 urging Ducey to order a shelter-in-place for the state. As of Wednesday morning, it had more than 200,000 signatures.
Heathcott decided to keep the petition running even after Ducey's Monday order, because she believes it allows too many businesses to remain open, putting more people than necessary at risk.
"Will that be enough?" she said of the petition. "I don't know what that means and if it will work."