An Arizona man arrested last week on terrorism-related charges allegedly sought guns and bomb-making instructions from a Pakistani terror group, and mentioned an Air Force recruitment center in Tucson, according to a court document.
The probable cause statement unsealed Wednesday sheds new light into the arrest of Mahin Khan, 18, of Tucson, Friday after an FBI joint terrorism task force investigation.
In the heavily-redacted document, the FBI alleges that Khan made contact with an unnamed person seeking two rifles and a handgun, and claimed to have been in contact with the group Tehrik-e Taliban Pakistan, or TTP, also called the Pakistani Taliban.
In that April 16 telephone contact, Khan made a telephone call with an individual whose name was redacted from the statement.
Khan allegedly asked the individual if he "had ever been to the Mission Bay, California, area. He allegedly said "that's a pretty good target right there. There's a lot of people there."
After Khan gave that person access to his email account, the unnamed individual found earlier emails with someone who said he could provide weapons, according to the FBI document. In those emails Khan asked for weapons and said he was an "American Jihadist who supports IS," apparently referring to the terror group ISIS, also known as the Islamic State, according to the document.
It wasn't clear if Khan has an attorney. A call to a number listed for Khan's address was not immediately returned.
In a February email Khan allegedly wrote "Need AK and pistols can u do that wanna take out marines and jews," according to the probable cause statement.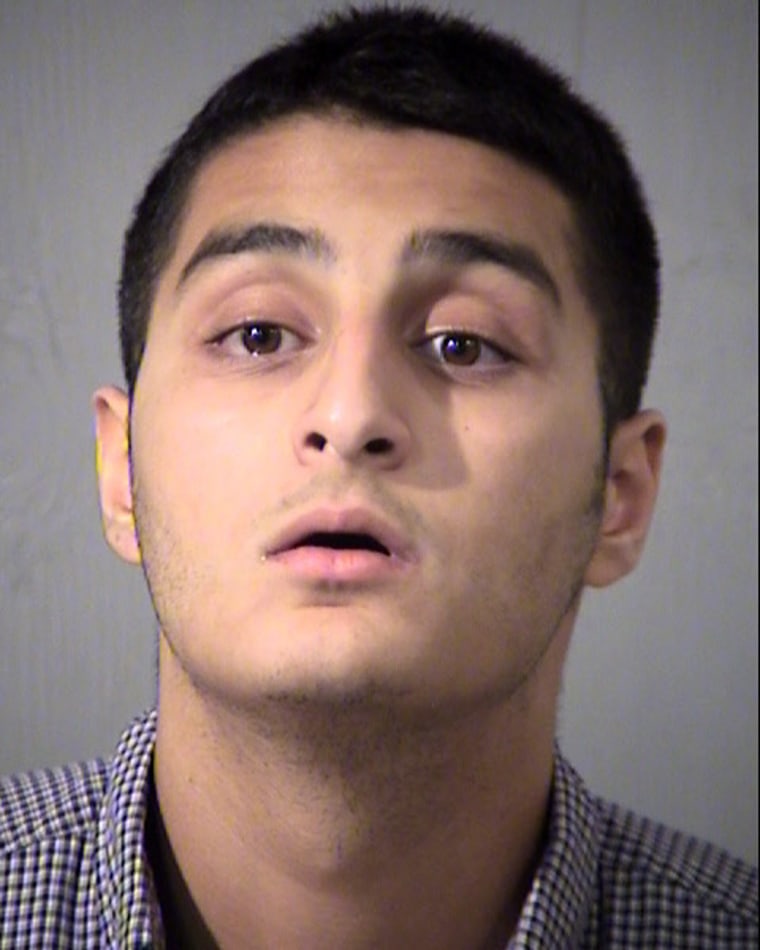 In other emails he asked for "cookie recipes" which the FBI interpreted to likely mean instructions for an improvised explosive device, and referred to "pressure cookie" which likely meant a pressure-cooker bomb, the FBI said in the statement.
The three-page redacted document does not address whether Khan talked to an undercover FBI agent or other informant.
Khan faces charges of terrorism and conspiracy to commit terrorism, the state attorney general's office has said. A spokesperson for the office said Friday that the terrorism case involved government buildings in Phoenix and Tucson.
Khan is being held without bond at the Maricopa County Jail, according to jail records.
The Tehrik-e Taliban Pakistan is labeled as a foreign terrorist organization by the U.S. State Department, and has ties to al Qaeda.
And the TPP was behind a Pakistani school massacre in 2015 that left 153 dead.
The group also carried out a suicide bombing at a U.S. base in Afghanistan in 2009 that killed 7 Americans, and an April bombing at the U.S. consulate in Peshawar, Pakistan, in 2010 that killed six Pakistani citizens, the State Department said.