An Arkansas sheriff's deputy shot in what was initially described as an "ambush" while responding to a call Wednesday has died, the Sebastian County Sheriff's Office said.
Sheriff's Cpl. William "Bill" Cooper was shot in the neck after he and other officers arrived for a call of a domestic disturbance near Greenwood Wednesday morning, Fort Smith police spokesman Sgt. Daniel Grubbs told reporters.
"Essentially it was an ambush," Grubbs told reporters. "It just appears this guy was waiting on us to get here," he said.
The suspected shooter was identified as Billy Monroe Jones, 35. Sebastian County Sheriff Bill Hollenbeck said the suspected is believed to have used an assault-style rifle and may have had body armor during the standoff.
Hollenbeck said the motive for the shooting was still under investigation. He said the officers from several different departments had no idea what they were walking into.
Asked whether the shooting was planned, Hollenbeck said: "It certainly was an extremely violent situation that came out of nowhere, so we're certainly looking into that possibility."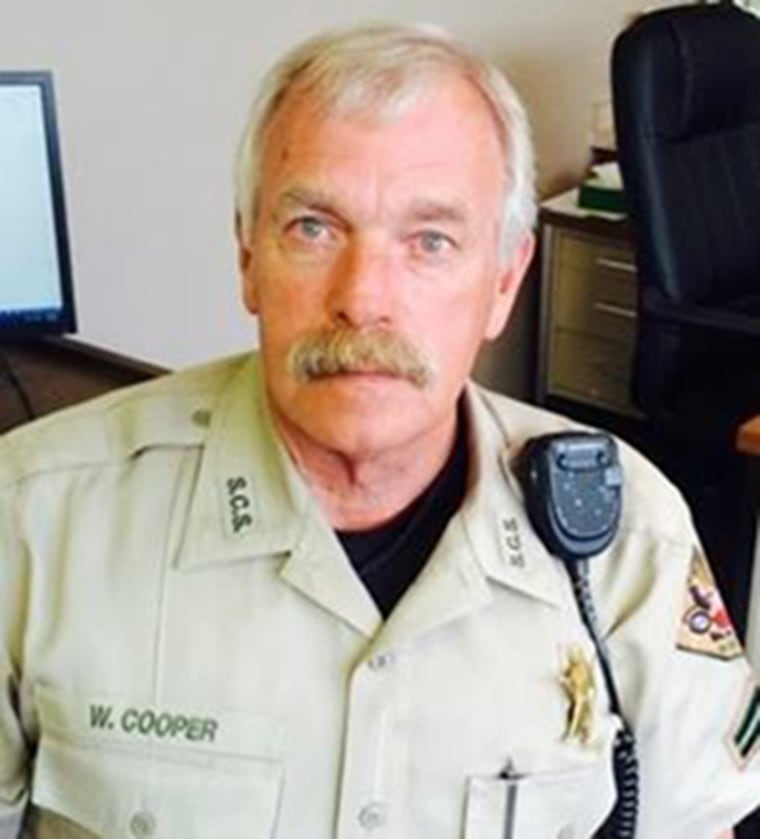 The suspected gunman surrendered shortly before noon after an hours-long standoff at his home, authorities said. During the standoff, he shot and disabled a bomb-disposal robot sent to investigate around the trailer, Hollenbeck said.
The officers were shot at after a call came in at around 7 a.m. CT ( 8 a.m. ET) that a son had pulled a gun on his father during an argument, Hollenbeck said. The officers took cover after being fired upon, and more police, a SWAT team and federal authorities surrounded the property, Hollenbeck said.
The chief of the Hackett police department, Darrell Spells, was injured after apparently being grazed by a bullet, and he was treated and released, Hollenbeck said. A Greenwood police dog was shot and is believed to have run off during the chaos, the sheriff said.
Jones surrendered at around 11:45 a.m., Hollenbeck said. Cooper underwent several surgeries but was pronounced dead at around 1:15 p.m., the sheriff said.
Jones had a previously scheduled court date set for Wednesday, but Hollenbeck cautioned the investigation was in its early stages.
"More information began to develop that Jones wanted to cause what was told to us as a 'ruckus,' and he was due in court in Fort Smith regarding a petition to revoke a suspended sentence charge," Hollenbeck said.
Court records show Jones has had a drug conviction in state court along with a handful of minor charges, such as speeding and public intoxication, in nearby Greenwood.
Cooper was around 65 and was getting ready to retire soon, Hollenbeck said. He had been a deputy since 2001, and for five years was a police officer with Fort Smith police, the sheriff's office said. He also served with the Marines.
"Cpl. Bill Cooper was dynamic. He loved his job," Hollenbeck said. "He could have retired years ago. He loved his community so much he stayed on with the sheriffs' department, serving and protecting."
Arkansas Gov. Asa Hutchinson expressed his condolences to Cooper's family and fellow officers.
"Today's shooting incident, which also resulted in injuries to Hackett Chief of Police Darrell Spells, tragically illustrates the dangers our law enforcement officers face each and every day to keep us safe," Hutchinson said in a statement.
"On behalf of all Arkansans, I want to extend our heartfelt condolences to Deputy Cooper's loved ones and our entire law enforcement community. We stand with you during this difficult time."