An armed man is dead after hijacking a bus and leading police on a chase and a shootout that injured two officers in the Dallas area Sunday morning.
Authorities received a call at 11 a.m. local time reporting that a man entered a bus and fired a weapon, shooting out several windows, according to a statement from Dallas Area Rapid Transit. The man is then alleged to have demanded that the DART bus driver take them to an undisclosed location.
A DART officer was reported to have been wounded in the leg and an officer from the Dallas suburb of Garland also sustained a non-life-threatening injury, the transit authority said.
Police in Garland began to chase the bus, and as officers neared, the man shot at them while leaning out the windows, according to NBC Dallas-Fort Worth.
Spikes were deployed on the bus, but the vehicle turned around and headed to Rowlett, another Dallas suburb, according to NBC Dallas-Fort Worth.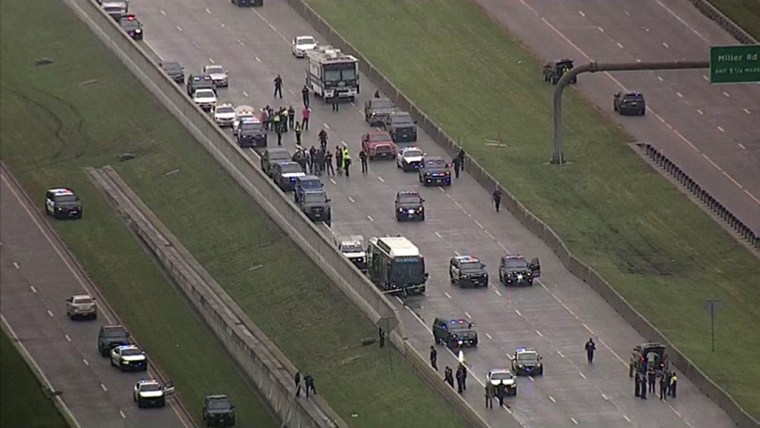 The bus passed through multiple jurisdictions, including Richardson, Garland, Rowlett and Rockwall, while traveling on the President George Bush Turnpike.
It was in Rowlett where the pursuit ended, after spikes were laid down on the road to the area.
The suspect exchanged gunfire with police after leaving the bus and was pronounced dead at the scene, DART told NBC News in a statement.
The Rowlett Police Department did not immediately respond to a request for comment from NBC News.