The man who fired a nail gun into an FBI field office in Cincinnati on Thursday before he was killed by officers was at the U.S. Capitol on Jan. 6, officials said.
Two officials familiar with the matter identified the suspect as Ricky Walter Shiffer.
Officers fatally shot the suspect after failing to negotiate with him, an Ohio State Highway Patrol spokesman, Lt. Nathan Dennis, told reporters.
The man raised a gun and officers opened fire, Dennis said.
It wasn't clear whether he fired, Dennis said, nor was it clear who fired the fatal shot. The man was pronounced dead at the scene, which Dennis described as a rural area off Interstate 71.
No officers were injured, and a motive is still under investigation, Dennis said.
The two officials said Shiffer appeared to have posted in recent days about his desire to kill FBI agents after former President Donald Trump's Mar-a-Lago residence was searched.
Earlier, two law enforcement sources said a man armed with an AR-15-style rifle got inside the FBI building and fired a nail gun toward personnel before he fled in a car.
FBI Cincinnati said in a statement that an armed subject had tried to breach the building's visitor screening facility at 9:15 a.m. The breach triggered an alarm, and the person fled onto the interstate, the statement said.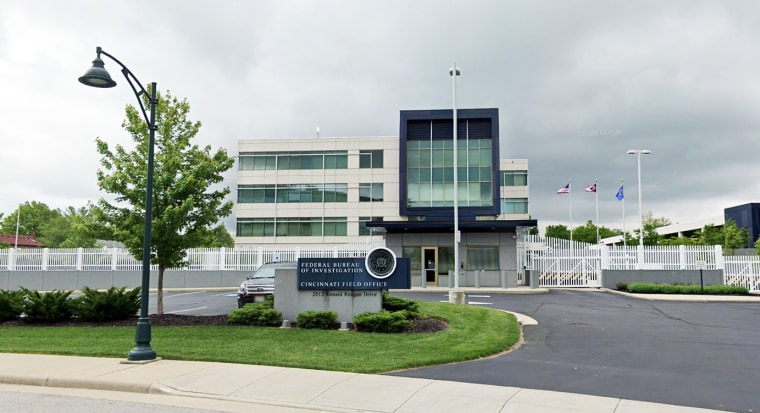 Authorities closed the highway in both directions because of the standoff, the emergency management agency in Clinton County said.
Dennis said that just before 10 a.m., the suspect exited the highway, got out of his car — a white Crown Victoria — and opened fire on officers.
The officers tried to negotiate with him "throughout the day," Dennis said, adding: "After a time, the negotiations failed."
In an effort to take him into custody, officers fired "less lethal" munitions, Dennis said. Shortly before 4 p.m., the suspect raised his gun and officers fatally shot him, Dennis said.
Shiffer was seen at the Capitol on Jan. 6, although it's unclear whether he breached the building, said three people aiding law enforcement who saw him in photos. Shiffer frequently posted about going to the Capitol on social media.
In the days after the FBI searched Mar-a-Lago, Trump's compound in Palm Beach, Florida, he appeared to post multiple times on Trump's social media platform, Truth Social.
In one comment, he appeared to call on people to prepare for "combat." In another, his apparent account said users should kill FBI agents "on sight."
Shiffer's relatives didn't immediately reply to messages seeking comment.
Brian Murphy, a former official at the Department of Homeland Security and the FBI who's now an executive at the open source intelligence firm Logically, said Wednesday that his company has observed a big rise in threats against FBI personnel and facilities on social media platforms since the FBI searched Trump's home.
FBI Director Christopher Wray on Wednesday decried Trump supporters who have been using violent rhetoric against law enforcement in the wake of the search.
"Unfounded attacks on the integrity of the FBI erode respect for the rule of law and are a grave disservice to the men and women who sacrifice so much to protect others," he said after Thursday's attack.
"Violence and threats against law enforcement, including the FBI, are dangerous and should be deeply concerning to all Americans," he said. "Every day I see the men and women of the FBI doing their jobs professionally and with rigor, objectivity, and a fierce commitment to our mission of protecting the American people and upholding the Constitution."