NORTHERN SYRIA — On a secret trip to Syria, the new commander of U.S. forces in the Middle East said Saturday he felt a moral obligation to enter a war zone to check on his troops and make his own assessment of progress in organizing local Arab and Kurd fighters for what has been a slow campaign to push ISIS out of Syria.
"I have responsibility for this mission, and I have responsibility for the people that we put here," Army Gen. Joseph Votel said as dusk fell on the remote outpost where he had arrived 11 hours earlier. "So it's imperative for me to come and see what they're dealing with — to share the risk they are dealing with."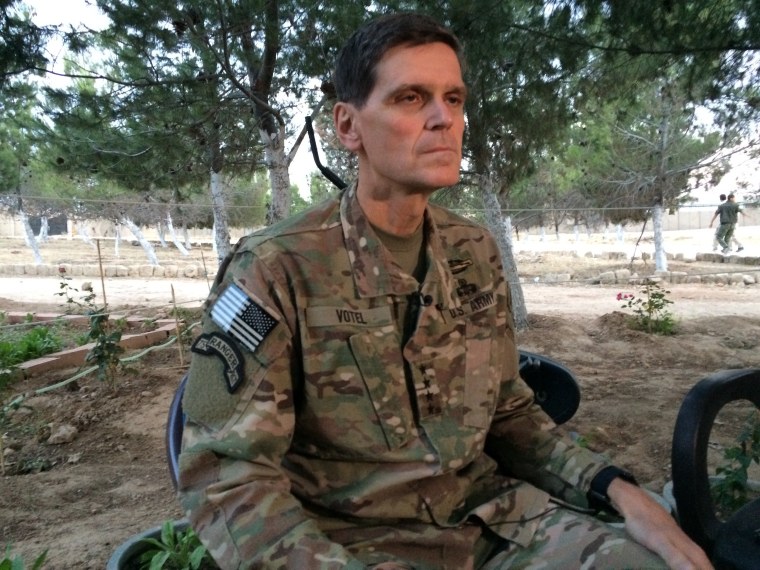 Votel, who has headed U.S. Central Command for just seven weeks, became the highest-ranking U.S. military officer known to have entered Syria since the U.S. began its campaign against ISIS in 2014. The circumstance was exceptional because the U.S. has no combat units in Syria, no diplomatic relations with Syria and for much of the past two years has enveloped much of its Syria military mission in secrecy.
Votel said he brought reporters with him because, "We don't have anything to hide. I don't want people guessing about what we're doing here. The American people should have the right to see what we're doing here."
Votel flew into northern Syria from Iraq. In Syria he met with U.S. military advisers working with Syrian Arab fighters and consulted with leaders of the Syrian Democratic Forces, an umbrella group of Kurdish and Arab fighters supported by the U.S.
A small group of reporters accompanied Votel under ground rules that, for security reasons, prohibited disclosing his visit until after he had left Syria. After landing at a remote camp where American military advisers are training Syrian Arab troops in basic soldiering skills, Votel split off from the reporters who flew in with him; he then visited several other undisclosed locations in Syria before returning to the camp.
Aides said Votel's flight into Syria was the first made in daylight by U.S. forces, who have about 200 advisers on the ground. Military ground rules for the trip prohibited reporting the kind of aircraft Votel used, the exact location of where he landed and the names and images of the U.S. military advisers, who said they have been operating from the camp since January.
The last known high-level U.S. official to visit Syria was Brett McGurk, Obama's envoy to the coalition fighting ISIS. He spent two days in Syria in late January.
In the interview, Votel said his visit had hardened his belief that the U.S. is taking the right approach to developing local forces to fight ISIS.
"I left with increased confidence in their capabilities and our ability to support them," he said. "I think that model is working and working well."