The three service members killed in a shooting at Florida naval base will be honored Saturday during the annual Army-Navy football game, the U.S. Naval Academy said.
Ensign Joshua Kaleb Watson, Airman Mohammed S. Haitham and Airman Apprentice Cameron Scott Walters were killed Dec. 6 when the shooter, a Saudi air force member who was in the U.S. for training, opened fire in a classroom building at Naval Air Station Pensacola.
The gunman, Mohammed Saeed Alshamrani, 21, was killed by a sheriff's deputy, officials said.
Watson's shipmates will wear red, white and blue ribbons pinned to their lapels, and Navy's defensive co-captain will wear a memorial patch from Naval Aviation Schools Command, where the three were assigned, the naval academy said in a statement Friday.
Others will wear patches from the flight suits of Watson's classmates in his memory. The Navy has also posthumously awarded wings of gold to the three sailors killed and designated Watson as a naval aviator.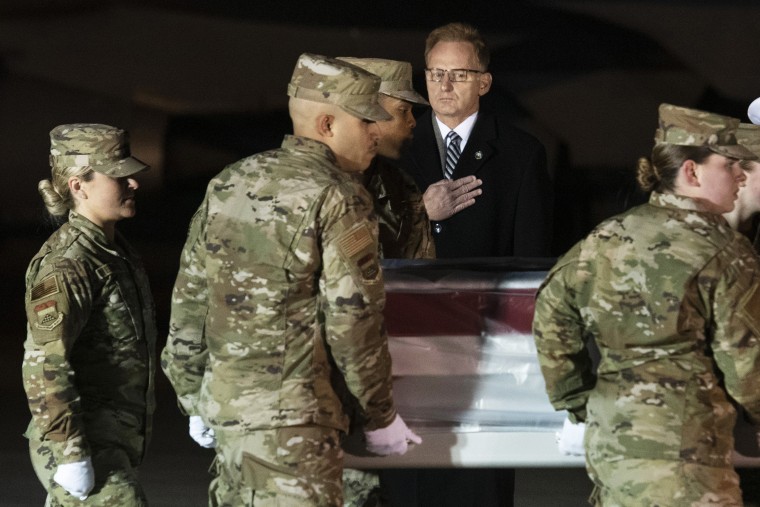 The commanding officer of the base has said the sailors took action during the attack and helped save lives.
Several people were injured in the shooting, including two Escambia County sheriff's deputies hurt in an exchange of gunfire.
On Friday, one of eight people who were injured was released from the hospital, leaving one remaining in the hospital, the Navy said. Others had previously been released. The injured person still hospitalized was described as stable.
An FBI official has said the shooting is being investigated with the presumption that it was an act of terrorism.
Foreign citizens on non-immigrant visas are generally not permitted to buy firearms and ammunition, but the gunman bought a 9 mm Glock handgun from a licensed dealer on July 20 by presenting a hunting license, which is an exception to the law, the FBI said. But the gunman may have qualified for the purchase under other exceptions as well, the FBI said.
"The preliminary investigation into the firearm purchase has not revealed any information to suggest that the sale was unlawful," the FBI said in a statement Tuesday.
Acting Secretary of the Navy Thomas Modly said this week that the Pentagon wants Congress to make it more difficult for foreign nationals participating in military training in the U.S. to buy guns.