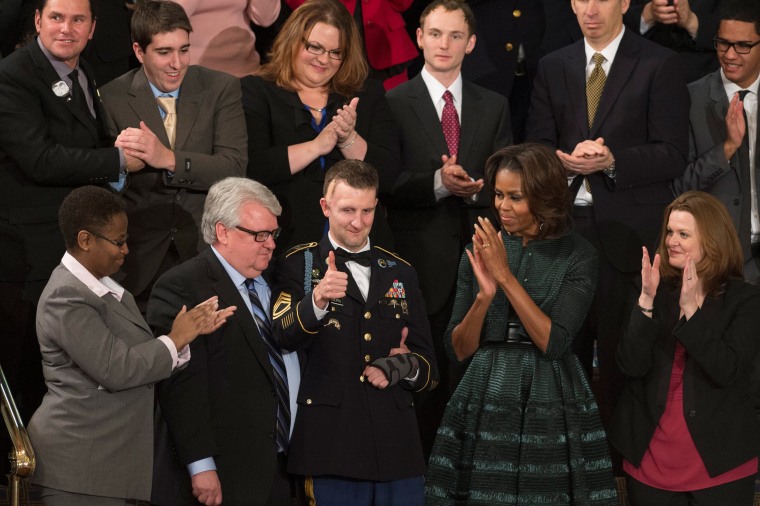 Sgt. First Class Cory Remsburg's story of courage, struggle and survival had the entire room in a standing ovation near the end of the State of the Union address Tuesday — as President Obama recognized one of the nation's wounded heroes as a symbol for the country's own resilience.
Praising the 30-year-old Army Ranger, Obama said that "like the Army he loves, like the America he serves, SFC Cory Remsburg never gives up, and he does not quit."
The president added that "men and women like Cory remind us that America has never come easy."
The unifying moment — which made both Republicans and Democrats, some misty-eyed, stand and applaud in unison — was the emotional highlight of a speech marked by Obama's vows to use executive powers to sidestep Republican roadblocks on Capitol Hill.
Remsburg and his father, Craig Remsburg, a retired Air Force Reserve firefighter, were seated next to first lady Michelle Obama, who also received a shorter standing ovation earlier.
As he introduced Remsburg to the audience, Obama described his first impression of him: "A strong, impressive young man, with an easy manner, sharp as a tack."
Remsburg, who has met Obama three times, joined the Army on his 18th birthday and was first deployed in 2003.
Since then, he's been on 10 deployments to both Iraq and Afghanistan. It was on his last deployment, in Oct. 2009, that he was nearly killed by a roadside bomb in Kandahar, Afghanistan.
The blast propelled him into a canal, face down in water with shrapnel in his brain and a head wound. One of Remsburg's fellow Rangers perished in the explosion.
The bomb left Remsburg in a coma for three months, partially paralyzed, barely able to speak and brain-damaged. 
But after enduring dozens of surgeries and hours of rehabilitation therapy over the years, Remsburg is now able to walk and speak, although he still struggles on his left side and is blind in his right eye. 
Last year, Remsburg was finally able to return home to Phoenix, Ariz., where he continues working on his recovery and enjoys cycling.
Among many honors, Remsburg has been awarded the Purple Heart, the National Defense Service Medal and the Bronze Star. On Tuesday night, the State of the Union also brought him a nation's gratitude. 
Obama said Remsburg acknowledged his recovery has not been easy, as "nothing in life that's worth anything is easy."
But the commander-in-chief equated Remsburg's strenuous path to recovery to the nation's own struggle to uphold its ideals of freedom and democracy. 
"Sometimes we stumble; we make mistakes; we get frustrated or discouraged," Obama said in his speech. "But for more than 200 years, we have put those things aside and placed our collective shoulder to the wheel of progress."