There was the one who is pregnant, and the one who still has braces.
The one with six Olympic medals, and the one who went into medicine like her mentor.
The one who said she forgives Larry Nassar, and the one who told him, "I hate you so much."
Over the course of an extraordinary week, they stood up and spoke out in a Michigan courtroom, telling the world how Nassar — doctor to the stars in the high-pressure world of gymnastics — molested them over and over again during medical appointments.
The words of 156 accusers inspired and infuriated, brought a flood of tears and bursts of applause. Snippets of the testimony from Nassar's marathon sentencing hearing ricocheted across Twitter and television screens.
"You're a pathetic monster who's only sorry he got caught."
"I cannot sleep because of what you have done."
"You stole my light and now I am taking it back."
"When girls came forward and told an adult, the adults didn't listen."
"You have pissed off the wrong army of women."
A therapy dog named Preston sat outside the courtroom, offering silent support and respite from the testimony. Inside, the first woman to go public with her accusations, Rachael Denhollander, gave hugs to those who took a bit longer to find the courage.
Further away, proof of the strength found in numbers: USA Gymnastics, which used Nassar as its team doctor for years, announced three board executives were resigning, and the NCAA opened an investigation into Michigan State University, where Nassar had his sports medicine practice.
After the last victim impact statements on Wednesday morning, Ingham County Judge Rosemarie Aquilina dismissed an apology from Nassar as hollow and sentenced him to 40 to 175 years in prison.
"I signed your death warrant," she said.
It was Aquilina's decision to let every woman who says she was abused speak, even though Nassar has pleaded guilty in her court to only seven counts of criminal sexual conduct, in connection with underage girls.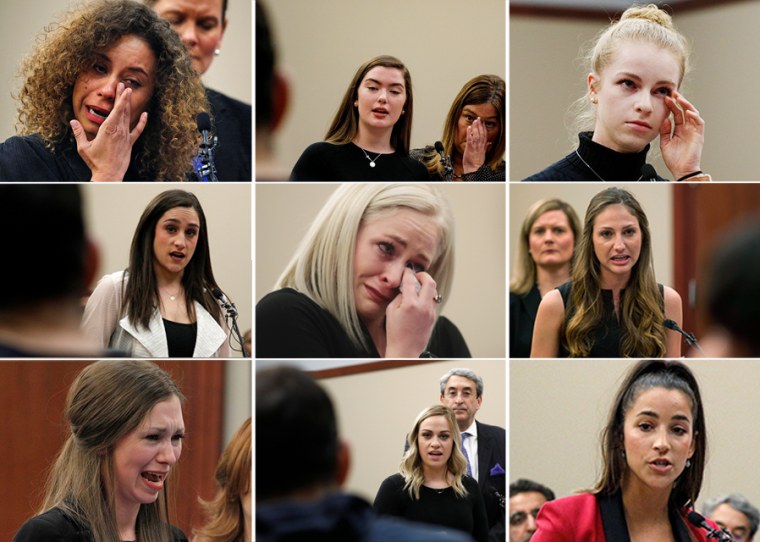 The story of his depravity has unspooled over 16 months; an exposé in the Indianapolis Star led to an avalanche of police complaints and lawsuits and a cascade of disclosures from America's best-known gymnasts.
But the case did not truly explode into the national consciousness until last Tuesday when, in the midst of the #metoo movement, the first wave of women told their stories in court.
"You get a sense of what 150 actual human beings look like," said Joan Ryan, author of a 1995 book, "Little Girls in Pretty Boxes," about the dark side of elite gymnastics and figure skating. "It's the scope of it and the depth of the suffering."
When the hearing started, about 100 women were slated to give statements, and Nassar was supposed to be sentenced last Friday. But day by day, more accusers came forward and the proceeding was extended three times.
"After hearing the words of fellow survivors, I knew I had to come to support them," Brianne Randall, who filed a 2004 police report against Nassar that did not result in charges, said of her last-minute decision.
There was a sickeningly familiar arc to many of the accounts.
The accusers knew Nassar as a miracle worker who could fix athletes. He befriended them, became their confidant. Then, they said, he gave them "the treatment" — in his office, in a side room at the gym, in his basement, even in a supply closet.
"His fingers always seemed to find a way inside me, never wearing gloves," said Mattie Larson, a former U.S. national team gymnast.
"I closed my eyes, I held my breath, and I wanted to puke," said Megan Halicek, who went to Nassar as a 15-year-old with a fractured spine.
It was striking how many of the speakers said they didn't know they were being sexually abused until he was arrested; some raised questions or reported him only to be told they had misinterpreted Nassar's special treatment.
Christina Barba, who was a patient before she became a physical therapist who worked with Nassar, said she defended him after the scandal first broke. "It wasn't until last week when my own trauma, that I had buried so deeply, came to the surface," she said.
The effects haunted them for years, even decades: accusers spoke of eating disorders, intimacy problems, fractured relationships, anxiety and distrust, thoughts of suicide.
"I've been depressed for as long as I can remember," said Taylor Livingston, who first saw Nassar as a 13-year-old. "I am anxious all the time, and rarely, and I mean rarely, enjoy life."
The accusers stood at a podium, often flanked by a parent or spouse who had to fight back tears, against a backdrop of photos of the speaker from the time of their sessions with Nassar. Many of them spoke directly to Nassar, who kept his eyes down and occasionally wept.
"How dare you?"
"You are nothing."
"Little girls don't stay little forever."
"I can't even put into words how much I f------ hate you."
Emily Morales, 18, got Nassar to speak.
"I want you to apologize right now," she demanded.
"I'm sorry," he said.
After each statement, Aquilina spoke to the accuser. Sounding more like a therapist than a judge, she said they were survivors, not victims and newly minted members of a powerful "sisterhood." She made little jokes about her Army background and her sideline as a crime novelist.
And she promised that Larry Nassar would die in prison.
"The next judge he faces will be God," she said.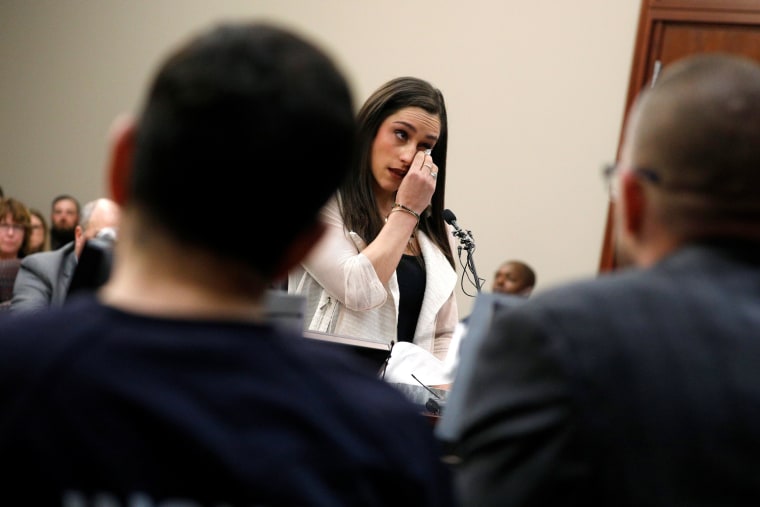 The vast majority of the women who testified against Nassar were unknown to the wider public. But on the morning of the third day, two familiar faces appeared — Olympic gold medalists Aly Raisman and Jordan Wieber, members of the 2012 team.
It was Wieber's first public accusation of abuse, and she used the platform to amplify criticism of the institutions that allowed Nassar access to vulnerable girls.
"My parents trusted USA Gymnastics and Larry Nassar to take care of me and we were betrayed by both," she said. "And now the lack of accountability from USAG, [U.S. Olympic Committee] and Michigan State have caused me and many other girls to remain shameful, confused and disappointed," she said.
Raisman came to the podium and electrified the courtroom with her demand for an independent investigation and a no-holds-barred attack on Nassar that transformed her from athlete into activist.
She seized on a surreal letter the ex-doctor had written to the judge, complaining that listening to the accusers was bad for his mental health.
"You are pathetic to think that anyone would have any sympathy for you," she said. "You think this is hard for you? Imagine how all of us feel."
Then she made it clear that Nassar, 54, would be hearing from her and the other women long after the hearing ended.
"Imagine feeling like you have no power and no voice," she said. "Well, you know what, Larry, I have both power and voice. And I am only beginning to just use them."
The hearing ended as the case began, with Rachael Denhollander telling her story.
To the judge, she asked: "How much is a little girl worth?"
To MSU, she said: "You are greatly compounding the abuse."
And to Nassar, she said: "I pity you."
From the bench, Aquilina acknowledged the role Denhollander has played in exposing Nassar as a predator.
"You are the bravest person I have ever had in my courtroom," the judge said.
A standing ovation erupted and continued as Denhollander walked back to her seat, where she was swarmed by other survivors.
In the witness box, Nassar sat silently, waiting to learn his fate.