An arrest has been made in connection with the death of Luz Hernandez, a New Jersey kindergarten teacher who was found in a shallow grave, according to the Hudson County Prosecutor's office.
Cesar Santana, 36, was arrested in a Miami motel early Friday by members of the U.S. Marshals Service Southern District of Florida and the U.S. Marshals Service New York/New Jersey Regional Fugitive Task Force. He was charged with one count of desecrating or concealing human remains and is being held at the Miami-Dade Turner Guilford Night Detention Center as a fugitive.
Santana is Hernandez's ex, according to a senior law enforcement official.
Authorities are also seeking to arrest another fugitive, 26-year-old Leiner Miranda Lopez, who is being charged with the same count as Santana. The Hudson County Prosecutor's office is asking anyone with information on Lopez to come forward.
Both Santana and Lopez are from Jersey City, according to the Hudson County Prosecutor's office.
During the investigation, it was found that Santana and Lopez were involved in a traffic stop Sunday, the day before Hernandez was reported missing. Their car, which was not registered, was impounded and searched Tuesday and "additional evidence was recovered," according to the prosecutor's office.
Authorities did not clarify what the evidence was.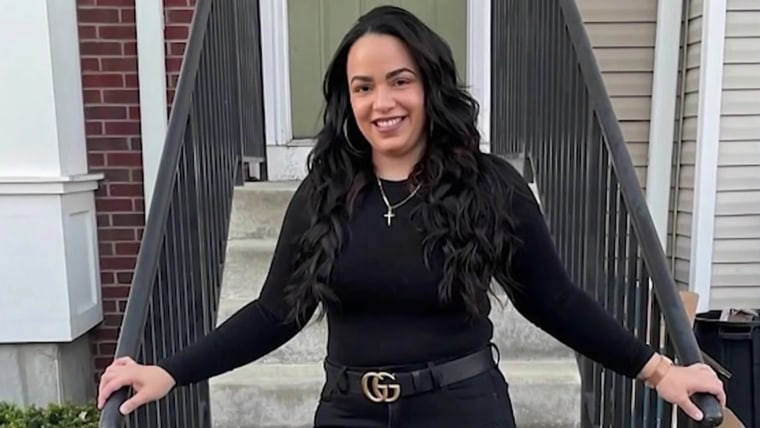 Luz Hernandez, 33, was found in a shallow grave by investigators conducting a welfare check on her at her Jersey City home Tuesday. She was pronounced dead at the scene around 4:53 p.m., according to a news release from the prosecutor's office.
Hernandez "died of blunt force trauma to the head and compressions to the neck," according to an autopsy report performed Thursday.
She was a mother of three, according to NBC New York.
The kindergarten teacher had been working at BelovED Charter School in Jersey City since 2017, founder Bret Schundler told NBC News.
"She was a wonderful woman," he said of Hernandez. "She started with us as a teacher's assistant and got her certification from the New Jersey Department of Education and became a lead teacher."
Schundler said Hernandez loved children.
"She was the type of person we look for, who loves children, and did an excellent job academically instructing the students but also at showing them that she cares for them," he said. "The children loved her because they knew that she cared."
The charter school was closed on Wednesday in honor of Hernandez's death and is providing grief counseling to the school community.
The investigation into Hernandez's death is ongoing.