Four people have been arrested and charged in connection with the investigation of the Florida dog who was shot and tied to railroad tracks last week, Tampa police said Thursday.
Police arrested two men who owned the dog, who was renamed Cabela, late Wednesday night at a home in Tampa and charged them with dog fighting, Tampa Police Department spokeswoman Andrea Davis told NBC News.
Davis said investigators conducted a search of the home where Cabela lived before the shooting and found two additional dogs suffering injuries consistent with dog fighting.
"They had bite marks on their neck and legs," she said. Police also found evidence of dog fighting in the home's backyard.
Darnell Devlin, 18, and Kenny Bell, 21, were each charged with two counts of possession of a dog fighting dog. Both animals are currently in the custody of Hillsborough County Animal Services.
Earlier Wednesday evening, two 17-year-old boys were arrested and charged with felony aggravated animal cruelty and trespassing in the investigation. Police said Cabela apparently had been sold for use in illegal dogfighting but was "too sweet-tempered."
Detective Sgt. Patrick Messmer said investigators received a tip that led to a surveillance video of several people walking the dog to the CSX tracks, including a person whom officers knew from previous encounters.
Two of the people in the video, identified as Natwan Callaway and Bobby Hollinger, were arrested and admitted their involvement, Messmer said. The suspects were charged as adults, and Messmer said additional charges against unspecified people were expected.
When Cabela was reunited last week with her owners, they said she'd escaped from their yard about four months ago. Messmer said investigators didn't think the original owner was involved in the shooting.
Related: Cabela, Dog Tied to Tracks, Doing Well — With All Four Legs
Police found the dog tied with a belt to tracks in the Sulphur Springs area north of downtown last Wednesday. The 1- to 2-year-old female mixed breed had also been shot in her neck above her right shoulder. Authorities stopped a train that was approaching as officers freed the dog, whom police nicknamed R&R. She was rushed her to the clinic, where she was renamed Cabela.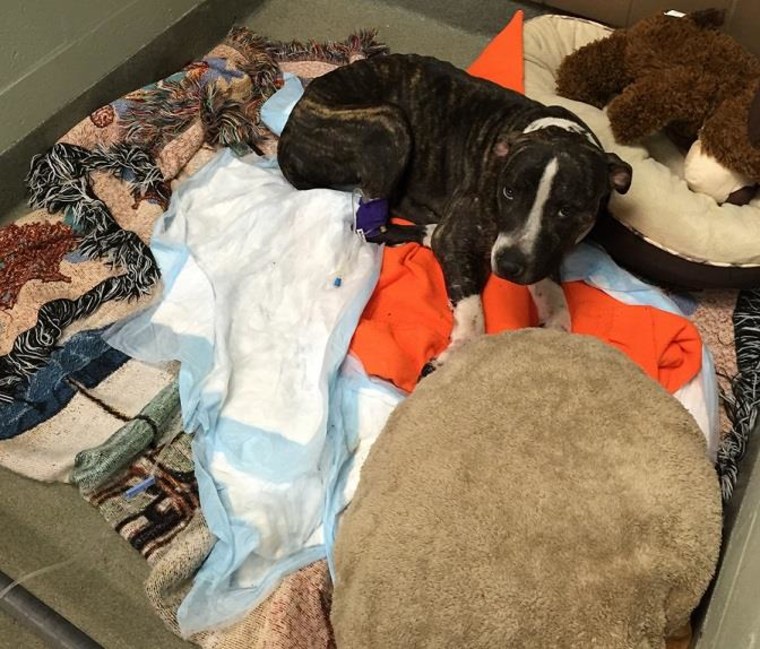 Police said Wednesday night that Hollinger threw the dog into the woods and fired at her when she wouldn't fight. The dog ran back home, where she sat injured on the front porch, but Hollinger and Callaway tracked her down, took her to the railroad and tied her to the tracks, where Callaway shot her several times, police said.
"Nothing gets you ready to see a helpless dog tied to a railroad tracks," said Sr. Sgt. Rich Mills, who rescued the dog from the tracks.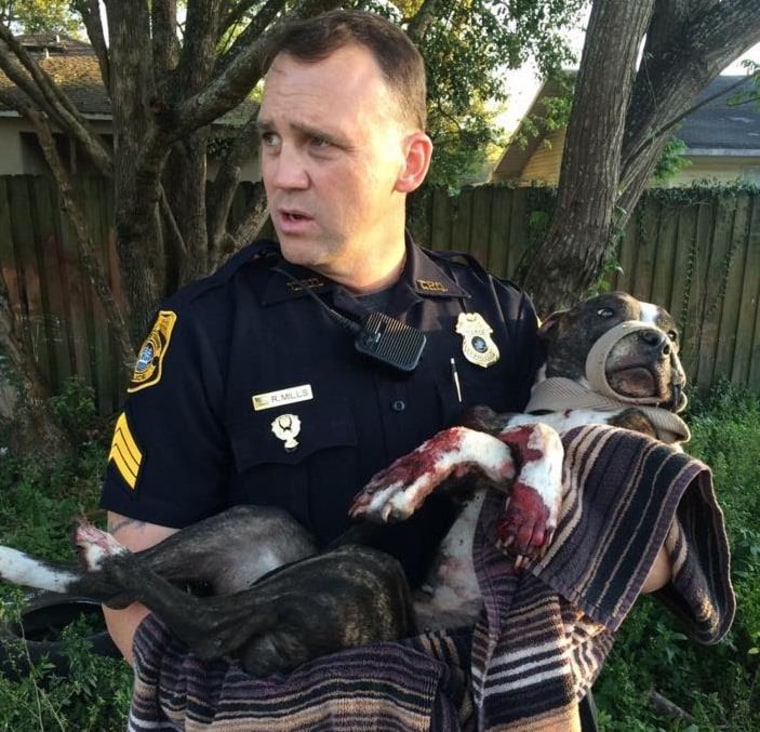 Katy Meyer, owner of Tampa Bay Veterinary Emergency Service, where veterinarians treated Cabela and saved her shattered right foreleg, said Wednesday night that the dog was doing well. Her bandage was removed Tuesday, and she is able to bear a small amount of weight on her leg, Meyer said. Cabela remains under veterinary care.