A black man who was brutally beaten in a parking garage during a deadly far right-wing rally in Charlottesville in August is now facing an arrest warrant, Virginia police said Monday.
In a statement, the Charlottesville Police Department said that DeAndre Harris, 20, was wanted for unlawful wounding in connection with the August 12 assault, according to NBC affiliate WVIR.
The beating, which was captured on camera and quickly spiraled across the internet, occurred after a white supremacist tried to spear a counter-protester with a flag pole, the Washington Post reported in August.
Then, Harris — a former special education instructional assistant — swung a flashlight at the man, possibly striking him, according to the Post.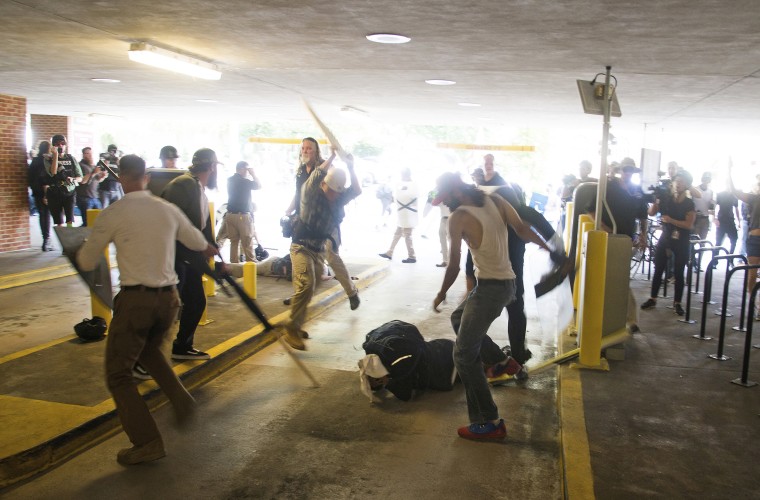 Several white men descended on Harris, and images showed them kicking and hitting him with what appeared to be poles while he's curled up on the ground.
An account of the beating posted to a fundraising website started by Harris said that he was chased and repeatedly knocked unconscious.
The arrest warrant against Harris was issued after an unidentified victim went to a local magistrate's office, offering an account of the apparent wounding that was later verified by a detective, the statement said.
Harris was not in custody, the statement said, and efforts to reach him or his lawyer were not immediately successful.
"Every time I went to stand up I was knocked back down," Harris' online account says, adding that he said he suffered several serious injuries.
In the assault's aftermath, Shaun King, an activist and columnist with The Intercept, started a campaign to identify Harris' assailants. After cross-referencing images of the attackers with photos taken from the rally, King began crowd-sourcing their identities.
To date, two of Harris' attackers have been arrested and charged with malicious wounding: 18-year-old Daniel Borden, of Cincinnati, Ohio, and Alex Ramos, 33, of Marrietta, Georgia, according to WVIR.
In September, King and Harris' lawyer, Lee Merritt, launched a fundraiser to help identify the remaining attackers after they said police had not done enough to pursue them.
Charlottesville Police Department spokesman Lt. Steve Upman did not immediately respond to a request for a comment.
Harris' warrant was issued two days after several dozen white nationalists again descended on Charlottesville for a brief rally at Emancipation Park, where a tarp covers the statue of Confederate Gen. Robert E. Lee.