Police in Georgia have secured arrest warrants for Jalen Carter, a defensive standout for the national champions Georgia Bulldogs and a projected top five pick in the NFL draft, linked to a crash in January that killed two people, including Carter's former teammate.
Carter, 21, will be arrested for alleged reckless driving and racing, according to a statement Wednesday from the Athens-Clarke County Police Department.
In a statement Wednesday on Twitter, Carter called the crash "TRAGIC" and said he would be "FULLY EXONERATED OF ANY CRIMINAL WRONGDOING."
Carter also added there have been inaccurate media reports about the crash, but didn't detail any of those reports.
"IT IS MY INTENTION TO RETURN TO ATHENS TO ANSWER THE MISDEMEANOR CHARGES AGAINST ME AND TO MAKE CERTAIN THAT THE COMPLETE AND ACCURATE TRUTH IS PRESENTED," he said. "THERE IS NO QUESTION IN MY MIND THAT WHEN ALL OF THE FACTS ARE KNOWN THAT I WILL BE FULLY EXONERATED OF ANY CRIMINAL WRONGDOING."
Authorities have said that on Jan. 15, former University of Georgia offensive lineman Devin Willock and 24-year-old recruiting analyst Chandler LeCroy were killed in a crash that occurred about 2:30 a.m.
Police said on Wednesday that Carter was behind the wheel of a 2021 Jeep Trackhawk, which he was racing with LeCroy, who was driving a 2021 Ford Expedition.
"The evidence demonstrated that both vehicles switched between lanes, drove in the center turn lane, drove in opposite lanes of travel, overtook other motorists, and drove at high rates of speed, in an apparent attempt to outdistance each other," police said.
Shortly before the crash, the Expedition reached 104 mph, police said, and LeCroy's blood alcohol content was 0.197 "at the time of the crash."
"Investigators determined that alcohol impairment, racing, reckless driving, and speed were significant contributing factors to the crash," police said.
The case will be turned over to the Solicitor General's Office, police said.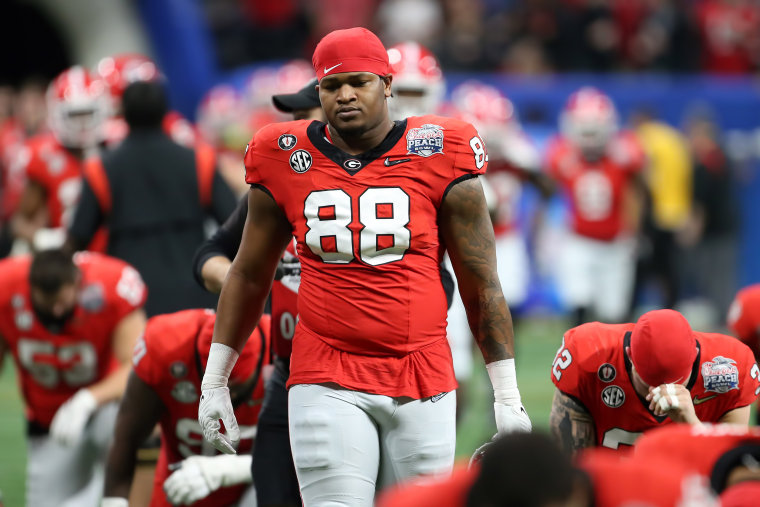 Georgia Bulldogs Coach Kirby Smart won his second consecutive national championship when they defeated Texas Christian University, 65-7, in January.
Smart said in a statement Wednesday: "The charges announced today are deeply concerning, especially as we are still struggling to cope with the devastating loss of two beloved members of our community."
He added, "We will continue to cooperate fully with the authorities while supporting these families and assessing what we can learn from this horrible tragedy."
The wreck occurred less than two miles from the university campus. A few hours earlier, the Bulldogs held a parade through town and a ceremony at Sanford Stadium honoring their championship.
Authorities have said other people were in the Expedition with LeCroy during the crash, including offensive lineman Warren McClendon, who had announced his intentions to enter the NFL draft. McClendon was wearing a shoulder and lap restraint while seated in the right front passenger seat, police said. He sustained only minor injuries.
Willock, 20, was not wearing a seatbelt during the crash, police said.
Another member of the Georgia football staff, Victoria Bowles, was hospitalized with serious injuries. She was sitting in the backseat with Willock and not wearing a seatbelt, police said.
Police said the Expedition "failed to negotiate a left curve, resulting in the vehicle striking the curb with its front passenger tire and leaving the roadway on the west shoulder."
The SUV struck a Georgia Power pole and another utility pole, slicing them in half, before striking a tree on the rear passenger quarter panel. That sent the vehicle spinning in a clockwise direction before it slammed into another tree on the driver's side — where both LeCroy and Willock were sitting, police said.