The decision by prosecutors to pursue domestic terrorism charges against opponents of a police training center outside Atlanta is drawing criticism, with some legal experts saying it's a potentially dangerous overreach that could be viewed as politically motivated. 
More than a dozen people have been charged with domestic terrorism in connection with the protests, including seven people after a Jan. 18 confrontation with police who were trying to clear the proposed site of the center, dubbed "Cop City" by critics.
One man was fatally shot by police in the confrontation after he opened fire and wounded a state trooper, authorities said. In protests that followed the killing and the police sweeps, six people were arrested and charged with domestic terrorism.
In December, the same charges were filed against five people after law enforcement moved in to clear barricades and confront protesters.
Critics of domestic terrorism laws, including some civil rights groups, oppose them "because of the risk of politicization, because they can be used against politically disfavored groups by the government," Patrick Keenan, a professor of law at the University of Illinois, said.
A 2017 Georgia law defines domestic terrorism as a felony intended to kill or harm people; "disable or destroy critical infrastructure, a state or government facility, or a public transportation system"; "intimidate the civil population or any of its political subdivisions"; and change or coerce state policy or affect the conduct of government "by use of destructive devices, assassination, or kidnapping." Conviction carries a maximum sentence of 35 years in prison.
The allegations against the protesters include trespassing, resisting arrest, throwing rocks and glass bottles and damaging property, including setting fire to a police car. Authorities have also said they found "explosive devices, gasoline, and road flares" in an area in the forest where protesters had makeshift treehouses.
Georgia Gov. Brian Kemp, a Republican, has called the protesters "militant activists" and said "we will bring the full force of state and local law enforcement down on those trying to bring about a radical agenda through violent means."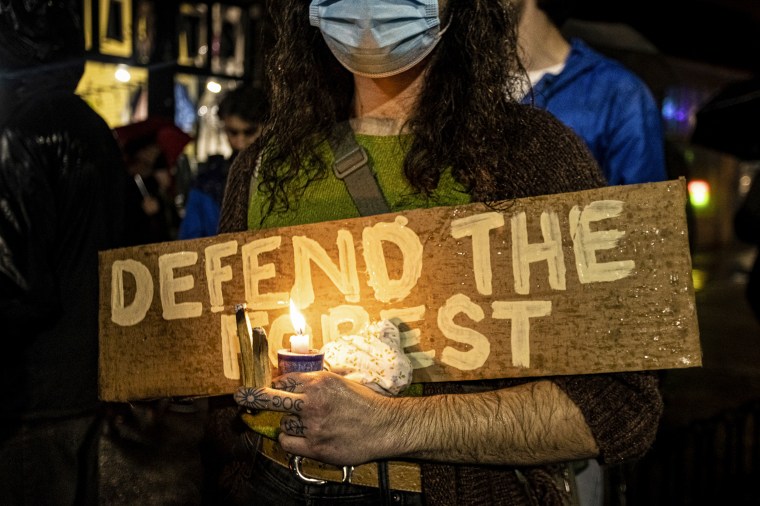 Although "domestic terrorism" is defined in the Patriot Act of 2001, there is no specific federal crime covering acts of terrorism inside the U.S. that are not connected to al Qaeda, the Islamic State, other officially designated international terrorism groups or their sympathizers — even though the U.S. has said in recent years that white supremacist and militia groups are a top domestic terrorism threat.
Last year's mass shooting at a grocery store in Buffalo, New York, fit that category, said Javed Ali, an associate professor at the University of Michigan's Gerald R. Ford School of Public Policy.
The 19-year-old white supremacist who shot and killed 10 Black people last May was the first person in New York state convicted of domestic terrorism motivated by hate; he also pleaded guilty to first-degree murder. The terrorism charge carries an automatic sentence of life in prison.
But in a number of states, including Georgia, domestic terrorism laws include a wide variety of offenses outside those motivated by hate.
Because the Georgia statute "focuses on conduct that is intended to intimidate the government or to affect the government in any way," Keenan, the law professor, said, it is "especially vulnerable to politicized use." 
Keenan said he believes attaching the domestic terrorism label to protesters could have "some really dangerous effects."
"I don't think it's mostly protesters who are the biggest domestic terrorism threats. Domestic terrorism threats are coming from other places, and so to use this statute really publicly and prominently to try to squash this protest seems to me, kind of the politicized use of the law that a lot of people were worried about," he said.
Keenan said that while he does not condone violence or attacks on law enforcement, he believes there are other ways to address those things under Georgia law that do not include a domestic terrorism charge.
"As someone who handled capital murder cases in Georgia, I can tell you Georgia law has a lot of ways to deal with violence against law enforcement or against anyone," he said. "So this domestic terrorism statute is not necessary and it can lead to this politicized use that I think doesn't do anybody any good."
Joshua Schiffer, an attorney who represents one of the protesters, said he believes that as the investigation moves forward, "the charges won't be justified," calling them "particularly concerning" given Georgia's rich history of civil rights and civil disobedience.
"The use by the state of such an aggressive statute indicates the state's position when it comes to protesters and how the state intends to deal with protesters," he said. "This state action is meant to impact and chill this protest issue nationally."
Ali, a former senior U.S. government counterterrorism official, said such cases highlight what could be a new development at the state and local level where authorities will begin to bring more domestic terrorism charges.  
He said that prosecutors typically bring such charges when they believe there is enough evidence to support them, "because why would you bring a charge forward on something that's fairly unusual and controversial if you're going to lose the case in court?"
In the months leading up to the most recent arrests, critics have raised environmental concerns about building a $90 million law enforcement training center on 85 acres just outside Atlanta. Opponents say it would devastate forest, and they also object to making such a huge investment in policing after the national 2020 protests against police violence and systemic racism following the murder of George Floyd.
Officials have defended the center, saying that the forested land was the only viable location and law enforcement needs modern training facilities.
On Thursday, Kemp declared a state of emergency in Georgia, the result, he said, of "unlawful assemblage, violence, overt threats of violence, disruption of peace and tranquility of this state and danger existing to persons and property." The order gives Kemp the ability to call in the Georgia National Guard.
Marlon Kautz, an activist with the Atlanta Solidarity Fund, which provides resources to people arrested during protests, said the group was "extremely alarmed at the use of this domestic terrorism statute." 
"It's clear that it's being used in an overly broad way to maliciously prosecute people," he said.
The Atlanta Solidarity Fund said that the state of Georgia was trying to "set an alarming precedent" with the charges. 
"If they are successful, protesters across the country could be facing similar speech-chilling 'domestic terrorism' charges,'" it said in a statement this week. "We must strongly reject this extreme level of repression here and now, before it becomes the norm for activists in every movement."