Ten bucks is all it costs to dream in color inside a Vincent Van Gogh masterpiece.
The Art Institute of Chicago has built a replica of one of the Dutch master's famous "Bedroom in Arles" paintings and is renting it out on Airbnb.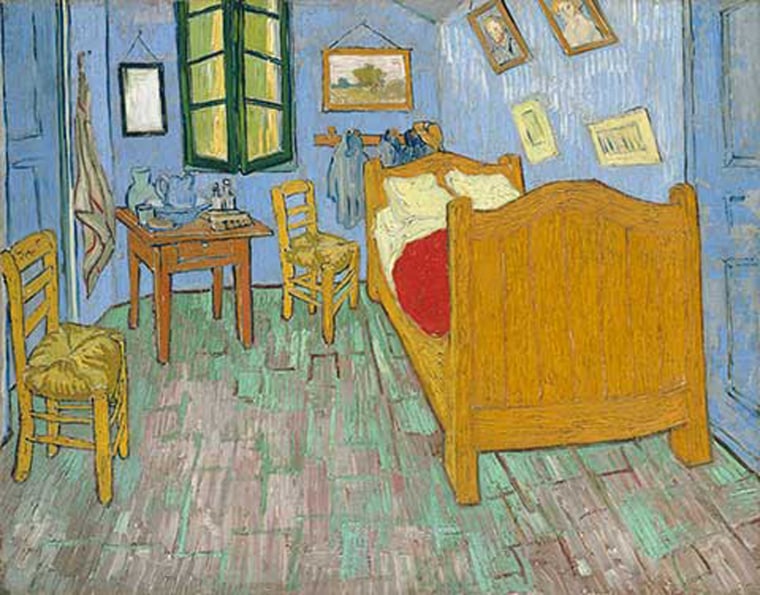 Located in an apartment in Chicago's trendy River North neighborhood, the replica is the fruit of four weeks of labor by a team of workers who made the chamber look almost exactly like the tormented artist's painting. It's part of the museum's "Van Gogh's Bedrooms" exhibit.
"It's sort of our way to extend the experience of the exhibition," museum spokeswoman Amanda Hicks told The Chicago Tribune. "This bedroom is a creative way to take this storytelling about Van Gogh's human side and then extend that story into a real-life setting."
It's like stepping into the painting, the museum says. There's the blue walls, the yellow chairs, the painted floor — even the red-trimmed towel hanging from a hook.
The only difference is that there's a double bed instead of the spartan single bed that Van Gogh immortalized on canvas.
The Art Institute of Chicago is home to the second of the three versions of the painting that Van Gogh painted from 1888 to 1889 while living in Arles, France. This exhibition brings all three paintings for the first time ever in North America.
Good luck, however, booking this room.
Hicks said the February dates sold out in hours. And anybody interested in booking the bedroom for March, or until the exhibition ends May 10 should make a reservation now.
For those who get locked out, there is also a recreation of the famous bedroom on display at the museum. You just can't spend the night.