ISABELA, Puerto Rico — Internationally acclaimed artist and Chinese dissident Ai Weiwei, known for his work motivated by social justice issues, recently traveled to Puerto Rico to witness the impact of the devastation wrought by Hurricane Maria, including on the people left behind.
"Many people realize artists can be a positive force for seeking the truth, for making social change, and for making political change," Ai told NBC News in an exclusive interview during a research trip to Puerto Rico at the end of December.
For Ai, the mass migration of desperate people from their homes has long been among the humanitarian and political themes that have defined his sculpture, installations, photography, film projects.
The artist was drawn to Puerto Rico because more than 410,000 people have left the island, having given up on waiting for habitable homes, consistent restoration of power, clean water and passable roads. Most have resettled in states like Florida, Georgia, New Jersey, New York, North Carolina, Texas and regions around New England, creating one of the largest mass migrations ever into the mainland U.S. The mass migration has been so significant that it is poised to reshape regional and national politics.
Ai said that his goal is "to study the refugee condition, study the history, study the geopolitics and what is the cost for people to leave their home and why they have to leave their home."
People fleeing from many kinds of crisis were featured in the artist's 2017 documentary "Human Flow." In making that film, Ai and his team "went through 40 different refugee camps. We interviewed over 600 people," he said.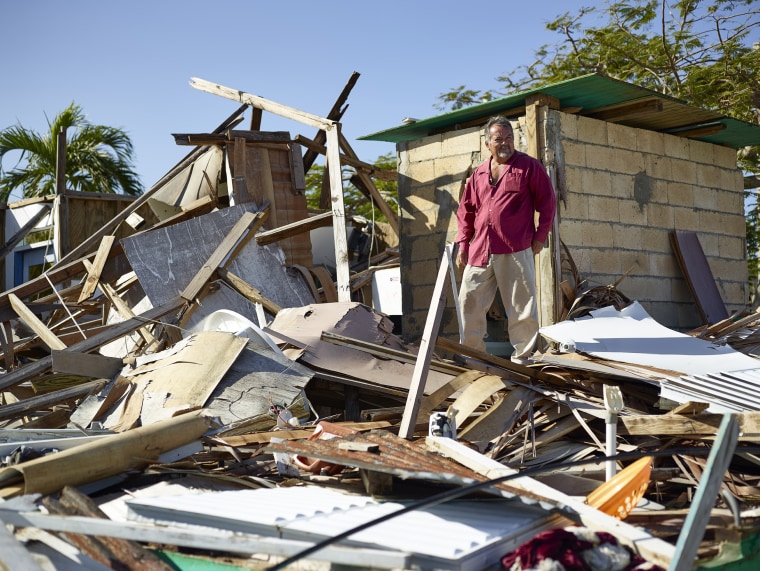 "I've been through Lebanon, Jordan, and Turkey, Afghanistan, Myanmar, Kenya — all over the world, around 23 countries," he added. "But at the same time, I had over 10 museum shows, and huge public installations in relation to the topic." His work has drawn public attention to the wrenching experiences of refugees around the world.
Ai's journey to Puerto Rico began with an invitation from an old friend, the Brooklyn-based photojournalist and artist Justin Brice Guariglia, whose chief artistic interest is climate change. Guariglia's friends Jennifer Bolstad and her husband Walter Meyer hosted them. The couple knows the island well and, through a nonprofit they helped co-found, were spending the week of New Year's working with a band of volunteers from Puerto Rico and the mainland to bring solar power and sustainable redevelopment to the island.
Technically, refugees have been defined by international law since the end of World War II as people fleeing violence, persecution or war. And with that definition come certain protections and benefits. But Ai is among those calling for a revised definition that takes into account those who migrate because of disasters increasingly exacerbated by climate change, such as floods from rising coastal tides, famine caused by draught or, in this case, hurricanes.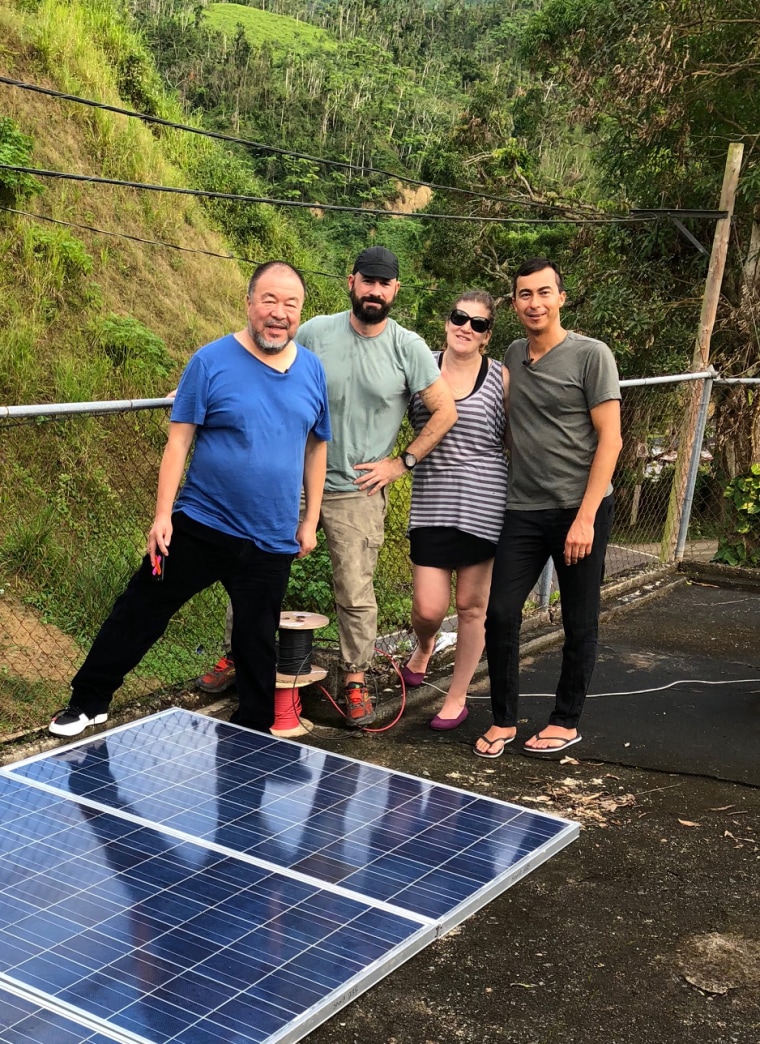 "The whole landscaped has changed," Ai said. "Those definitions certainly need to be changed. It takes global leadership to sit down and come up with a new understanding."
Those who might be considered refugees by the current definition began leaving the island long before Ai and Guariglia arrived, with the people most in peril fleeing in the immediate aftermath of Hurricane Maria. So to understand the crisis and why people fled, the artists came to witness the continuing daily struggles for those who remained.
And those who have stayed are feeling enormous stress, the artists quickly saw.
With Guariglia at the wheel, Meyer led the group through eight varied regions of the island, including the periphery of San Juan; several mountain towns like Utuado and the remote Aibonito; Yabucoa Harbor where Maria first made landfall on Sept 20.; and Humacao, which was especially hard hit.
On the northwest coast of Puerto Rico, in the beach town of Isabela, just steps from where Ai and his friends were staying, a man who gave only his first name, Roberto, was living in a tent in his yard. The entire roof of his bright green home was destroyed.
As Roberto washed clothes in a bucket outside his tent, he explained through a translator that FEMA had offered little help, since the house was still in the name of his deceased mother, and he could not prove ownership. Still, he could not leave Puerto Rico since he had no family on the mainland.
"I have nowhere to go even if I wanted to," he told Ai.
On the road, Meyer and Bolstead, who are both landscape architects specializing in sustainability, pointed out downed power lines; washed out roads and bridges; and decimated forests, including palm trees that looked like pencils someone had snapped in half.
"I have nowhere to go even if I wanted to."
The group stopped in Utuado and met Maria Rosario Lopez, 53, who runs a modest roadside bakery and convenience store.
The store was dark — only the area of Utuado immediately surrounding the town square had power restored. Lopez had a generator to power one refrigerator to store milk and some cold drinks for her patrons. A handwritten sign taped to the front door read "Hay Hielo" (We have ice).
But the vitrine for her baked goods was empty since she didn't have enough gas that day for the generator to power the oven.
In Utuado, during the more than 24 hours Hurricane Maria raged over the island, nearly 100 people had to be evacuated as the sodden earth below their homes become unstable. More than a dozen people died. Many of the roads to and from Utuado remained washed out, having caved in and tumbled into the dense jungle below.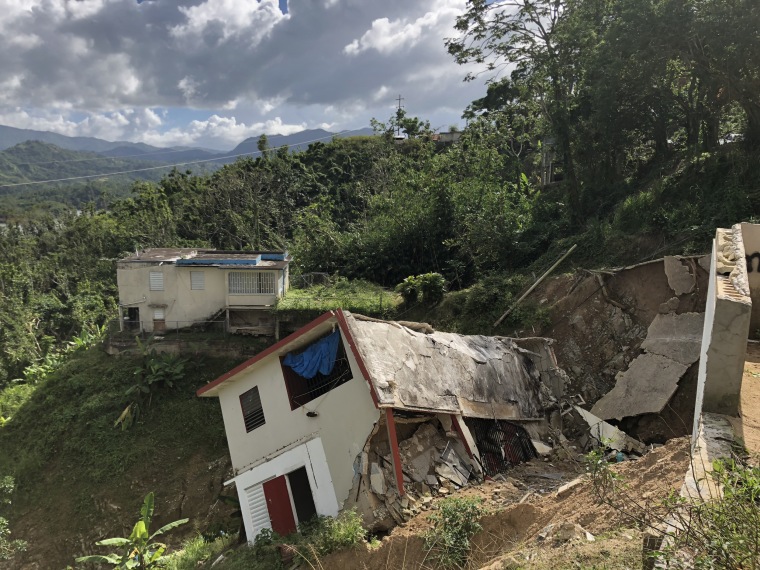 Speaking through a translator, Lopez said that in Utuado alone she knows of 40 families who have left, seemingly for good. "Young people are leaving with young kids and the parents or grandparents are being left," she said."
But starting life anew somewhere else is not an option for Lopez, whose grown daughter lives and works San Juan and whose husband is a police officer.
"My place is a central location and it's the only business now that is open around here," she explained. "Now people come here to my place to get support, to vent about their lives and sometimes people from the church come to offer food, clean water, clothing to others in need."
"I can't just leave people here suffering."
Because of that important role Lopez and her tiny business play in her community, Meyer led a team of volunteers — joined by Ai and Guariglia — to hoist donated solar panels up to the roof of Lopez's bakery. With solar power, in addition to her generator, she could stay in business and begin offering her customers bread and sweets regularly again.
"It is what I am here for," she added. Even if she had a place to go, "I can't just leave people here suffering."
Once the solar panels were installed, Ai and Guariglia surveyed the scene from the roof, as neighbors pulled up their mudsplattered cars to make purchases and make small talk.
"A journey like this is very important," the artist said. "I always start my work with research. You have to go to the site…You have to be observing. Artwork is a product of that research."
He added, "You can see how fragile our human condition or our civilized society can be."