The Houston Astros captured their second pennant in three years, defeating the visiting New York Yankees 6-4 Saturday and ending the American League Championship Series in six games.
The Astros, MLB champs of 2017, will open the World Series on Tuesday night at their home, Minute Maid Park, against the National League-winning Washington Nationals.
Houston has won at least 100 regular season games the past consecutive seasons with a core of young talent — most notably 5-foot-6 superstar José Altuve — collected from six consecutive losing campaigns in 2009-14.
The franchise is credited, and in some circles derided, for their "tanking" strategy — tolerating losing to acquire the best young players in MLB's annual amateur draft that rewards the worst teams.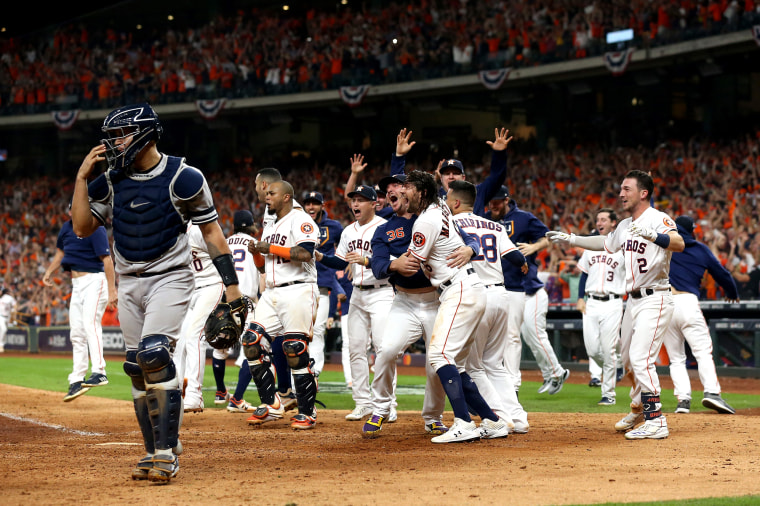 Soothsaying "Sports Illustrated" famously crowned the Astros 2017 World Series winners — all the way back in 2014 — in an article explaining the team's lose-by-choice strategy.
On Saturday, the Astros struck in the bottom of the first inning when first baseman Yuli Gurriel hit one out of the park with two on base, putting the Astros ahead 3-0.
New York catcher Gary Sánchez hit a single to bat in a run for the Yankees in the top of the second.
In the top of the fourth, Yankee third baseman Gio Urshela hit a home run off pitcher Jose Urquidy, making it 3-2.
In the bottom of the sixth inning, the Astros' third baseman and shortstop Alex Bregman batted a run in with a ground ball for a 4-2 score.
In the top of the ninth, the Yankees tied the game 4-4 when D.J. Lemahieu hit one out of the park.
Second baseman José Altuve hit a two-run homer to end the game.
The Astros lineup has seen its share of controversy. Gurriel was suspended for five regular-season games after making a racist gesture against Iranian-Japanese pitcher Yu Darvish during the World Series against the Dodgers in 2017.
When he was still a Blue Jay, Astros pitcher Roberto Osuna was suspended for 75 games without pay last year after violating the league's Joint Domestic Violence, Sexual Assault and Child Abuse policy. He was charged with suspicion of assault against his girlfriend after being arrested May 8, 2018.
Tuesday will mark the first World Series game in Nationals franchise history. The team played as the Montreal Expos from 1969 through 2004, before moving to the the nation's capital.
The Nationals lost the face of their franchise this past winter when Bryce Harper was lured away by the Philadelphia Phillies with a 13-year, $330 million deal. But thanks to 20-year-old Juan Soto, one of baseball's most exciting young stars, Washington improved from last year and qualified for the playoffs as a wildcard team.
Washington stunned the mighty Los Angeles Dodgers in the NL Division Series before sweeping the NL Central champion St. Louis Cardinals.