Atlanta Braves outfielder Ronald Acuña Jr. was confronted by two enthusiastic fans who stormed Denver's Coors Field during Monday's game against the Colorado Rockies.
Video from the game shows a fan hugging Acuña on the field and appearing to try to take a photo. A security guard dressed in black runs toward them and tries to pull the fan away.
Two other security guards appear, one grabbing the fan's legs and another his arm, but the fan keeps a strong hold on Acuña.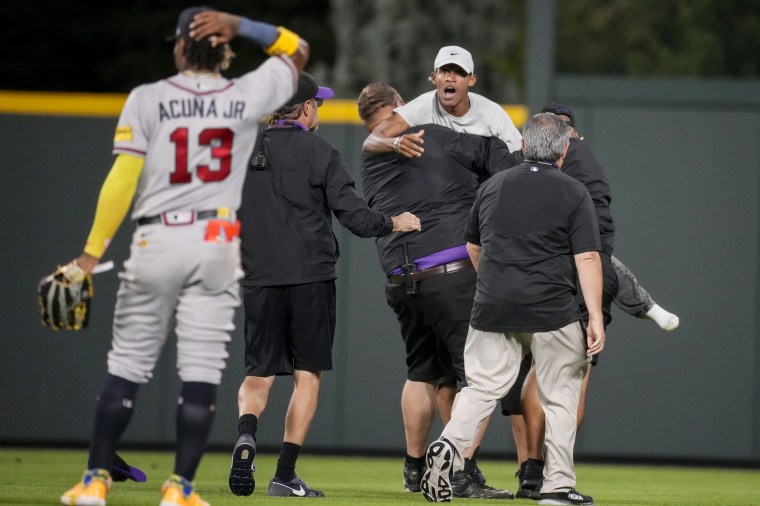 Another eager fan then enters the field and leaps toward Acuña and is body-slammed to the ground by security guards. In the action, Acuña falls backward and gets back up on his own.
Cameras caught him smiling and signaling a thumbs-up to concerned teammates.
Some fellow baseball players ran to Acuña's aid, and the security guards escorted the fans off the field, but one didn't go willingly. One fan calmly allowed security to walk him off field, but the other kept waving his hands, kicking and flailing, to get Acuña's attention and had to be carried away by three guards.
The scuffle unfolded in the bottom of the seventh inning, after Atlanta had broken open a close game with four runs in the top of the inning.
Acuña, who is from Venezuela and made his Major League Baseball debut in 2018, is a favorite to win the league's MVP award this season.
"I was a little scared at first," Acuña told reporters through an interpreter after the game. "I think the fans were out there and asking for a picture. But security was able to get there, and so I think everything is OK, everyone is OK."
The Braves ended up beating the Rockies, 14-4.
"You don't want to see that happen, I know that," Braves manager Brian Snitker told reporters after the game. "You don't know what they will do when they get out there. It's a scary situation."