Officials say it will take several months to rebuild the part of Interstate 85 in Atlanta that collapsed in a raging fire Thursday night, shutting down one of the busiest stretches of roadway in America.
The cause of the blaze was not known Friday, Atlanta Fire Chief Joel Baker told reporters, and authorities have so far not turned up any leads. Bridge inspectors were assessing damage at the scene as officials worked to unsnarl traffic.
"This is about as serious a transportation crisis as we can imagine," Mayor Kasim Reed said late Thursday.
Three northbound and three southbound sections of the highway will need to be replaced, according to Russell R. McMurry, the commissioner of the Georgia Department of Transportation.
Related: Bridge Collapses in Atlanta Freeway Fire During Rush Hour
"That is no small feat, but we're up to the challenge," McMurry said.
The massive fire was reported at 6:21 p.m. ET underneath the bridge on the northbound side — near where the interstate merges with another key artery, State Highway 400 — forcing authorities to close the interstate and turn drivers around during rush hour.
At about 7 p.m., the bridge gave way in a flaming heap that spewed thick, black smoke high into the air.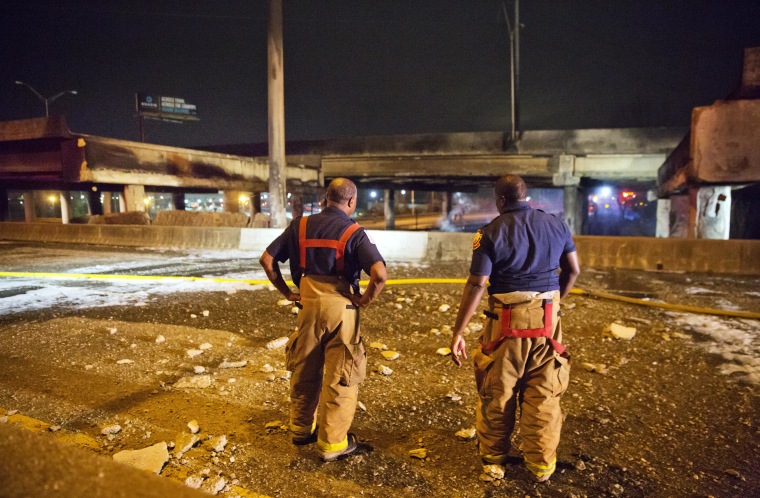 McMurry on Friday said the blaze started in an area used as a "storage location" for "surplus construction materials," such as polyvinyl chloride (PVC) piping, a material commonly used in construction. Gov. Nathan Deal suggested Thursday night that the PVC may have ignited for some reason.
No one was injured in the collapse, authorities said Friday. But traffic was a nightmare, with drivers lined up bumper-to-bumper on nearby streets. State and local officials said more than 225,000 vehicles travel through the affected area on an average weekday.
The location is near the ritzy downtown Atlanta district of Buckhead, sometimes called "the Beverly Hills of the South," which is home to some of the city's biggest businesses, medical centers and diplomatic missions.