An attorney accused in a series of sexual assaults in Boston more than a decade ago waived extradition in New Jersey on Thursday and was set to return to Massachusetts, officials said.
Matthew Nilo, 35, is charged with rape, kidnapping and assault counts from incidents that occurred in 2007 and 2008, Boston police said.
Joseph Bonavolonta, the special agent in charge of the FBI's Boston field office, said Nilo was an "accused serial rapist and kidnapper."
The FBI and Boston police arrested Nilo, who is formerly from the city's North End, Tuesday outside his residence in Weehawken, Bonavolonta said.
Four victims have been waiting years to learn the identity of their attacker, he said.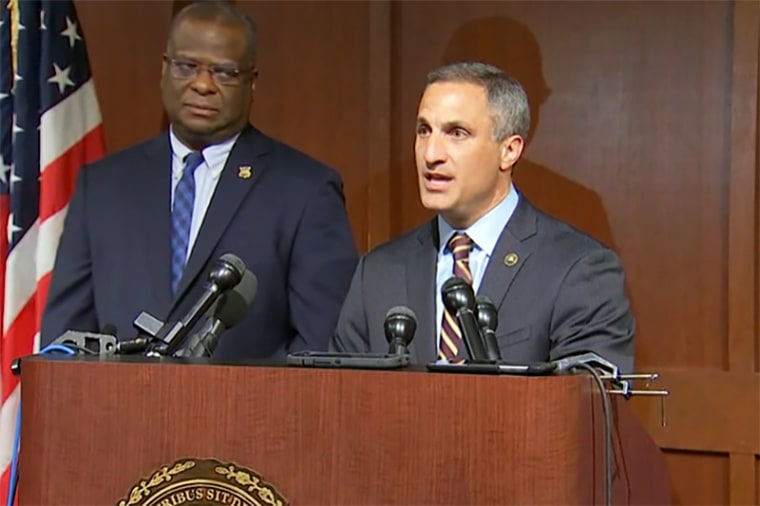 "We certainly realize that identifying this individual does not ease their pain — nothing can," Bonavolonta said at a news conference Tuesday. "But hopefully it answers some questions."
Investigators used investigative genetic genealogy, which uses DNA analysis but also traditional genealogy to develop leads, to help identify Nilo, he said. Boston police requested help in October, and Nilo's identity was confirmed last month, he said.
Nilo will plead not guilty, his attorney, Jeff Garrigan, told reporters Thursday.
"He's looking forward to fighting these charges and showing that he's innocent," Garrigan said.
The sexual assaults occurred in the area of Terminal Street in the Charlestown neighborhood in August and November 2007 and August and December 2008, Boston police said.
He is charged with three counts of aggravated rape, two counts of kidnapping, one count of assault with intent to rape and one count of indecent assault and battery, according to police.
Nilo is an attorney who is from the Boston area, but after 2008 he also lived in Wisconsin, California and New York, Bonavolonta said.
Cowbell, a company that advertises cyber insurance, employed Nilo but has since suspended him, a spokesperson said.
The company, which hired Nilo in January after he passed a background check, has suspended him pending further investigation, spokesman Justin Finnegan said in an email. The company did not say what role he held.
Authorities are asking anyone who thinks they were a victim or who has information to contact Boston police or the FBI.
Suffolk County, Massachusetts, District Attorney Kevin Hayden said sexual assault cases are very challenging and difficult to solve.
"These are events with lingering and often life-changing ramifications for our victims," Hayden said.
The technique used to identify Nilo is used to generate leads, but "it's not the end-all," Bonavolonta said.
"There is a significant amount of investigative steps that have to occur even after we've identified who we believe to be, in this case, a suspect in an investigation to corroborate all of it," he said.
It was also used to identify "The Lady of the Dunes," the victim of Massachusetts' oldest unsolved homicide, as Ruth Marie Terry. Her body was found in 1974 on a Provincetown beach and remained unidentified until last year. Her killer has not been identified.