Editor's note: This story includes a correction.
The attorney for an alleged al Qaeda operative captured by U.S. commandos in Libya said on Tuesday it will take months to comb through the hundreds of thousands of documents in the case before he is ready to proceed.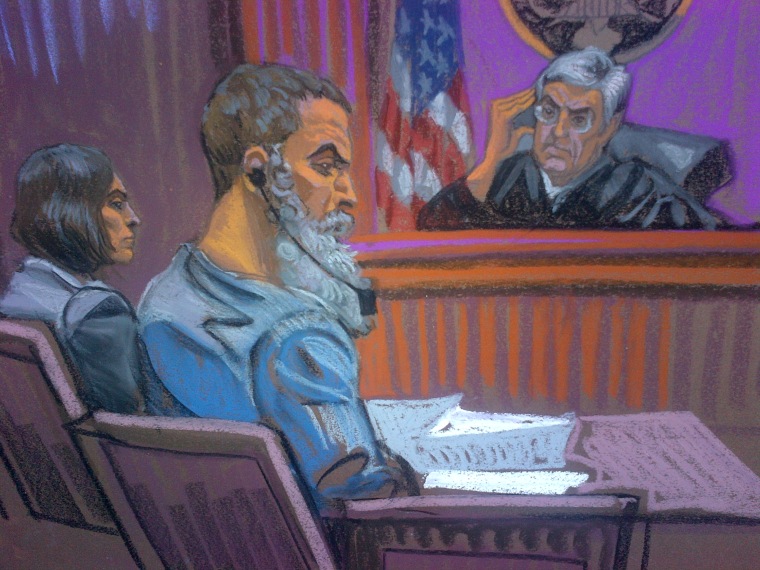 The suspected operative, Abu Anas al-Libi, 49, pleaded not guilty in Manhattan federal court last week to charges stemming from the 1998 bombing of two American embassies in Africa.
An indictment going back more than a decade accuses the man U.S. officials consider a key al Qaeda planner of conspiring to kill Americans and conspiring to destroy U.S. defense utilities outside the country.
He is not eligible for the death penalty.
Bernard Kleinman, al-Libi's court-appointed attorney, told U.S. District Court Judge Lewis Kaplan on Tuesday that he had just begun to work on the case and he needed at least six months to go through the 270,000 documents that are part of the evidence in the case, Reuters reported.
Kleinman, who said he first met al-Libi before court on Tuesday, also requested the return of his client's personal copy of the Quran, the Islamic holy book, which had been confiscated during the course of his capture. 
The judge last week declared al-Libi a flight risk and ordered that he remain detained in New York.
Al-Libi was snatched off the streets of Tripoli on Oct. 5 and then held aboard the USS San Antonio, where he was locked up and questioned without being read Miranda rights (the right to remain silent, etc.), U.S. officials said.
Because of what U.S. officials have described as a serious medical condition — his family says it is severe hepatitis — he was taken within a week to New York, where he has been under indictment since 1998.
Some Republicans in Congress have argued that al-Libi should have been transferred to the U.S. prison at Guantanamo Bay, Cuba, for more interrogation.
Al-Libi is one of 21 men indicted in the bombings of the American embassies in Kenya and Tanzania, which killed more than 200 people. He is among nine in custody.
Eight have been killed, including Osama bin Laden; one died awaiting trial, and three are at still large.
The indictment accuses al-Libi of helping plan the attacks and of conducting surveillance of the embassy and other diplomatic facilities in Nairobi, Kenya.
According to testimony at an earlier embassy bombing trial, it was al-Libi, in London at the time of the attacks, who first proposed the bombing of foreign embassies in 1993.
James Novogrod, Jonathan Dienst, Richard Engel, Pete Williams and Erin McClam of NBC News as well as Reuters contributed to this report.
Related: