Usaamah Abdullah Rahim, the terrorism suspect who was fatally shot by Boston police week, had no connections to ISIS and was under suspicion simply because he was a Muslim, his aunt said Thursday.
Police said Rahim, 26, was killed Tuesday morning after he was stopped for questioning and brandished a large military-style knife. Law enforcement officials told NBC News on Thursday that Rahim called his father shortly before the incident and said, "You're not going to see me again after today."
The FBI said in court documents Wednesday that Rahim was the subject of a terrorism investigation into an alleged plot to kill law enforcement officers sometime this week. Law enforcement sources told NBC News that Rahim chose that course only after he abandoned plans to travel to New York and behead Pamela Geller, executive director of the American Freedom Defense Initiative, an organization classified by the Southern Poverty Law Center as an anti-Islam hate organization.
RELATED: Usaamah Rahim, Killed by Boston Police, Was Plotting to Behead Activist: Sources
But Rahim's aunt, who identified herself only as Karen, told reporters Thursday: "There was no plot. There was no scheming." She said her nephew had the knife with him only because "he felt threatened."
"As you all know, with the current slaughter of black men that's going on across the nation, that's enough to make any black man feel threatened," she said. Rahim's aunt was the only family member to speak at a news conference held at the scene of the shooting as family members were on their way to view a surveillance video of the confrontation at the invitation of police.
"There's a lot of black men and black people that are angry at the cops and putting things out on social media about the cops," she said. "When you add Islam, everybody in the media wants to put 'terrorism' in there."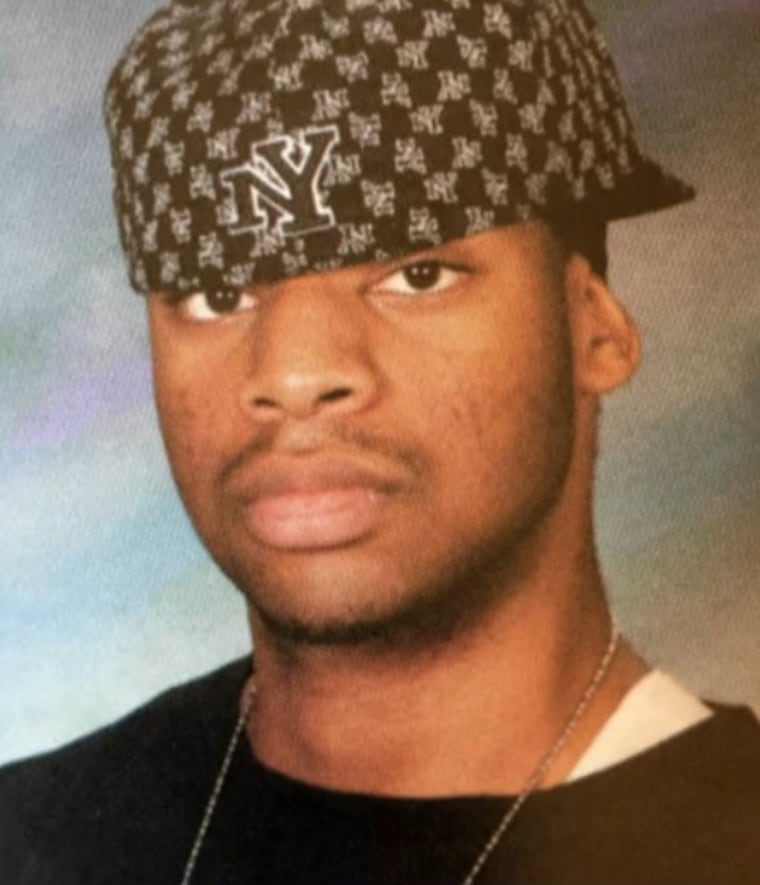 However, the family's lawyer was more measured, saying Rahim's family was interested only in a "complete and transparent investigation" and hoped to "work productively and cooperatively with federal and local authorities to seek the truth."
The lawyer, Ronald S. Sullivan, faculty director of the Criminal Justice Institute and the Trial Advocacy Workshop at Harvard Law School, said the police department's willingness to show the surveillance video went a long way toward allaying the family's initial fears that Rahim was indiscriminately shot by officers simply because he was black or Muslim.
Rahim's brother, Ibrahim Rahim, had highlighted the allegations earlier when he accused officers of having shot Rahim in the back as he was running away. Sullivan said Ibrahim Rahim "absolutely" regrets the accusations, calling them "the responses of a man whose youngest brother was just killed."
"We now know at this time that we did not have all the facts," Sullivan said.
Still, he said it remains to be determined whether the shooting was justified. He said preliminary indications were that officers stopped and detained Rahim without a warrant and without "individualized or particularized suspicion that Mr. Rahim was engaged in any criminal activity."
"The surveillance tape alone does not resolve these and other issues," he said.
Boston Police Commissioner William Evans said Thursday on NBC's TODAY that the terrorism plot was "very real" and "very dangerous," but Sullivan agreed with Rahim's aunt that the family had no indication that Rahim might have been involved with ISIS or other Muslim extremists. The story outlined in the FBI affidavit "comes as an absolute surprise to the family," he said.
The FBI affidavit was filed in connection with the arrest Tuesday night of David Wright, 24, also known as Dawud Sharif Abdul Khaliq, who is charged with conspiring with Rahim to destroy evidence of the alleged plot.
Sullivan confirmed that a post on Rahim's Facebook page identifying Wright as Rahim's nephew was real, and he said the two men were very close. NBC News has independently verified that the Facebook account, which Rahid maintained under the name Abu Sufyaan, is authentic.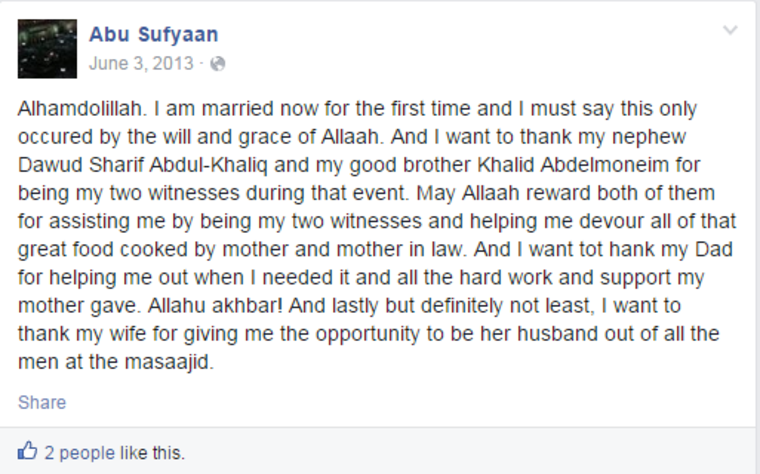 According to the FBI and other law enforcement officials, Wright and Rahim initially targeted Geller, who was the host of a "Draw Muhammad" contest last month in Garland, Texas, that ended with police killing two gunmen outside the event.
Instead, Rahim decided to target police officers — calling them "the boys in blue" — and intended to start killing them either Tuesday or Wednesday, the FBI said.
Law enforcement sources told NBC News that the alleged plot to kill police was more believable than the alleged plot to behead Geller, which one official described as a "fantasy."
"We don't know whether they even knew where to find her," another source said.