The Texas bombing suspect's cellphone had a 25-minute video recording in which he described how he built each explosive device "with a level of specificity" that the Austin chief of police classified as "a confession" at a late Wednesday news conference.
The phone was found on the suspect after he died in an explosion early Wednesday as police closed in, Austin Police Chief Brian Manley said. In the recording, the suspect, Mark Anthony Conditt, described the bombs that he constructed to such a degree that he also explained how they differed, which is information that had not been released, Manley explained.
"He does not at all mention anything about terrorism or anything about hate," Manley said, who added that the video did not necessarily clarify a motive.
"Instead, it is the outcry of a very challenged young man talking about challenges in his personal life that led him to this point," he said.
Earlier on Wednesday, multiple senior law enforcement sources said that "exotic" batteries ordered online helped lead authorities to Conditt, as Austin police and federal agents worked around the clock with approximately 500 agents to track down the bombing suspect.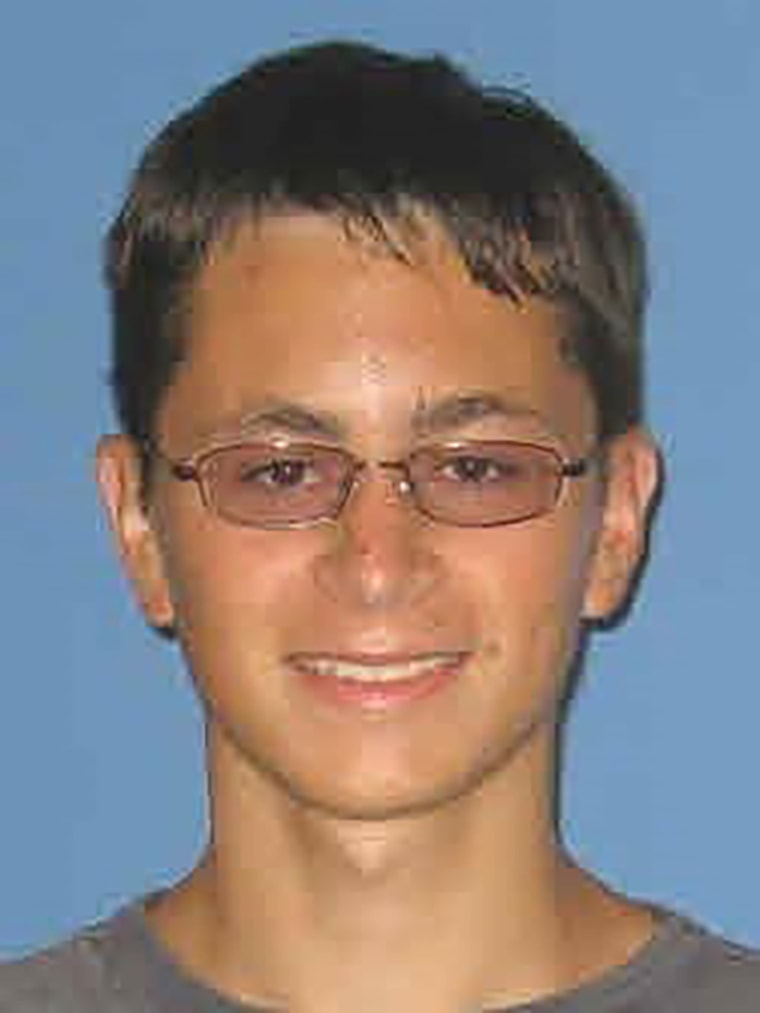 A criminal complaint filed before the suspect died identified him as Conditt, 23. (Police had said earlier that Conditt was 24.) Newly unsealed court records said Conditt would have been charged with receiving, possessing and transferring a destructive device.
Law enforcement remained at the scene around his home on Wednesday afternoon.
The unusual batteries were the signature trait that allowed investigators to quickly link the various explosives to Conditt, sources said. One senior law enforcement official said the batteries came from Asia.
"These weren't your store-bought Duracells," another law enforcement official said.
Related: Trail to Austin bombing suspect combined high-tech and old-fashioned techniques
Conditt, suspected in a spate of bombings that terrorized Austin in the last three weeks, died early Wednesday after detonating an explosive inside his vehicle as a SWAT team tried to apprehend him on the side of a highway, officials said.
Authorities had tracked him to a hotel in Round Rock, a city in the Austin metropolitan area, Manley said at a news conference.
When investigators examined Conditt's home in Pflugerville, Texas — just outside Austin — they found a "treasure trove" of evidence, multiple senior law enforcement officials said. That forced authorities to clear the six surrounding blocks due to a significant amount of bomb-making material.
Pflugerville Police Chief Jessica Robledo said at a news conference Wednesday that it would likely take several hours to process the scene and safely removed the explosive material, but added that authorities would allow residents to return home as soon as possible.
Fred Milanowski, ATF special agent in charge of the Houston field division, said that investigators believe there are no other devices in the public, but shared with reporters that they had found a "considerable amount" of bomb-making material in one of Conditt's rooms, which had "a lock on it."
"There is componentry in there that makes us believe to a high degree of certainty that it's the same componentry that they've found in other devices," he said.
Police were able to find Conditt using a variety of tactics, including coming up with a list of phone numbers and individuals that were in the area of the bombings when they occurred, using cell-site analysis and high-tech computing systems that can find patterns of callers in certain areas.
Hours before police tried to pull Conditt, he turned on his cellphone, which allowed authorities to track his location. Surveillance footage taken at an Austin FedEx was also used.
Authorities shared the surveillance footage showing a man believed to be Conditt entering a FedEx facility wearing what appeared to be a blonde wig and dropping off a package.
Early Wednesday, police were following Conditt's car on Interstate 35 when he pulled over and "detonated a bomb inside the vehicle, knocking one of our SWAT officers back," Manley said.
Another member of the SWAT team fired at the vehicle, Manley said.
"The suspect is deceased and has significant injuries from a blast that occurred from detonating a bomb inside his vehicle," he said, adding that the officer who was knocked back sustained minor injuries.
The incident happened at around 2 a.m. local time (3 a.m. ET), according to NBC affiliate KXAN.
Earlier on Wednesday, Rep. Mike McCaul, R-Texas, told KXAN that Conditt purchased some of the materials at a local Home Depot.
The components included galvanized steel pipe, an explosive and several different types of shrapnel, law enforcement officials briefed on the investigation said.
Some items were allegedly purchased online, and Conditt allegedly used the name "Kelly Killmore" on shipping, according to NBC News affiliate WOAI.
The completed devices were triggered via a rudimentary switch or pin system when the packages were opened or jostled, officials said. By opening or jostling the package, paper or some sort of wadding that was between the switch was removed, closing the circuit, and detonating the device.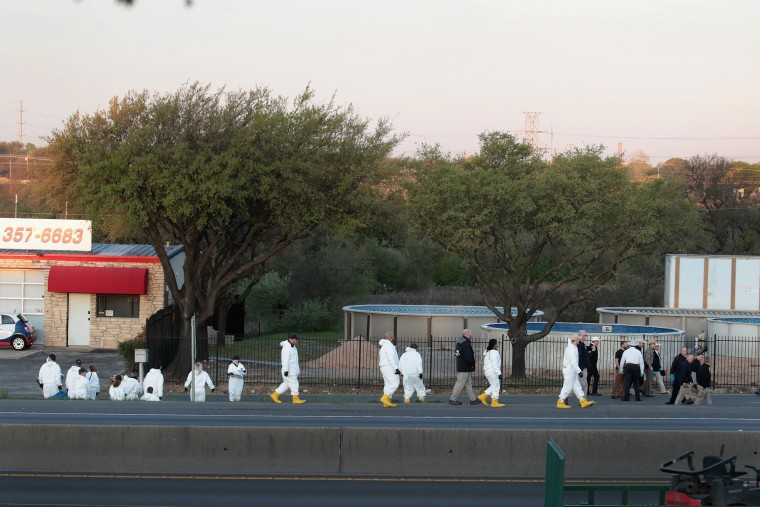 Texas Gov. Greg Abbott said on Wednesday that he had little information about Conditt, but he could confirm that he was unemployed.
"He did not have a criminal record as best we can tell, so there seems to be very little information about him," Abbot told KXAN, adding that investigators would look through any social media accounts.
He said Conditt had two roommates who were cooperating with law enforcement.
One of Conditt's roommates was taken into custody on Wednesday morning, but he was later released, Austin police said. The other was being questioned but had not been arrested, according to authorities.
A 2012 blog, which appears to be part of a government class project at Austin Community College, lists the writer as Mark Conditt of Pflugerville, Texas. Conditt is believed to have been a resident of Pflugerville, north of Austin.
Related: Who was Austin bomb suspect Mark Anthony Conditt?
NBC News could not immediately confirm if the blog was written by the suspect, but public records show only one Mark Conditt in Pflugerville. Austin Community College confirmed that a "Mark Anthony Conditt," born in June 1994, was a student from 2010-12, but did not graduate. The college added that it is "working with Austin Police Department to provide any information they need."
The blog espouses some political beliefs, including entries describing why the author believes gay marriage should not be legalized and why the United States should do away with sex offender registration.
Jeff Reeb, a neighbor of the Conditt family, said that Mark was "a very normal kid" and that the family is "extremely nice."
The suspect's grandmother, Mary Conditt, shared a statement on behalf of the family on Wednesday afternoon in which they requested privacy "as we deal with this terrible, terrible knowledge and try to support each other at this time."
"We are devastated and broken at the news that our family member could be involved in such an awful way," the family said. "We had no idea of the darkness that Mark must have been in. Our family is a normal family in every way. We love, we pray, and we try to inspire and serve others. Right now our prayers are for the families who lost loved ones, for those impacted in any way, and for the soul of our Mark."
Shortly after the announcement that the suspect had been killed, President Donald Trump congratulated law enforcement personnel.
Even though the suspect was dead, however, officials warned locals to keep on the lookout for other possible explosives.
"This is the culmination of three very long weeks for our community," Manley said. "We still need to remain vigilant to ensure no other packages or devices have been left in the community."
ATF Special Agent in Charge Fred Milanowski told reporters that officials were "concerned that there may still be other devices out there."
Austin had been on edge after at least five attacks using package or other bombs across the city this month left two dead and several injured.
The first attack on March 2 killed Stephan House, 39. Ten days later, Draylen Mason, 17, was killed in an explosion that also critically injured his mother. And a separate attack that day critically injured a 75-year-old Hispanic woman. On Sunday, two people were injured by a device believed to have used a tripwire. On Tuesday, one package exploded and another containing an explosive device was intercepted by law enforcement at FedEx facilities near that city and near San Antonio, authorities said.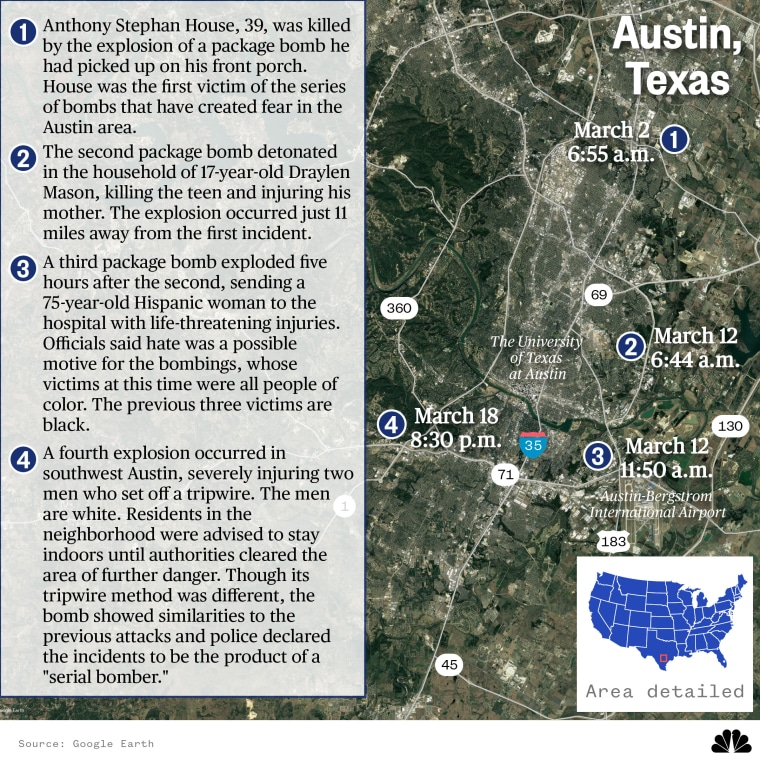 Andrew Blankstein and Phil McCausland reported from New York, and Alexander Smith from London.