A police chief apologized Thursday to a driver after video emerged showing her being slammed to the ground by an officer during her arrest following a minor traffic stop last year.
Austin, Texas Police Chief Art Acevedo apologized to Breaion King during a news conference and pledged a series of administrative investigations and increased training. He said his "heart was sickened and saddened" by the arrest.
"I'm sorry that on the day that you were stopped for going 15 miles per hour," Acevedo said in a public apology. "You were approached in a manner and treated in a manner that is not consistent with the expectations of this police chief, of most of the officers of this police department, and most importantly I think of all of us as human beings."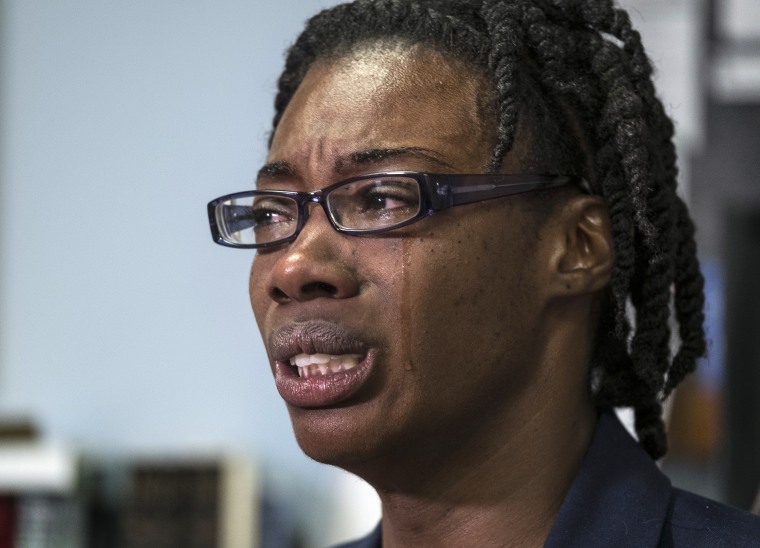 Acevedo said he didn't learn of the videos until Tuesday, when a prosecutor called him after receiving inquiries from the Austin American-Statesman newspaper. The newspaper published the videos Thursday.
King, 26, was pulled over on June 15, 2015, for driving 15 miles over the speed limit. The African-American got out of the car and was ordered back inside by the arresting officer, Bryan Richter. After she is asked to put her feet inside the car, the situation dramatically escalates.
Richter tells her "stop resisting" and orders her out of the car, and King replies "I'm getting out." The officer then yanks King from the car and slams her to the ground.
"Oh my God!" King says in the video. "Why are you doing this to me?" At one point she is stood up, and thrown to the ground again.
In a second video showing King being driven to jail by Officer Patrick Spradlin, who is white, King asks Spradlin if he thinks racism still exists and she says she thinks white people have more rights than blacks, and some people are afraid of black people.
"Why are so many people afraid of black people?" Spradlin says in response. "I can give you a really good — a really good idea why it might be that way," Spradlin says. "Violent tendencies."
"I'm not saying anything, I'm not saying it's true — I'm not saying that I can prove it or nothing. But 99 percent of the time, when you hear about stuff like that, it is the black community that's being violent," Spradlin says. "That's why a lot of the white people are afraid and I don't blame them."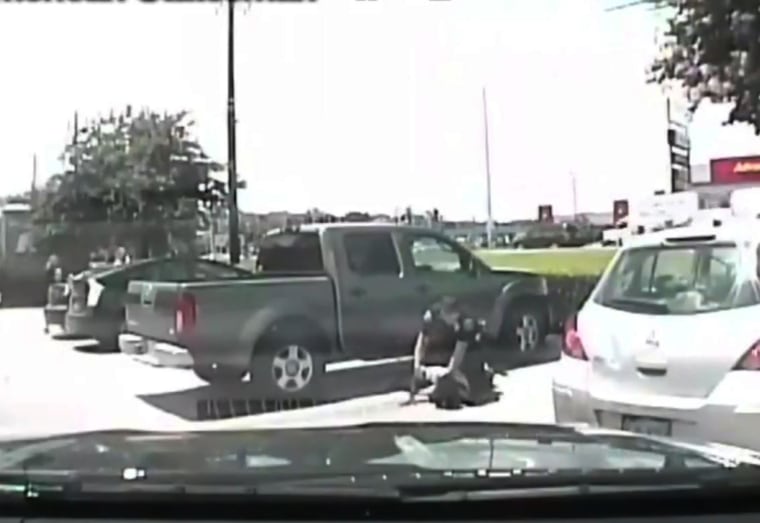 At another point, Spradlin admits that "some of them, because of their appearance and what not, some of them are very intimidating." The conversation is a back-and-forth discussion, and calm.
Acevedo called the "mindset" described by Spradlin racist. "I can't denounce that, what he had to say, any stronger. It was very disturbing to me," Acevedo said.
Both officers were taken off law enforcement duties, and the police chief said administrative reviews are being conducted into past conduct by both officers. A criminal investigation is also under way, but the district attorney's office will determine if charges are appropriate, Acevedo said.
After the arrest Richter was given informal discipline and counseling, Acevedo said. The police chief said the case was never brought to his attention, and an administrative investigation is underway to see why the case wasn't sent to higher ups.
"There's a problem that this was not kicked up to our level back in '15," he said.
The videos came to light amid heightened tensions nationwide and protests over the use of police force against African Americans.
Some, like former New York City mayor Rudy Giuliani, have recently pushed back against the "black lives matter" movement by saying the majority of killings in black communities are carried out by African Americans, not at the hands of police.
King was originally arrested and charged with misdemeanor resisting arrest search or transport, NBC affiliate KXAN reported. The case was dismissed in January.
Acevedo said police will receive additional training in implicit bias and fair policing, and has asked the Department of Justice's Community Oriented Policing Services has offered training resources.
The department will also better track arrests for resisting arrest and offenses like public intoxication to see if officers are appropriately stopping and charging people.
Acevedo said he doesn't know Spradlin's intentions in the back-and-forth conversation and was withholding judgment. "When you look at it there's a guy that's trying to have a conversation — I don't know if he's trying to be a social scientist, so I can't get into his heart at this point," Acevedo said.
Acevedo called King's arrest "an incident that should never have occurred." He said he is urging his police officers to look at the videos.
"I want them to ask themselves: Am I approaching a 15 mile-per-hour speeding ticket like that?" Acevedo said. "Am I treating somebody because they're speeding to lunch like they just robbed a bank? Is that how I want my loved one treated when they're in a hurry?"