Austin, Texas, police are reviewing a video that shows three people being forcefully detained early Friday after a friend of theirs said they were jaywalking.
The video does not show what leads up to the trio getting handcuffed in downtown Austin at about 2:30 a.m. local time. It begins with two Austin police officers in helmets pushing a man against a storefront followed by another man getting pushed against the same storefront by two other officers.
The first man is eventually dragged into the street where he is pinned to the ground by three officers. Meanwhile, the second man is punched repeatedly, while three officers keep him up against the storefront as he curses and yells, "I'm down!" and, "What did I do?"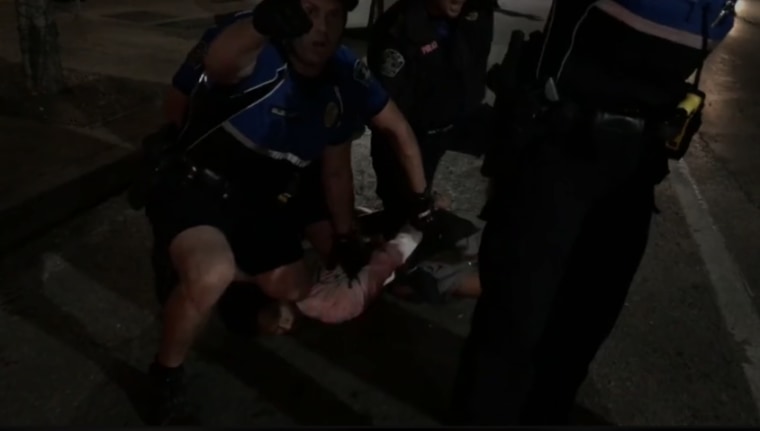 A woman who had been questioning the officers throughout the incident is handcuffed later by a female officer with assistance from two male cops. One of them holds her head down whiles she's standing up.
By the time the video ends, at least three patrol cars have arrived on the scene, and nearly a dozen, if not more, officers are on hand.
Rolando Romero, who originally posted the video on Facebook, said he was out at bars on Austin's Sixth Street with the two men detained in the video when they were stopped for jaywalking as they went to catch an Uber car.
He said they crossed the street because it was blocked off from traffic, which is common in the city's downtown on weekends, when people are frequenting the cluster of bars in the city's boisterous music district.
"After we crossed the street, the cops asked us to show IDs and my friend said no, and that's when (the officers) jumped off their bikes and I started recording," Romero said in an email to NBC News.
The Austin Police Department said in a statement that they were aware of the video and the incident Friday, and that its "chain of command" is reviewing what happened.
Investigators are determining "what led up to the events captured in the video and whether the officer's actions were in compliance with APD policy," the statement said.