The two teenagers who vanished while fishing off the Florida coast last week were nowhere to be found early Tuesday as searchers began a fourth day hunting for clues.
The Coast Guard scoured an area roughly the size of West Virginia, but there was no sign of Austin Stephanos and Perry Cohen, both 14, who were last seen Friday afternoon buying $110 worth of fuel near Jupiter, Florida.
The Coast Guard said they might have been heading toward the Bahamas. Their 19-foot boat was found on Sunday, capsized and adrift in the Gulf Stream current, about 180 miles north of where they set off.
In an interview on TODAY on Tuesday, the boys' mothers expressed hope and said the boys had plenty of experience on the open water.
"It's not even second nature at this point. It's in their blood," said Austin's mother, Carly Black. "This is something they've prepared for their whole boating life. This is — they're out there."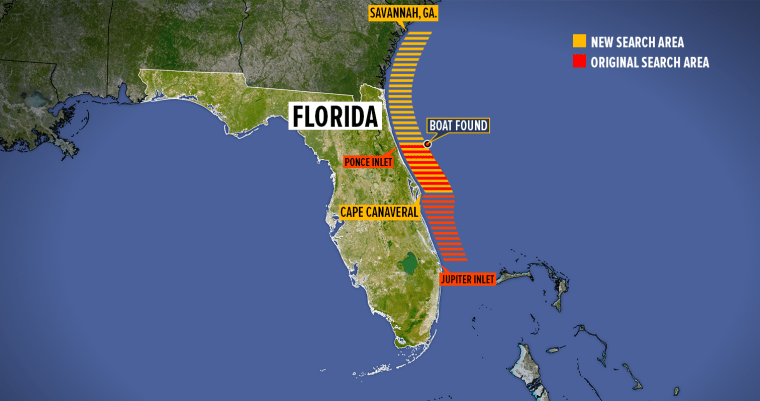 Perry's mother, Pamela Cohen, said that the boys are "extremely athletic and knowledgable about the water, and we know that they are doing everything that they possibly can to stay afloat and wait for us to come get them."
Petty Officer Anthony Soto said that the search area remained 50 miles off the coast of Jacksonville and stretched as far north as Savannah, Georgia, and as far south as Cape Canaveral.
Family and friends were hoping that the teens, who had experience as boaters, could stay alive while apparently lost in the Atlantic.
"They know what to do if they get in trouble," Maxwell Bottcher, who described himself as a best friend of the boys, told NBC News. "They know how to make fresh water. I know they're out there."
Bottcher said he might have been on the boat if he hadn't had to work.
"If I was out with them, I could have been the one that said, 'No, this isn't safe, we need to go back,'" he said. "I could have helped them out with driving. I could have just helped out in any way."
In a 911 call on Friday, Perry's stepfather, Nick Korniloff, told a dispatcher: "They went out on a boat offshore this morning and they haven't checked in since 11:25. And we're calling their cellphones, the boy's cellphone, nobody's answering."
The boys' families pleaded for help Monday, asking people to scour the shores for debris or other clues. And football legend Joe Namath, a family friend, announced a $100,000 reward.
Cohen asked that people look for a Yamaha engine cover and a white YETI cooler that the boys took in the boat and that weren't found on Sunday.