KATOOMBA, Australia – In a desperate race to stay one step ahead of the wildfires raging in southern Australia, firefighters in the town of Katoomba were on the offense Tuesday. They were fighting fire with fire.
The winds were already picking up in the Blue Mountain town ahead of the expected arrival Wednesday of extreme conditions described as "about as bad as it gets," by New South Wales Rural Fire Service Commissioner Shane Fitzsimmons.
That could mean not only searing temperatures, but winds gusting at up to 60 mph.
So crews were taking advantage of a fall in temperature and some light rain to light fires of their own, which they hope will act as buffers to slow or stop a blaze that can travel at incredible speed.
"The idea is to cut it off down there," volunteer firefighter Tim Parsley told NBC News as he looked down over a wide valley filled with smoke.
Volunteers like Parsley, normally an engineer working on geostationary satellites, form the backbone of the fire service in Katoomba. Parsley has been a volunteer for 20 years and says he has seen nothing like this.
The fires this year touched him personally, when the flames engulfed his sister's house. She and her family escaped unscathed.
"My sister losing her house has made it difficult – a family issue as well," he said.
In addition to burning large tracts of forest to deprive the advancing fire of fuel – a process known as back-burning – the firefighters have been clearing smaller areas. These are known as containment lines, typically close to houses.
Residents in the worst affected mountain areas have been told they have until midday Wednesday to leave safely but many are reluctant.
Chris Chinn, who has lived in the Blue Mountains all his life, built his family's home overlooking the bush. He has set up a water pump by his swimming pool and in spite of official warnings he is determined to stay.
"It's your home, so you want to stay and protect it," he said.
The State of Emergency declared in the mountains gives the authorities the power to order them out.
"If they do that, we will go," his wife Mandy said.
"The firefighters are doing a good job. We don't want them to put their lives at risk if we have to be rescued. But this is our home," Chris Chinn said.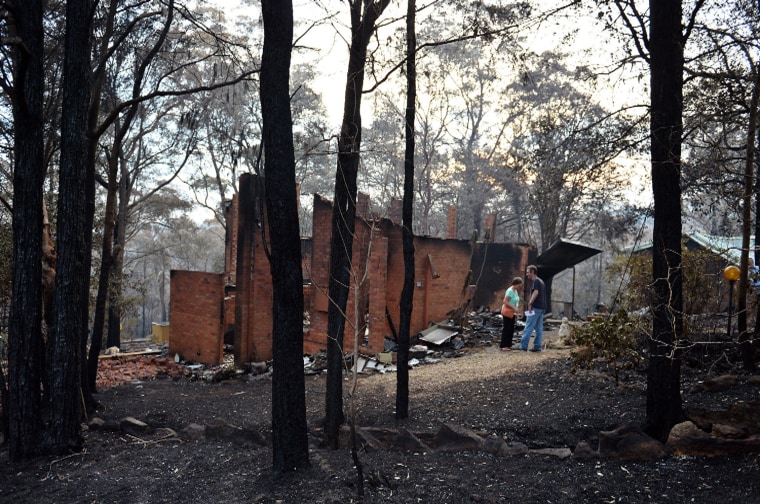 That is a fairly typical attitude in the bush – but the ferocious fire already covering an area the size of urban Sydney is far from typical.
More than 60 fires are raging in southern Australia at last count, 15 of them out of control – and they have already been described as the worst in New South Wales in more than four decades.
The blaze in the Blue Mountains is the largest and most dangerous and is only around 60 miles west of Sydney. It could threaten the city's western suburbs if it sweeps down from the mountains.
"I've been fighting fires for 33 years," said Rob Rogers, Commissioner Fitzsimmons' deputy. "And this is the most challenging fire scenario I have ever faced."
Related: