Authorities in Florida said Thursday they would not proceed with their case against Donald Trump campaign manager Corey Lewandowski, saying there wasn't enough evidence to convict him of attacking a reporter at a rally last month.
Lewandowski, 42, was charged by police with simple battery after Breitbart News reporter Michelle Fields accused him of grabbing her as she attempted to ask Trump a question at a March 8 campaign event at Trump International Golf Club in Jupiter. But on Thursday, Palm Beach County prosecutors said that while Lewandowski had grabbed Fields — contradicting the aide's denials — the evidence was not strong enough to support a criminal prosecution.
Lewandowski initially said he never touched Fields, but video released by police showed that he did grab her. Palm Beach County State Attorney David Aronberg said in a news conference that the facts "undermine" Lewandowski's defense but "do not outweigh" his claim of innocence given the circumstances captured on video.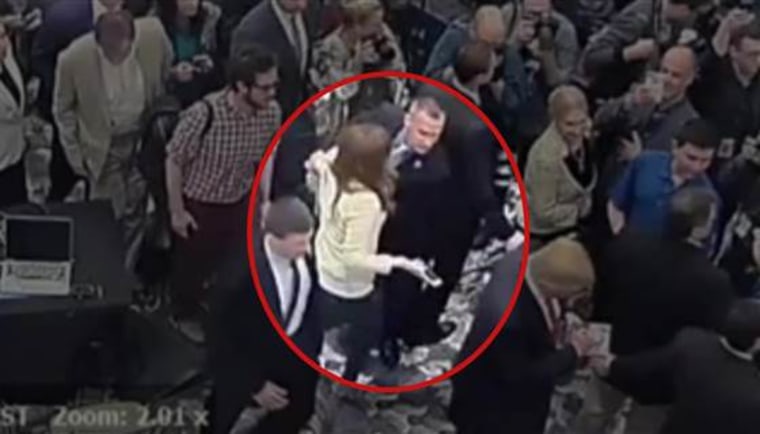 Related: Who Is Donald Trump's Controversial Top Aide Corey Lewandowski?
Aronberg and a deputy prosecutor who oversaw the case, Adrienne Ellis, said key evidence against charging Lewandowski was Fields' leaving an assigned press area and entering a "protective bubble" maintained by Secret Service agents. She then reached out and "brushed or touched" Trump with her left hand. Trump "recoiled," and Lewandowski, who was just behind them, pulled her away.
"We're not charging him because he was reacting to what he perceived as a potential threat," Ellis said.
The prosecutors said they'd relied on an affidavit submitted by a former FBI agent describing how Secret Service agents often created the "protective bubble" to keep unauthorized people, including the press, from the candidate, and that campaign workers often assisted in clearing a "safe pathway."
Aronberg pointed out, however, that a Secret Service agent was near Fields and Lewandowski at the time of their confrontation and "appeared to show no concern over her actions."
He also said that Trump had contacted his office to argue against charging Lewandowski and pointed out that Fields had touched him. But that contact was considered "incidental" and did not rise to the level of criminal conduct, Aronberg said.
Aronberg said Trump's calls did not impact his decision. He also expressed bafflement at the media's intense scrutiny of the case, which led to suggestions that his office was swayed by politics. Aronberg, a registered Democrat, said he was simultaneously accused of acting on behalf of Democratic presidential candidate Hillary Clinton and Trump's Republican rival for the GOP presidential nomination, Ted Cruz, with whom Aronberg shared a dorm while in law school. Neither affiliation played a role in his decision, he said.
The Trump campaign released a statement saying Lewandowski was "gratified" by the decision to drop the charge. "The matter is now concluded," the campaign said.
Investigators spoke to Fields three times, and Lewandowski's lawyer several times, but never the aide himself, the prosecutors said.
Fields has said that the prosecutor's office called her two weeks ago and that she agreed to a deal in which Lewandowski would issue her an apology. She said she hadn't heard back about the arrangement, and a source familiar with the situation told NBC News that it wasn't clear whether Lewandowski had accepted the proposal.
Aronberg said Thursday that Lewandowski's lawyer had submitted a draft of a short apology this week but declined to describe it in detail. He said that talks of an apology did not have any impact on their decision whether to pursue charges. But he added, "had an apology been given at the beginning of all this, we could have avoided this mess."
Fields and three of her colleagues resigned from Breitbart, a conservative-leaning website, after it published an account questioning Fields' allegations. "I can't stand with an organization that won't stand by me," she said at the time.
Related: Breitbart's Michelle Fields, 3 Others Resign Over Trump Incident
Lewandowski remains Trump's campaign manager, but it's unclear whether he retains day-to-day control over the operation after veteran Republican operative Paul Manafort was recently appointed convention manager.