At least 14 people were killed and two suspects were dead Wednesday after two people on a mission that authorities described as "possibly terrorism" barged into a holiday party in a California conference room and unleashed a bloodbath.
The shooters fled in a black SUV after the rampage at about 11 a.m. (2 p.m. ET) inside the Inland Regional Center, a state-run center for people with developmental disabilities in San Bernardino, about 55 miles east of downtown Los Angeles, police said.
Seventeen other people were wounded, they said. Authorities said that no motive had been determined and that terrorism had not been ruled out.
Photos: Deadly Mass Shooting in San Bernardino, California
Details:
The shooting erupted during a holiday party in a conference room. Fourteen people were killed.
At least 10 of the 17 wounded are in critical condition.
Police shot two suspects after a high-speed chase in a shootout hours later. They were identified as a man Syed Rizwan Farook, 28, and a woman, Tashfeen Malik, 27.
The suspects were killed.
A third person seen fleeing from the scene of the shootout is in custody.
A police officer was wounded in the shootout.
Police said "explosive devices" were found inside the resource center during a secondary sweep and that they were rendered safe.
Marybeth Feild, president of the center's board of trustees, said the gunfire erupted in a conference room where the San Bernardino County Department of Public Health was holding a banquet.
About 4½ hours after the shootings, police checking a lead in the nearby town of Redlands began chasing a car believed to be related to the incident, San Bernardino Police Chief Jarrod Burguan said. The chase led back to San Bernardino, where two people described as suspects — a man and a woman — were killed, he said.
They were identified as Syed Rizwan Farook, 28, a U.S.-born environmental specialist for San Bernardino County, and Tashfeen Malik, 27, about whom little was known.
A third person who was seen running away from the shootout scene was in custody, Burguan said. Investigators weren't able to begin searching the vehicle until Wednesday night, after they had rendered explosives at that scene safe, he said.
He said an officer was shot in the confrontation but didn't suffer a life-threatening wound and was expected to be OK.
Burguan said Farook and Malik were related in some fashion, possibly as husband and wife or as an engaged couple. A person named Syed Farook is listed in public records as a resident of the Redlands address from which police tracked the SUV involved in the shootout.
Burguan said the suspects were armed with assault-style rifles and semiautomatic handguns. Sources close to the investigation told NBC News that the ATF had traced four firearms and that two of them were known to have been purchased legally by an individual connected to the investigation. Information on the two other firearms wasn't available.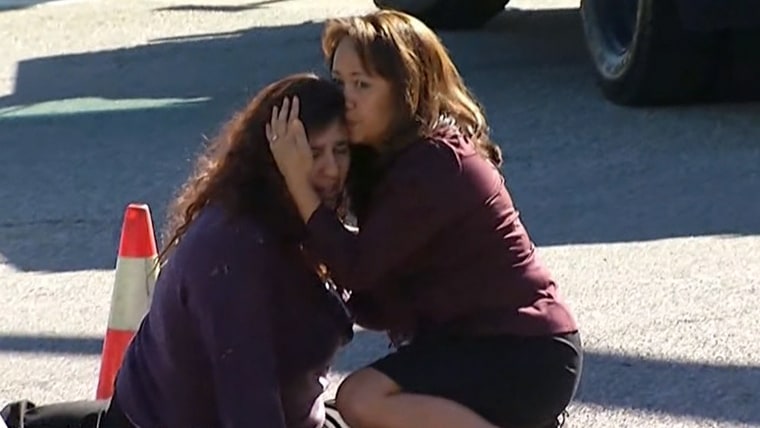 Meredith Davis, a spokeswoman for the Los Angeles division of the federal Bureau of Alcohol, Tobacco, Firearms and Explosives, said the suspects "had several [magazines] full of ammunition fashioned to their body, so they were ready for a gunfight should that occur."
Farhan Khan, who said he is a brother-in-law of Farook's, said at a news conference Wednesday night that he was "shocked."
"I spoke to him a week ago," Khan said at a gathering organized by the Los Angeles chapter of the Council on American-Islamic Relations. "I have no idea. Why would he do something like this?"
Related: Police Identify Couple in San Bernardino Mass Shooting
David Bowdich, the FBI's assistant director in Los Angeles, said the incident was being regarded as "possibly terrorism." Burguan reiterated Wednesday night that terrorism hadn't been ruled out.
'These people came prepared'
Authorities said 10 of the 17 injured were taken to hospitals in critical condition. Fire Chief Tom Hannemann said three people were in serious condition.
It appeared to be the worst mass shooting since the December 2012 slaughter of 20 first-graders and six staffers at Sandy Hook Elementary School in Newtown, Connecticut.
"These people came prepared to do what they did as if they were on a mission," Burguan said. "They were armed with long guns, not with handguns."
California Gov. Jerry Brown canceled the state's annual Christmas tree lighting ceremony Wednesday night "out of respect for Californians affected by today's tragedy," although the tree itself will still be lighted.
"California will spare no effort in bringing these killers to justice," Brown said.
All San Bernardino County offices within the city of San Bernardino will be were closed Thursday, county officials said.
Luis Gutierrez said that he spoke to his wife, who works in the facility, and that she told him that a gunman she saw was dressed all in the black, wearing a flak jacket of some kind and a mask on his face. He said the people on her floor began barricading their doors after hearing the shots.
Related: What Is Inland Regional Center?
While law enforcement briefed reporters inside the state facility, firefighters set up a triage area outside the complex on South Waterman Avenue, where they were treating the wounded on the street and loading others into waiting ambulances for treatment at nearby Loma Linda University Medical Center.
Some were transported in the backs of pickup trucks.
All around, the normally tranquil suburban streets were jammed with police vehicles and first responders.
Dozens of SWAT team officers massed outside the facility, while police evacuated the occupants who filed out with their hands up.
Police also cleared out nearby buildings and marched the occupants out of harm's way to a nearby golf course.
A man who identified himself only as Jim, a sales person at the nearby Structural Material Company, told NBC News that the neighborhood was an armed camp.
"There's plenty of police activity," Jim said. "A lady ran into our bathroom and said somebody was shooting there."
'No parallels'
President Barack Obama was briefed by Lisa Monaco, his homeland security adviser, and asked to be updated as the situation develops, a White House official said.
Related: Obama Calls for Gun Law Changes After Latest Mass Shooting in California
The mayhem came just days after a gunman barged into a Planned Parenthood facility in Colorado Springs, Colorado, killing three people during a five-hour siege.
In an interview with CBS News, Obama said U.S. gun violence "has no parallel anywhere else in the world" and again called for "common-sense gun safety laws."
"We should never think that this is just something that just happens in the ordinary course of events, because it doesn't happen with the same frequency in other countries," he said.